When it comes to Georgia High School Association flag football, Northgate Head Coach Maggie Horne is all in.
Fresh off a top finish area finish last season, the Lady Vikings hosted their first youth camp last week in advance of the 2022 season. In addition to the current varsity players, Coach Horne welcomed 15 youth campers to get a taste of the sport.
Horne, a Northgate alumnus and current AP Biology teacher, is building the program from the ground up. Last year's team finished 7-2 and had their first playoff win in program history against Mundy's Mill.
Building off that momentum, Horne is expanding to include a JV team this season which will allow 8th graders to participate and learn the sport.
The youth camp featured the fundamentals of the game and interaction with the coaches and staff.
As for the upcoming season, Breigh Totten returns to play quarterback with Madisyn Jones blocking. Lauren Coursey, last year's offensive MVP, also returns. Kayla Hall is back to lead the defense, "which is crucial in flag football," Horne said.
The defense was the key to last year's success; the Lady Vikings only allowed 41 points in nine games, including five shutouts.
Their 2021 season featured two dramatic come-from-behind victories. They fell behind Newnan on the road 12-0 but scored 19 unanswered, including a score in overtime for the victory. They also scored a late touchdown against Trinity Christian to earn a 13-7 comeback victory.
In its third season as a sport recognized by the GHSA, flag football will have over 200 high schools competing this year. Two of Northgate's upcoming opponents, Whitewater and Starr's Mill, will be fielding teams for the first time.
In preparation for 2022, several current Lady Vikings recently attended the Atlanta Falcons flag football clinic in Macon, which allowed them to learn from other coaches and compete in drills and skills competitions.
Horne and assistant coach Lauren Smith will conduct another one-day camp at Northgate on July 28. Those interested can reach out via email at maggie.horne@cowetaschools.net .
The 2022 flag football season kicks off on Oct. 4 when the Lady Vikings host LaGrange in a double header scrimmage.
Photos by Michael Clifton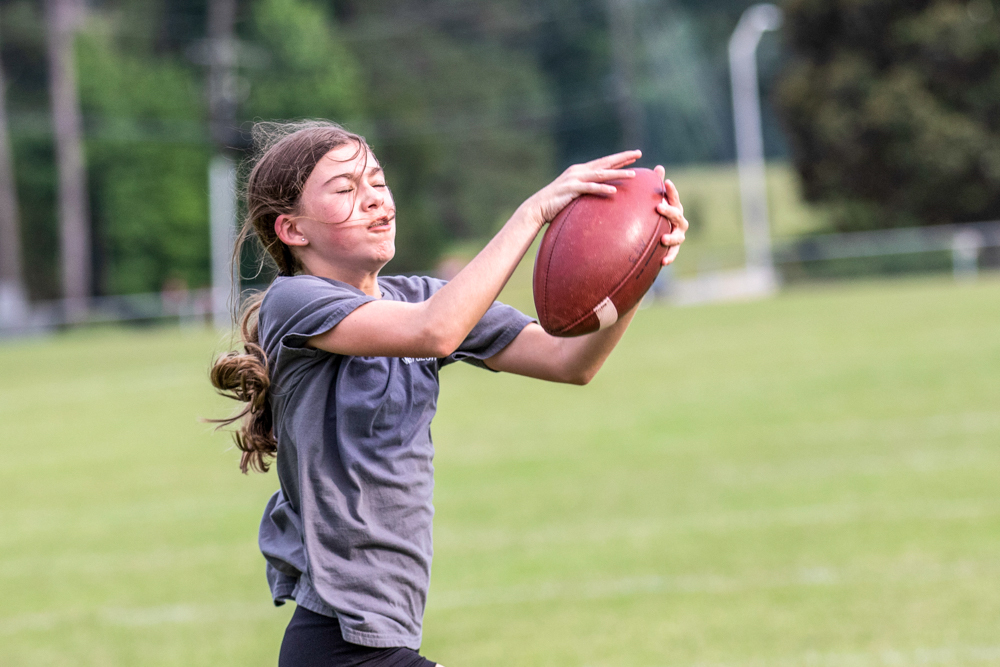 Chyler Moore hauls in a pass during a drill at Northgate's flag football camp.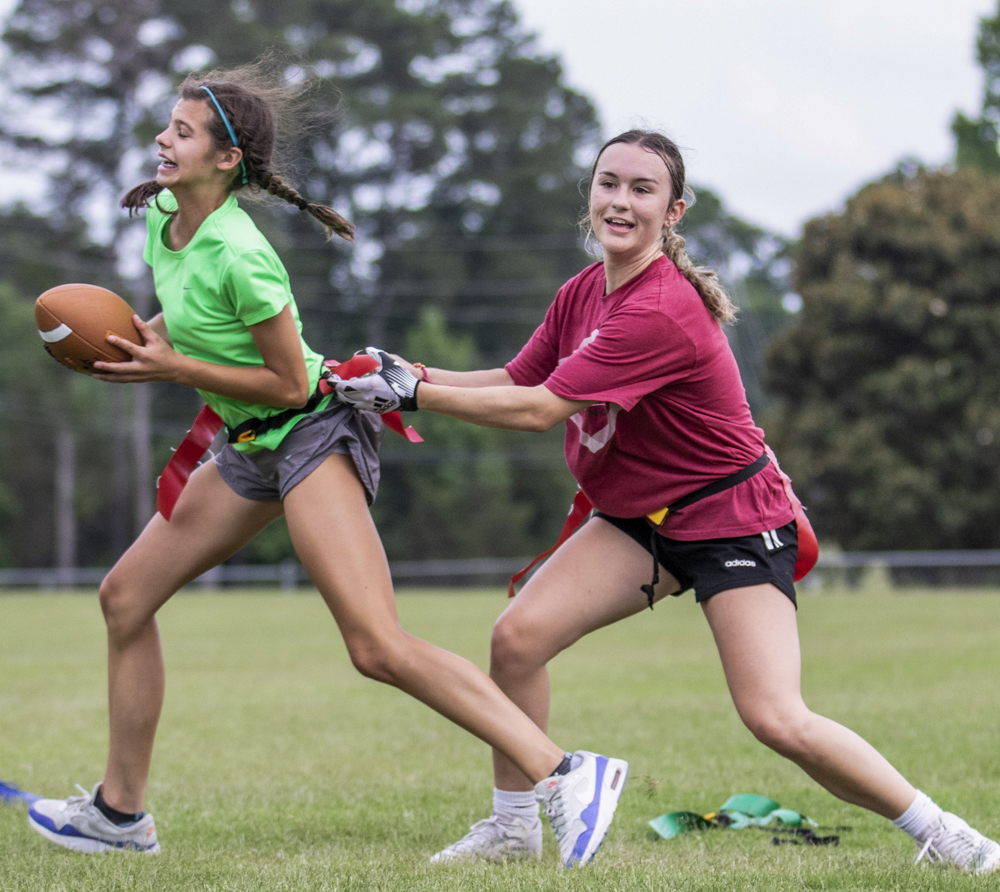 Madison Ratzliff (right) demonstrates a tackle on Addie O'Bryan (left).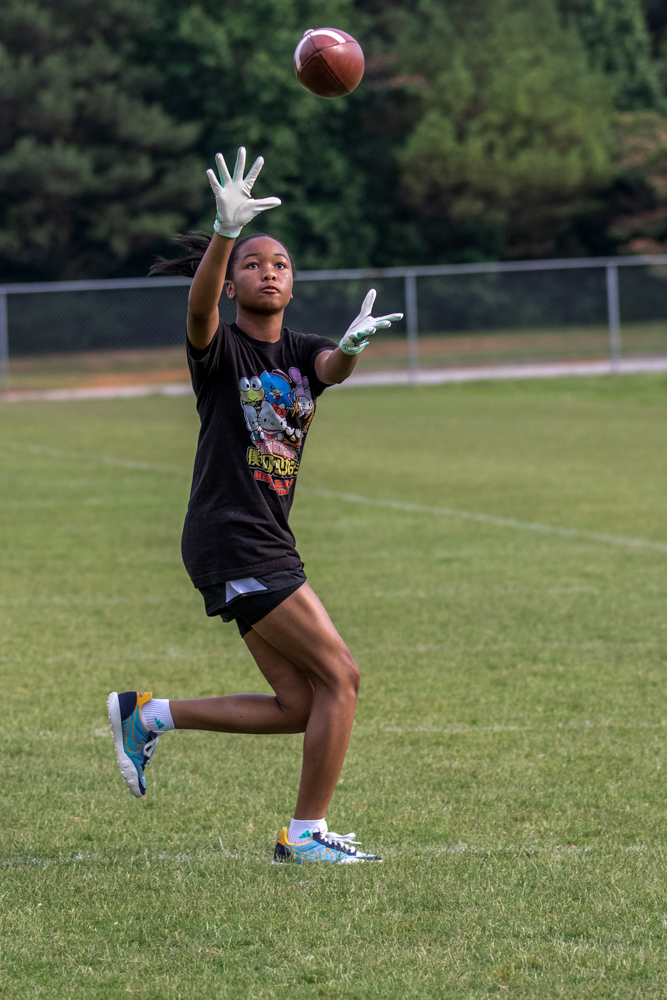 Focus – receiver Chavis Martin is locked in on catching the pass.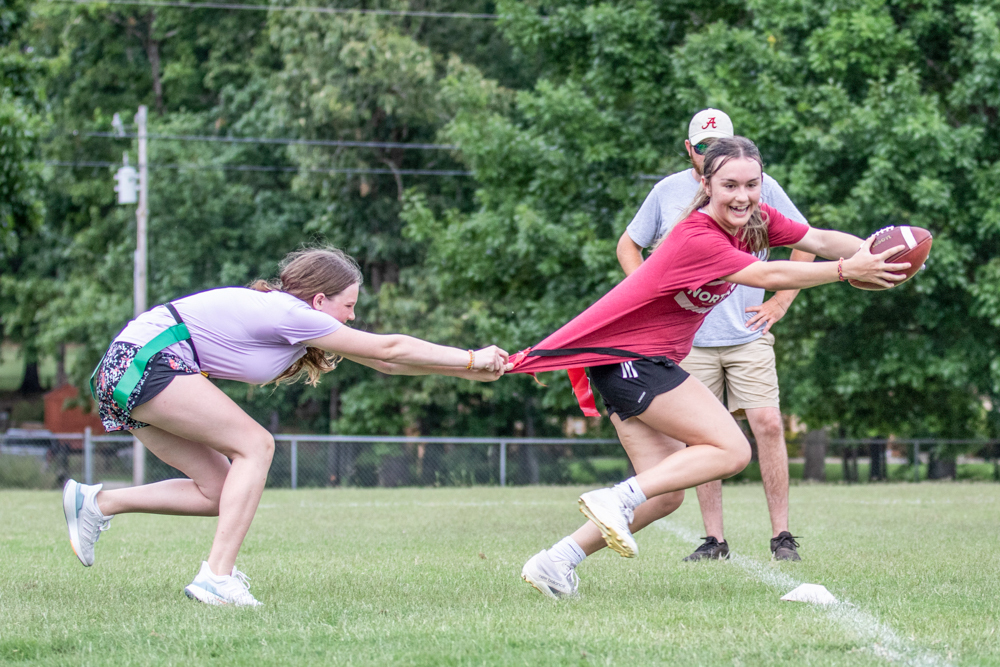 Charleigh Liggett (left) attempts to remove Madison Ratzliff's (right) flags.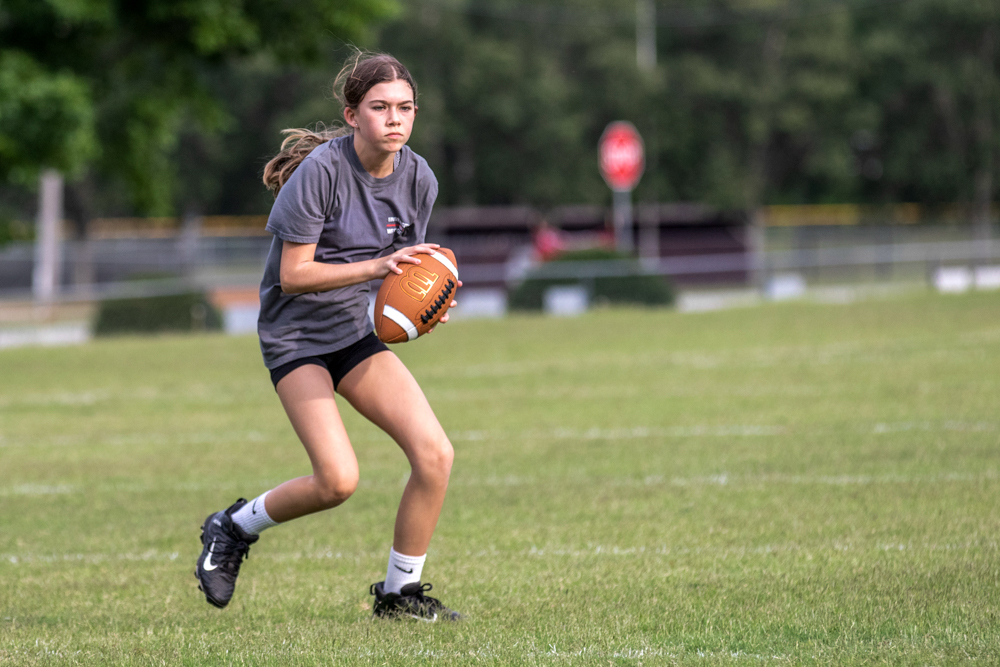 Even though Chyler Moore was the youngest player at camp (12), it did not slow her down.