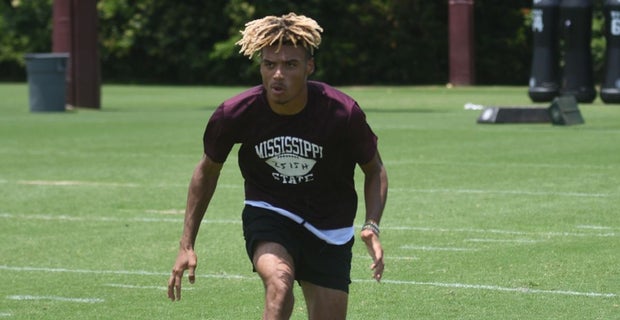 Mississippi State welcomed over 500 campers to campus on Friday. It was a robust camp in the high noon heat to say the least. Football prospects of various ages representing dozens of high schools made their way to Starkville to take part in the festivities. Some schools even brought student athletes by the busload.
It is important for fans to realize that summer camps are not just about identifying prospects. Each player who shows up has the chance to be coached by college coaches. They learn new skills and sharpen the saw prior to the fall football season. While nearly every player dreams of playing beyond the high school level, most understand that their playing career likely ends on senior night at high school.
Camps are about getting better and having fresh eyes point out areas for improvement. For the elite, it offers a chance to showcase their talent in hopes of earning a scholarship offer. On the other side of things, the coaches get the opportunity to see how well a player takes coaching. Does he listen? Will he compete? Those questions and so many more can be answered with a good day of camp.
Mississippi State will round out the June camps on Saturday when 32 teams are expected to arrive on campus to compete in the annual 7-on-7 tournament. The field has grown over the course of the last several days, so it will be a full day of practice of football on the Bulldog fields. It is important to consider that many of those young men will not be SEC prospects either, but they will have the chance to have a bonding experience with their teammates on the Mississippi State campus.
(What's happening with the Mississippi State Bulldogs? Make sure you are in the loop — take five seconds to Sign up for our FREE Bulldogs newsletters now!)
In baseball news, Mississippi State is still working the NCAA transfer portal to find some players to come in and fill some gaps in the roster. The Bulldogs have received the commitments of three four-year transfers so far this offseason. That number is expected to at least double in the weeks ahead.
The smart money is on the Bulldogs prioritizing pitching with most of their remaining transfer slots. State will likely take another outfielder and perhaps another position player, but the Diamond Dawgs need arms. Even casual observers of Bulldog baseball are well aware that State's pitching depth was incredibly thin last year. Some of that is the result of injuries and some of it from recruiting misses. The portal now gives Coach Chris Lemonis and his staff to remedy some of that in the weeks ahead. Many of the Bulldog newcomers will be on campus next month for summer classes and workouts. That is important as the team looks to rebound from a difficult 2021.