When tournament founder Dick Horne and chairman Bruce Fleming present the trophy to the winner of the 2022 Rice Planters Amateur golf tournament on Friday, members of Snee Farm Country Club no doubt will speculate about the young golfer's future.
Will he one day play on the PGA Tour? Win a PGA Tour event? Win a major championship? Play on or captain a Ryder Cup team?
Over the course of the tournament's 50-year history, all of those questions have been answered affirmatively. Rice Planters winners have combined for more than 150 wins on the PGA, Champions or Korn Ferry tours. Hal Sutton, the 1979 Rice Planters champion, won the 1983 PGA Championship. Tom Lehman (1982) won the 1996 British Open. Stewart Cink (1993) also won the British Open in 2009. Brooks Koepka (2009) won the 2017 US Open, the 2018 US Open, the 2018 PGA and 2019 PGA. Sutton captained the US Ryder Cup team in 2004 and Lehman was the Ryder Cup captain in 2006.
And that's only part of the story. Among those who competed in the Rice Planters but did not win are Davis Love (1997 PGA and 5-time Heritage winner), Mark O'Meara (1979 US Amateur, 1998 Masters and 1998 British Open), Jeff Sluman (1988 PGA) and Steve Jones (1996 US Open). Other Rice Planters winners include Scott Hoch, Brian Gay, Brandel Chamblee, Michael Bradley and Andy Bean.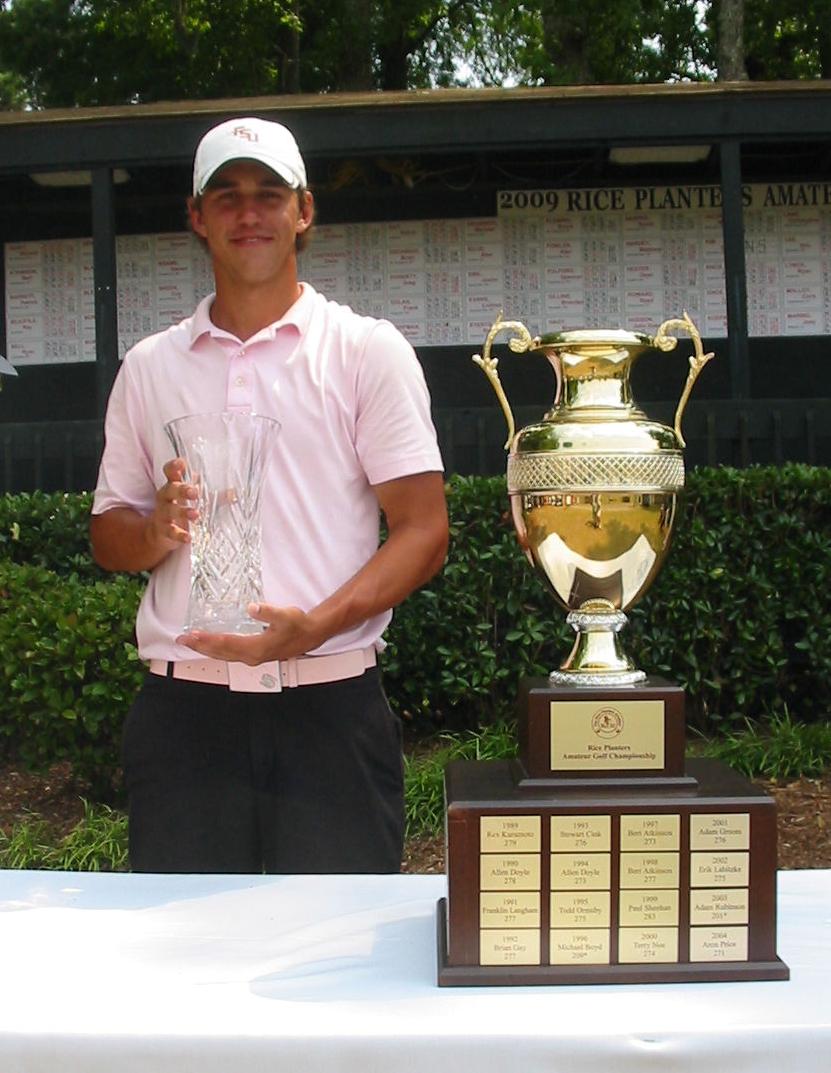 How it began
One name not on the list of Rice Planters champions is the founder himself, South Carolina Golf Hall of Fame member Dick Horne. Horne was an insurance agent and outstanding amateur golfer living in Mount Pleasant when he hatched the idea of ​​bringing an amateur tournament to Snee Farm in 1973.
Horne, a Citadel graduate from Beaufort, was playing amateur golf events all over the world. One of those tournaments was the prestigious Porter Cup, played in the Niagara Falls area.
Horne approached the Porter Cup chairman and said he'd like to start a similar tournament in South Carolina, maybe call it the Porter Cup of the South, and asked if he could get their mailing list.
He returned to Snee Farm with the mailing list and convinced the membership to host a tournament.
David Canipe, a University of Georgia All-American who would spend some time on the PGA Tour, won the first Rice Planters. Bill Harvey and Bill Lewis, who both enjoyed outstanding amateur careers, finished second and third, while Horne placed fourth.
Horne had an opportunity to win the next year. He had a two-shot lead over Harvey with two holes remaining, and still remembers how it played out.
"I was on the 17th green, which is a long par-3, and he's in the bunker. He gets it up and down and I three-putt. So we go to 18 (a par-4) and he's in the bunker again and I'm on the green. He gets it up and down and I three-putt again. Then we went to sudden death and Bill beats me. That's how I lost. But I can't win my own golf tournament. would come back. That's as close as I ever came to winning," Horne said with a laugh.
Horne, 82 and now retired to Boynton Beach, Fla., returns every year for the tournament and uses a mantra that he invoked at the tournament's beginning.
"I was really trying to find players that were a lot better than me, which there were many, many of them," Horne said. "Everybody that made the cut was to come back next year and bring a player better than they were. I got a lot of phone calls from existing players wanting to know if so-and-so could play. They would say 'he's better than me.' Scott Hoch won in 1978 and beat Hal Sutton. Hal Sutton said he was coming back. He didn't like Scott Hoch beating him."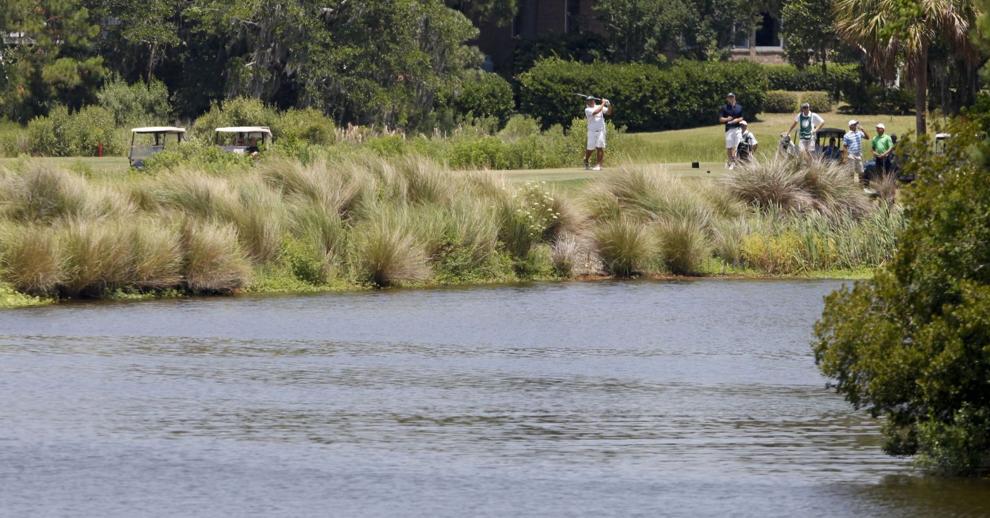 Horne said that while the early tournaments included a fair number of Snee Farm members, as they began seeing golfers go from the Rice Planters to the PGA Tour the membership decided they would rather watch.
"What really made the tournament was Andy Bean winning in 1975 because the next year he turned pro and we were watching him on television and the membership saying that he played in the Rice Planters right here on our course," Horne said.
Several years back Bean and other past champions were asked about memories of the Rice Planters. Bean said he lost his amateur status because of the tournament. The night before the final round a group gathered around the pool and bet Bean he wouldn't dive off the high dive with his clothes on. Bean removed his shoes and took the plunge, which won him $430.
"That was my last tournament as an amateur. The Rice Planters was a good tournament to play in. We had a good time. The people there were very nice. I have nothing but good memories," Bean said.
Sutton also was quick to respond.
"Grainy greens and Dick Horne," Sutton said. "That was an important part of my amateur career. It was a stepping stone to the next level."
Keeping the field strong
The task of finding the next Hal Sutton or Brooks Koepka falls on Bruce Fleming these days.
"Bruce deserves a lot of credit. He's kept the tournament strong, and I'm grateful to him for the hard work he's doing for the tournament," Horne said.
Fleming took over as chairman in 2006 in the midst of winning four consecutive club championships.
"They asked if I was interested, and after thinking it over I said I wanted to do it for two years. I want to do it one year, figure it out, then do it better the next time," Fleming said. "Within two years I realized it was a pretty cool thing to do and enjoyed it."
The first three Rice Planters were played in October before moving the tournament to a summer schedule. It's been held in July and August, and now has a regular spot on the amateur golf calendar in June.
"The schedule basically goes Dogwood in Atlanta, the Southeastern in Georgia, us, then players can either go to the North-South or to the Eastern Amateur," Fleming said.
Among the changes Fleming and his commission have implemented have been cutting the field from around 125 players to approximately 75 players and reducing the event from 72 holes to 54.
Fleming said the tournament averages 230 to 240 applications each year and the golfers come from around the world.
"Most are college players," Fleming said. "We get a handful of mid-amateurs that have applied or we reach out to and ask to apply. And we usually get a handful of kids coming out of high school or grade 11. We want to build that relationship."
Rice Planters champions
1973 David Canipe 296
1974 Bill Harvey 295
1975 Andy Bean 290
1976 Bob Byman 286
1977 Bill Harvey 283
1978 Scott Hoch 285
1979 Hal Sutton 282
1980 Rick Pearson 277
1981 Don Burwell 285
1982 Tom Lehman 283
1983 Brandel Chamblee 279
1984 Greg Sweatt 283
1985 Duffy Waldorf 275
1986 Michael Bradley 278
1987 Nacho Gervais 279
1988 Allen Doyle 276
1989 Rex Kuramoto 279
1990 Allen Doyle 278
1991 Franklin Langham 277
1992 Brian Gay 277
1993 Stewart Cink 276
1994 Allen Doyle 273
1995 Todd Ormsby 275
1996 Michael Boyd 209*
1997 Bert Atkinson 273
1998 Bert Atkinson 277
1999 Paul Sheehan 283
2000 Terry Noe 274
2001 Adam Groom 276
2002 Eric Labitzke 275
2003 Adam Rubinson 201*
2004 Aron Price 271
2005 Tristan Lambert 206*
2006 Tanner Ervin 276
2007 Michael Foster 273
2008 Matthew Griffin 271
2009 Brooks Koepka 270
2010 Carter Newman 276
2011 Austin Cody 270
2012 Thomas Bradshaw 268
2013 Maverick Antcliff 204*
2014 Rigel Fernandes 271
2015 William Rainey 270
2016 Philip Knowles 278
2017 Myles Creighton 213*
2018 Jonathan Brightwell 275
2019 Austin Fulton 276
2020 Canon Claycomb 204*
2021 Drew Hackett 204*
* — shortened to 54 holes
Tournament records
72-hole scoring record — Thomas Bradshaw, 2012, 20-under-par 268
18-hole scoring record — Pete Kellerman, 2010, 10-under-par 62
Two to remember
1993 — Playing four groups ahead of the leaders going into the final round, Georgia Tech's Stewart Cink shot a final-round 63 to leapfrog the field and finish at 12-under-par 276, one shot ahead of David Howser and two shots in front of defending champion Brian Gay. Cink's first three rounds were 72, 70 and 71. Cink had been married two weeks earlier so the trip to Snee Farm was his honeymoon.
2009 — Local favorite Austin Cody, who would win the Rice Planters two years later, had battled ACC freshman of the year Brooks Koepka toe to toe and had a one-shot lead going into the final nine holes. But starting on the par-5 13th, Koepka raced to the top, going eagle-birdie-birdie-birdie over four holes. Koepka tied the tournament record with a second-round 63 and set the 72-hole record with his 270 total.
.