Dean Kirchick remembers picking up a tennis racket for the first time when he was 3 or 4 years old. For a 16 year-old, that's a long time ago.
"I always seemed to like it a little bit," Kirchick told the Cleveland Jewish News. "I'm not sure how serious I was at that time, though."
Dean just finished with his sophomore year at University School in Hunting Valley, and has been playing as he said, "serious" competitive tennis since he was 10. Since then, Kirchick has risen in the ranks of statewide watch lists and is ranked in the top 10 singles players among Ohio high school athletes by Tennis Recruiting Network.
"I've been lucky enough to win some big tournaments," Kirchick said. "To be on some of those watch lists means a lot."
Kirchick and his doubles partner, Nathan Mu, won this season's Ohio High School Athletic Association Division I sectional tournament, but were defeated at the state tournament May 27 at the Lindner Family Tennis Center in the Cincinnati suburb of Mason. They lost to the Cincinnati St. Xavier team of Drew Evans and Tucker Berry, 6-3, 3-6, 6-1.
Despite the state tournament concluding, there's no summer vacation for Kirchick. He is still on the court either practicing or playing at other tournaments, if not every day each week, at least five days a week.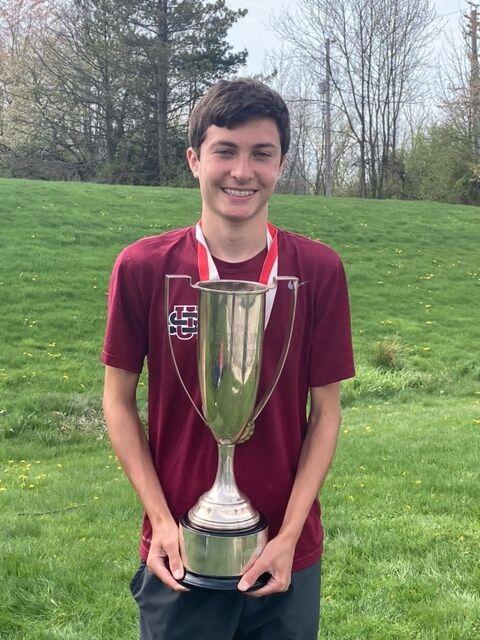 "It's a sport where you don't need to be insanely athletic to compete, or have to be 6-foot 6 and 250 pounds," he said. "It's more strategic than a lot of other sports. I happen to have good hand-eye coordination, so I like getting to the ball and trying different techniques. It's all real interesting to me."
Kirchick shares his love of tennis with his twin brother, Cole. They celebrated their bar mitzvot three years ago at The Temple-Tifereth Israel in Beachwood, and they are frequent doubles partners.
"I feel like we're pretty close and on the same level," Kirchick said. "I think I'm a little bit better, but he's very good."
Tennis is, by far, his primary interest. He does, though, have other activities. He is on the yearbook staff at school, and since his freshman year has been a volunteer at Friendship Circle of Cleveland in Pepper Pike, where he spends Sundays with Jewish children with disabilities.
"It's a rewarding experience, just making the kids happy and helping them have fun." Kirchick said. "They deserve to have friends and they're really great kids. I hope to do it for the rest of my high school career."
While on the subject of his remaining two years at University School, he said is already scouting out colleges, with hopes of playing collegiate tennis.
"Oh, yeah. I plan on playing college tennis," Kirchick said. "I'm trying to get a head start by visiting a few schools and meeting coaches."
Steve Mark is a freelance reporter.
.