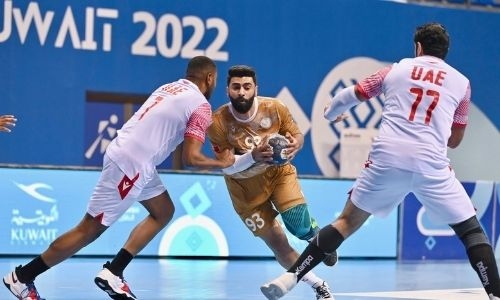 TDT | Manama
The Daily Tribune – www.newsofbahrain.com
Bahrain posted a 26-25 victory over the UAE last night in the men's handball tournament at the third GCC Games in Kuwait. The Bahrainis were in complete control of the contest and enjoyed a seven-goal gap midway through the second half. But a late rally by the Emiratis helped them narrow the gap towards the end but it was a little too late for a comeback. The Bahrainis put in a fine performance from the opening throw, and held a slim 15-13 advantage at the break.
They then went on 8-3 run to begin the concluding 30-minute period and that put them up 23-16 and well on their way to a comfortable victory. But the UAE closed out strong and outscored the Bahrainis 9-3 from there. Ali Eid finished as Bahrain's leading scorer with seven goals, while Mohamed Mohamed chipped in with five, Mohamed Ahmed had four and Ahmed Almaqabi and Mahdi Habib both finished with three goals apiece. Goalkeeper Hesham Isa made 11 saves for Bahrain in the contest.
The result was the second win in a row for the nationals, who are coached by Ameen Alqallaf. The Bahrainis return to the playing court this evening in a match against Saudi Arabia at 5pm, and then on Tuesday wrap up their tournament campaign against Qatar at 7pm. That will also determine the medal rankings of the men's handball competition and it will be the last day of the GCC Games. Meanwhile, Bahrain's women's basketball players enjoyed a rousing start to their campaign in 3×3 basketball, winning three of their first four fixtures. The nationals are taking part in this competition with a line-up featuring Hissa Aljaber, Bayan Salman, Seema Hasan and Aysha Alhadi.
They opened their medal bid with an 8-6 win over Qatar, with Hissa emerging as their leading scorer with seven points. They followed that result with a tough 7-17 loss to the UAE. Aysha had four points in the defeat. The Bahrainis were quick to bounce back and they routed Oman 21-10 with Hissa scoring 12 points, Bayan five and Seema three; and then they beat Saudi 13-10 with Hissa and Seema scoring five points apiece. The Bahraini women have one more preliminary round match to play today before heading into the knockout stages.
They will take on Kuwait at 4pm. In padel yesterday, Bahrain bowed to the UAE 1-2. In the opening match, Abdulla Mohamed and Omar Qaed lost 2-6, 5-7 to Abdulla Ahli and Mohammed Al Janahi. Husain Dawani and Ali Dawani were then 6-4-, 6-4 winners against Khalid Alshamsi and Hamad Al Janahi.
In the third match, Fahad Sarwani and Ali Alasfoor narrowly lost to Abdulla Alabdulla and Majed Alajanahi 3-6, 6-4, 6-7. In tennis yesterday, the men's team competition continued, and Bahrain suffered a 0-3 defeat to their Saudi opponents. Hasan Abdulreda lost the first match against Saud Alhogbani 2-6, 0-6. Yusuf Qaed then succumbed to Ammar Alhogbani 1-6, 3-6; before the two Bahrainis teamed up to take on Omar Ahmad and Sulaiman Alqasem but lost 2-6, 6-7.
.