(KMAland) — The next two teams on KMA Sports' Top 50 Team Countdown come from the Show-Me State.
16. Platte Valley Baseball
The Platte Valley baseball team leaned on the KMAland Baseball Player of the Year to post a memorable 2022 season.
Coach Zach Dyer's team started the year 6-0.
"I'm happy with how flexible we've been," Dyer said. "We've had some injuries, but some of our younger guys have stepped up."
Platte Valley ultimately compiled a 14-2 regular season record and won the 275 Conference.
The cruised to a 15-0 win in their postseason opener against Rock Port, but their district final game was more challenging — a 3-2 win.
"I'll remember that for a long time," Pitcher Memphis Bliley said about that game. "The best part (of the season) was the district championship game."
Bliley was the straw that stirred the drink for Platte Valley all season. He earned the KMAland Missouri Baseball Player of the Year accolade after hitting .527 and posting a 0.52 ERA.
Bliley's efforts were needed for Platte Valley in the state tournament as they scratched and clawed their way to a state semifinal with a nail-biting win over North Shelby (4-2) in a state quarterfinal.
"We stuck together," Dyer said. "We made some mistakes in the outfield, but our team is full of encouraging guys. Lane Acklin came back after an error and made one of the biggest plays of the game with a throw-out at home in the bottom of the sixth to change the game."
The dramatic victory was another twist in a memorable year for Platte Valley.
"I think they've cut off about 10 years of my life," Dyer joked. "But it speaks volumes to the kinds of kids we have and how we've fought the entire game."
Platte Valley dropped a semifinal to St. Elizabeth (10-0) and finished fourth after losing to Northeast (9-3).
Aside from Bliley, Wyatt Miller, Matt Jermain, Brandon McQueen and Trevor Weir shone for Platte Valley.
15. Worth County Football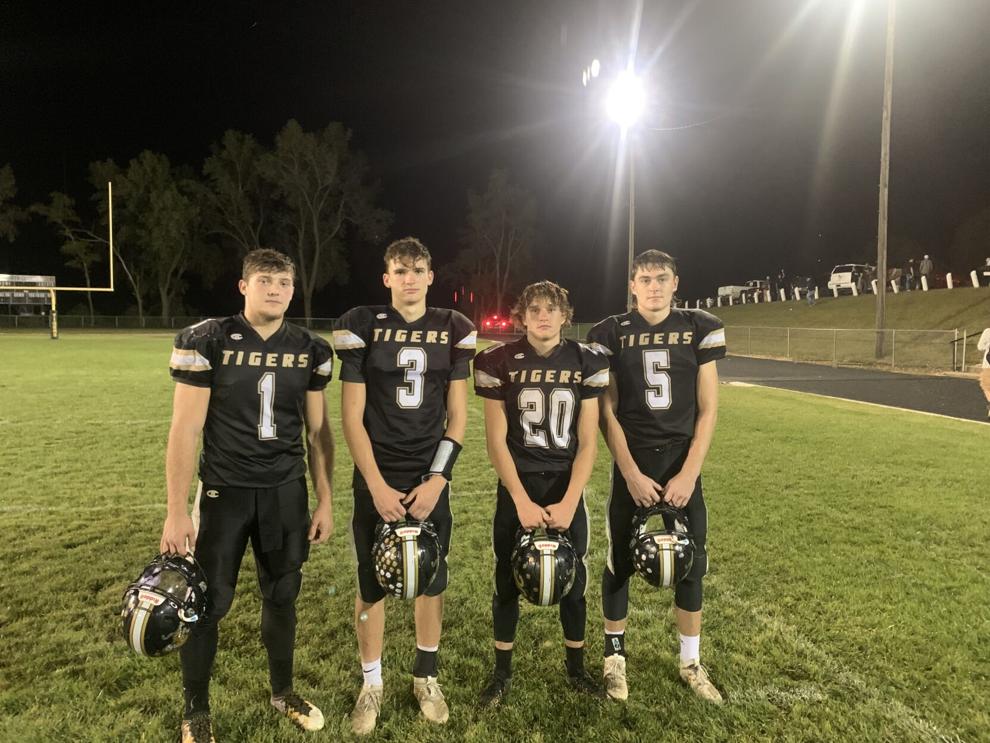 The Worth County football team has long been a perennial power in Missouri 8-player football. While they had a new face in charge, their dominance continued under new head coach Jon Adwell.
The Tigers raced to a 3-0 start with wins over South Holt, St. Joseph Christian (72-0) and Schuyler County (80-12).
"We've got a nice group of kids," Coach Adwell told KMA Sports. "We have a bit of depth and have some kids that can step in whenever they're needed. We've got some standout kids that are not too bad as well."
The Tigers then posted wins over Albany (84-28), King City (44-34), Orrick (56-8), Pattonsburg (92-6), North Andrew (70-50) and Stanberry (76-16) to complete a dominant regular season. Their dominant showings also moved them to the top spot in the Missouri 8-Man Media Poll.
"Whether we are the number one team or not is to be questioned," Adwell said. "It all comes down to whoever comes out on top at the end. When you get that tag, you get everyone's best shot, so we have to stay grounded."
Worth County opened postseason action with an 82-18 win over Mound City.
"I think our kids came in pretty locked in, into the game, and they had a lot of energy, and got after it right away," Adwell said. "We took control of the game early, and late in the game we were able to take the starters out and play some young kids later on. Overall, I think we had a good night."
A second win over Stanberry propelled the Tigers to a district final.
"We knew coming into the game that they were going to play a lot better then they did last time, so we knew we had to come in and grind," running back Alex Rinehart said. "At the end of the day, we played really well. We had some turnovers, but we'll get back and fix them next week."
"We stuck with our basic run game, running some smash leads and stuff, and really didn't try to open up and throw the ball early on until the second series," Adwell said. "We had a little success there throwing it, but it made a factor in the game in the second quarter when we didn't have the wind, so it played a big role."
The Tigers clinched a district title a week later with a wild 76-42 win over East Atchison.
"They stepped up, you know they're gamers, they're gritty kids," Adwell said. "It's really starting to come together for them."
The Tigers reached the finals after a 36-34 win over North Shelby in the semifinals, but the win came with a price as star running back Alex Rinehart suffered a season-ending injury.
Rinehart's absence might have been the difference for Worth County in their 48-42 loss to Drexel in the state championship game.
Rinehart collected KMAland Missouri Player of the Year honors after running for 2,313 yards and 41 touchdowns. Rinehart also caught six touchdowns.
Quarterback Aydan Gladstone led an uncharacteristic Worth County passing attack with 1,686 yards and 34 touchdowns while also rushing for 1,040 yards and 17 scores.
Dylan McIntyre was Gladstone's favorite target with 691 receiving yards and 15 touchdowns.
"We knew we had a lot of talent (coming into the season)," Rinehart said. "We just had to put the talent in the right places, and the talent had to actually be there (on the field). We were fifth or sixth in the state (preseason), and we felt like we were ranked lower than we should be. We came in and worked every week to get to that No. 1 spot."
Top 50 Team Countdown
50. Fremont-Mills Boys Golf
49. Sterling Girls Track
48. Nodaway Valley/West Central Valley Boys Soccer
47. Maryville Girls Soccer
46. ​​Tri-Center Volleyball
45. Exira-EHK Girls Basketball
44. Clarinda Girls Cross Country
43. Treynor Girls Golf
42. Elmwood-Murdock Girls Basketball
41. Worth County Boys Track
40. Falls City Sacred Heart Boys Basketball
39. Maryville Boys Cross Country
38. Syracuse Volleyball
37. Elmwood-Murdock Volleyball
36. Lewis Central Girls Soccer
35. Riverside Girls Track
34. CAM Baseball
33. Red Oak Boys Basketball
32. AHSTW Boys Basketball
31. Maryville Boys Golf
30. Missouri Valley Wrestling
29. West Harrison Boys Basketball
28. Logan-Magnolia Wrestling
27. Underwood Wrestling
26. Logan-Magnolia Girls Cross Country
25. Stanberry Boys Basketball
24. Underwood Girls Soccer
23. Clarinda Girls Tennis
22. Underwood Girls Basketball
21. Denison-Schleswig Boys Tennis
20. Lewis Central Baseball
19. Glenwood Girls Basketball
18. Southeast Warren Softball
17. Martensdale-St. Mary's Softball
16. Platte Valley Baseball
15. Worth County Football
.