2022 Topps Baseball Complete Set Variations offer up new cards of some of the season's top rookies. It's not just the usual five-card bonus pack found in retail factory sets, either. Three Opening Day debuts that don't have standard base cards in 2022 Topps Series 1 or Series 2 make appearances in all versions of the box set.
Once you get past that, there are some other surprises as well in the form of more traditional printing variations.
Opening Day Dandies
Julio Rodriguez, Bobby Witt Jr. and Spencer Torkelson all broke Spring Training with their MLB clubs. While this was too late to get them into the Series 2 base set, all three do have Short Print Variations that rank as some of the most popular cards in the product.
The rookie trio has three different cards in 2022 Topps Baseball factory sets. So even though the box says it's a 660-card set, these bring them up to 663. Basically, they're variations of variations.
These three cards are in all factory sets, hobby and retail. As a result, collectors shouldn't have trouble finding them over the long term. It should also keep prices reasonable.
Besides having different photos on the front, the factory set cards also say "Complete Sets" under the card number on the back. Their pack-inserted counterparts say "Series Two."
Several other players have appeared with factory set versions over the last decade including Bryce Harper (2012), Ronald Acuna Jr. (2018) and Vladimir Guerrero Jr. (2019). All offer alternatives to short prints or variations added to Series 2 of their respective years.
Retail Rookie Variations
While Rodriguez, Witt and Torkelson were something of a surprise, five 2022 Topps Baseball Retail Factory Set Rookie Variations were always happening.
Keeping with a trend that goes back several years, the retail sets come with a bonus pack of five top rookies, all using different photos. These have a notation on the back, although it's an error saying "Chrome" under the card number instead of "Complete Sets."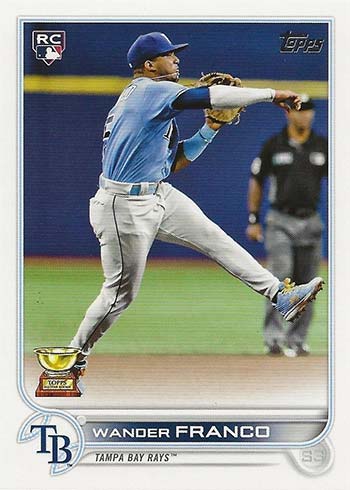 Wander Franco highlights the players in 2022 sets. Jarren Duran, Shane Baz, Oneil Cruz and Brandon Marsh round things out. They do not replace their regular cards. Those are in the factory sets as well. The variations are bonus cards.
These five cards are only sold in sets at retail. Hobby sets have five foil parallels instead.
Target Topps Chrome Rookie Variations
Another returning wrinkle are five more Topps Chrome Variations found in specially marketed sets at Target.
It's the same five players as the retail variations, but these sets also have one of the Chrome cards. They have entirely different images.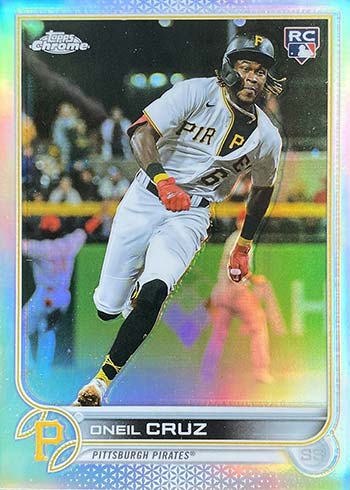 Typically Target also carries the regular retail factory set so if you're after the Chrome exclusives, be sure to check the box first. They're in a green box with the Chrome cards noted on the front but not the top.

Base Card Printing Variations
The extras aren't the only variations found in 2022 Topps Baseball factory sets. There are some small but broad printing changes that make for alternate versions of their pack-pulled counterparts.
The big ones are the Series 1 players with the RC shield. For the logo, it's noticeably larger than those found in packs.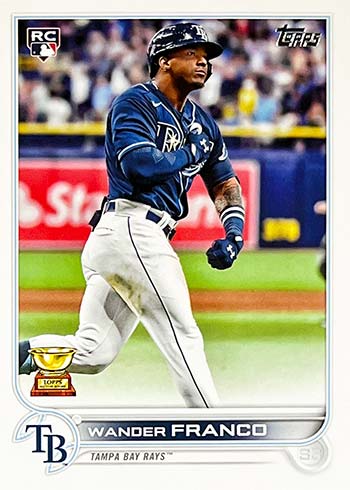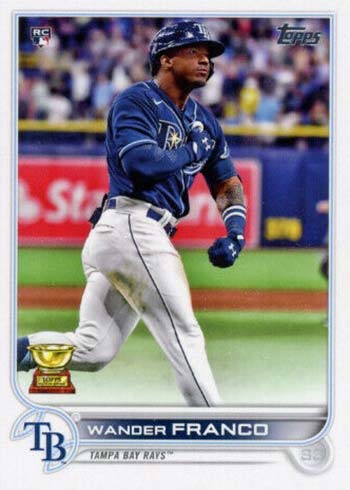 The change was already made in Series 2, so there's no difference for rookies #331 and up on the checklist.
Many set builders were annoyed to find some 2022 Topps Series 1 backs were flipped in the opposite direction. It's being noted by some collectors that that's been fixed for the factory set so everything lines up nice in a binder.
2022 Topps Baseball Factory Set Variations Checklist
The following list offers a quick look at the bonus variations found in 2022 Topps Baseball factory sets. It does not cover printing changes. If you're looking for a particular card, click on the link to see what's currently on eBay.
187 Jarren Duran – retail sets
215 Wander Franco – retail sets
243 Brandon Marsh – retail sets
421 Shane Baz – retail sets
537 Oneil Cruz – retail sets
658 Spencer Torkelson – all sets
659 Julio Rodriguez – all sets
660 Bobby Witt Jr. – all sets
Topps Chrome Variations
187 Jarren Duran – Target
215 Wander Franco – Target
243 Brandon Marsh—Target
421 Shane Baz – Target
537 Oneil Cruz – Target
2022 Topps Baseball Complete Set Bonus Variations Gallery
The following three cards are available in all 2022 Topps Baseball factory sets — hobby and retail.
658 Spencer Torkelson, Detroit Tigers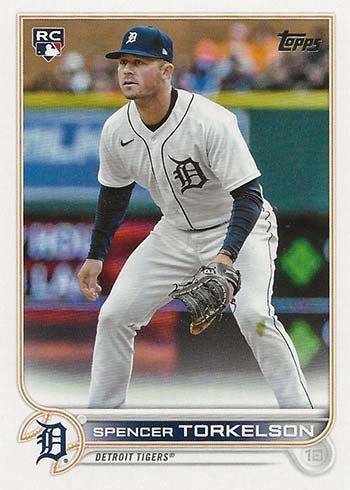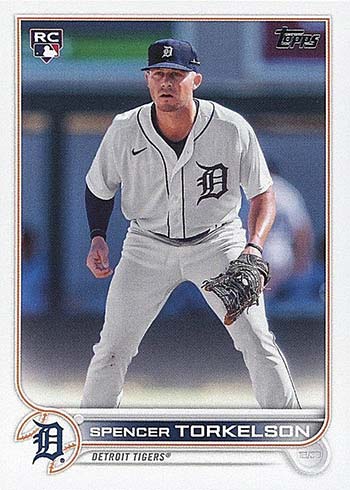 659 Julio Rodriguez, Seattle Mariners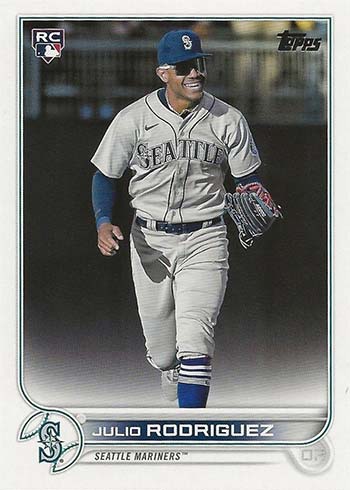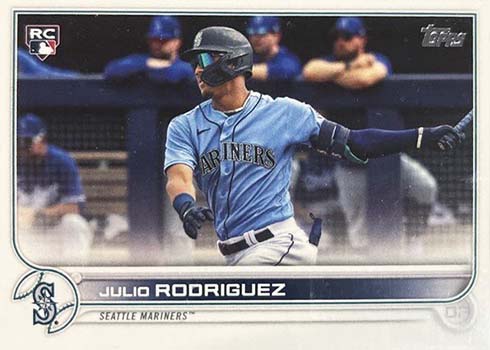 660 Bobby Witt Jr., Kansas City Royals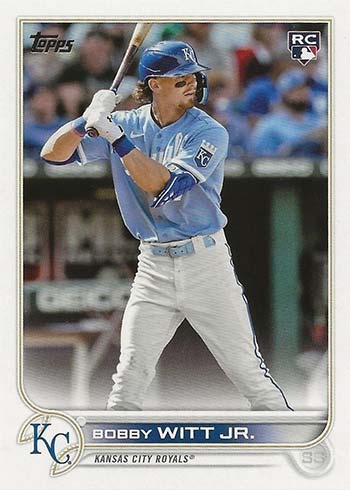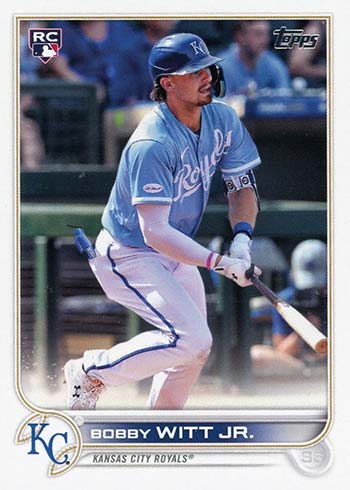 2022 Topps Baseball Retail Complete Set Rookie Variations Gallery
These five variations are bonus cards in retail 2022 Topps Baseball factory sets.
187 Jarren Duran, Boston Red Sox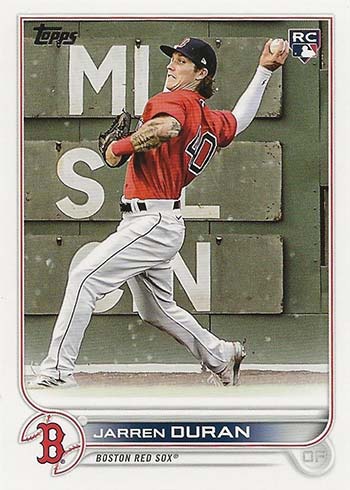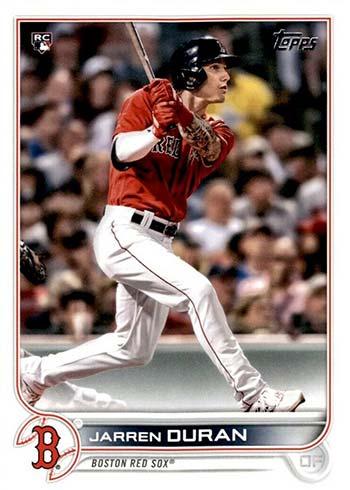 215 Wander Franco, Tampa Bay Rays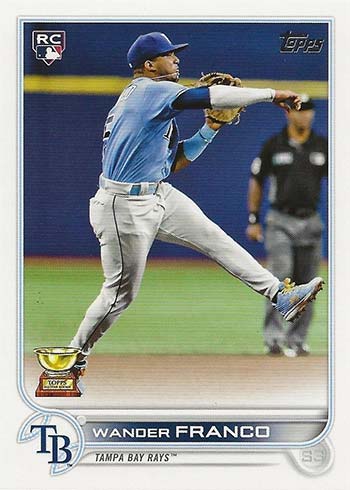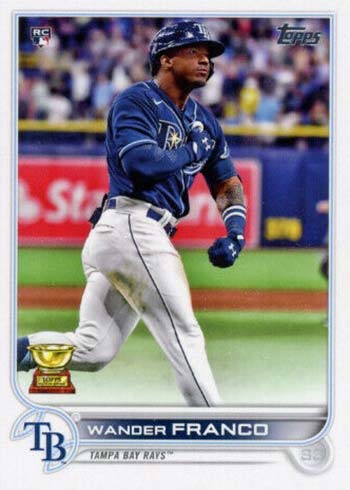 243 Brandon Marsh, Los Angeles Angels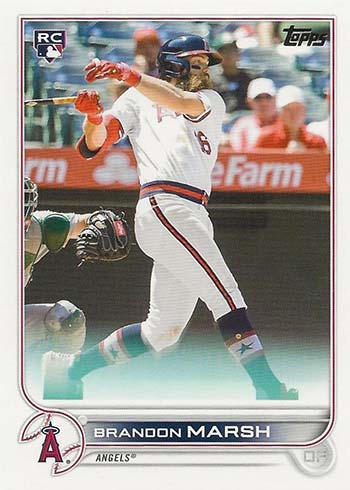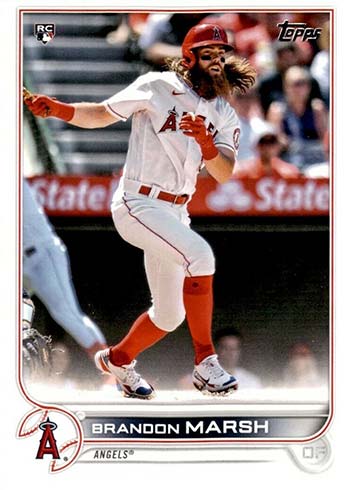 421 Shane Baz, Tampa Bay Rays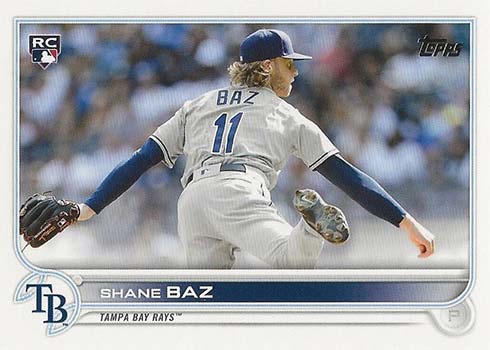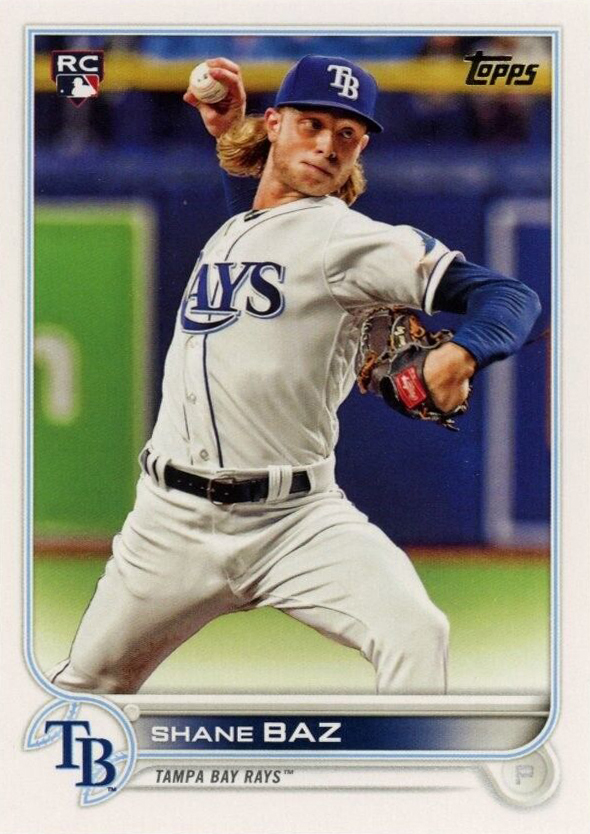 537 Oneil Cruz, Pittsburgh Pirates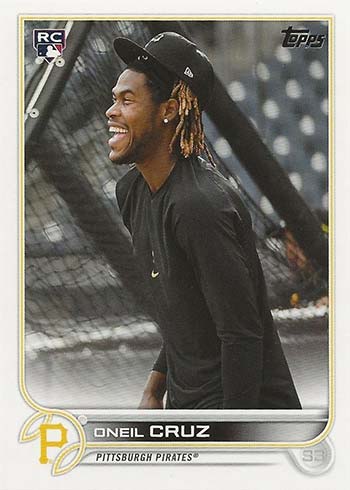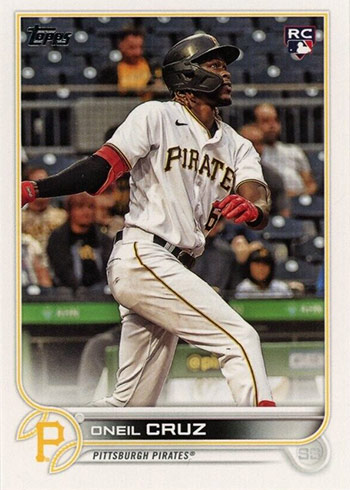 2022 Topps Baseball Complete Sets Target Chrome Rookie Variations Gallery
187 Jarren Duran, Boston Red Sox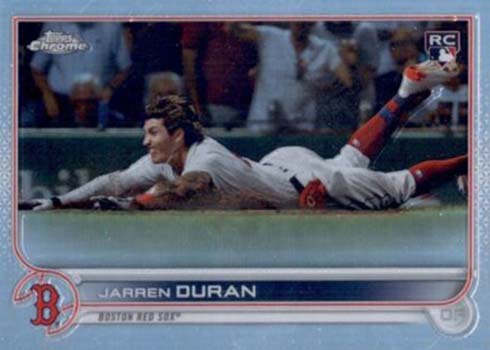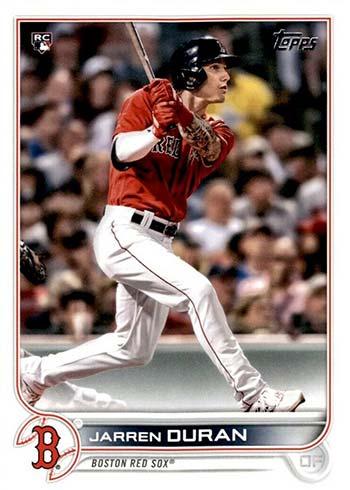 215 Wander Franco, Tampa Bay Rays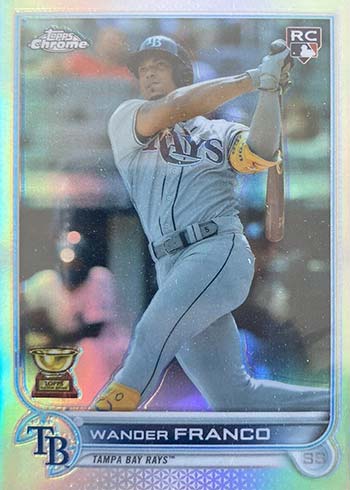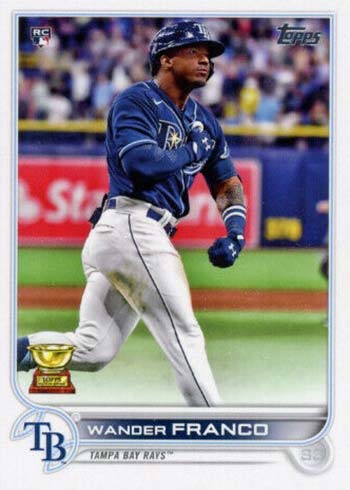 243 Brandon Marsh, Los Angeles Angels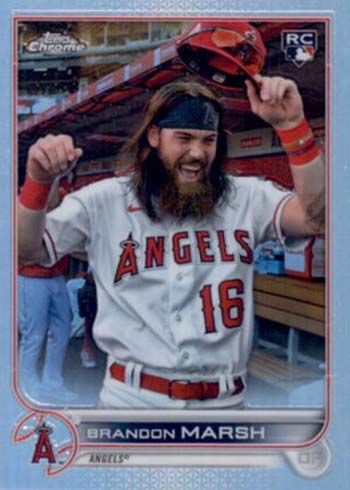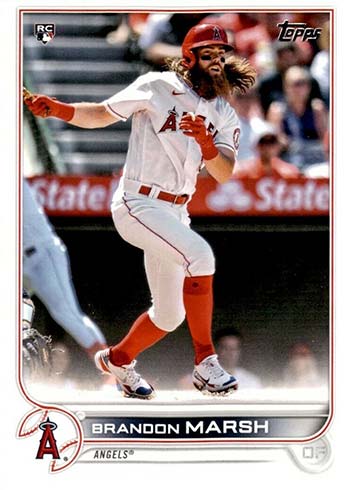 421 Shane Baz, Tampa Bay Rays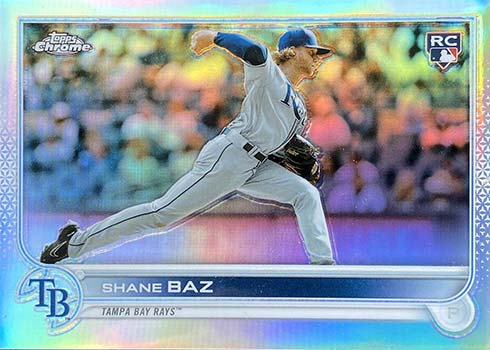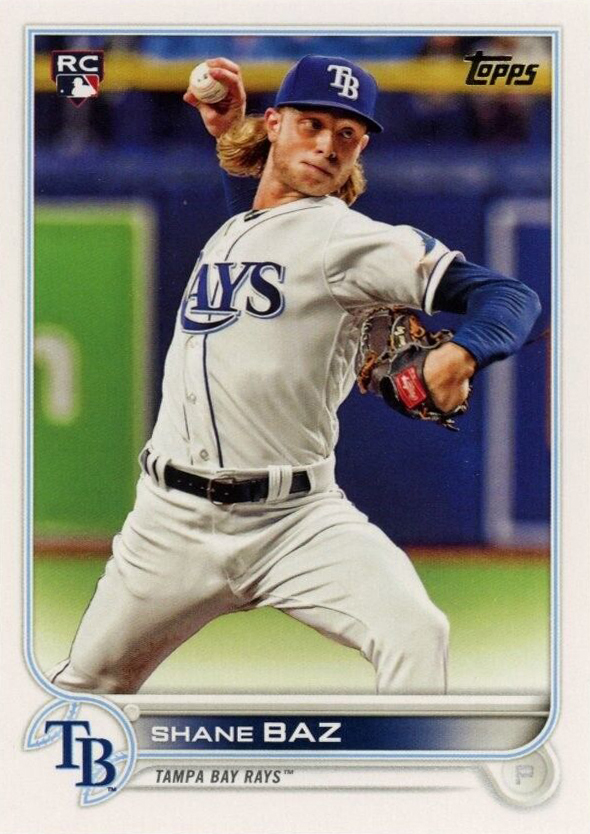 537 Oneil Cruz, Pittsburgh Pirates