Long-time New Richmond High School boys golf coach Jim Saliny has been inducted into the Wisconsin Golf Coaches Hall of Fame.
Saliny, who coached the Tigers from 1987 to 2017 was enshrined on June 21 in a ceremony at Lake Arrowhead Golf Club in Wisconsin Rapids. Saliny's Hall of Fame plaque will join the display of plaques at University Ridge Golf Course, the home of the WIAA state tournaments.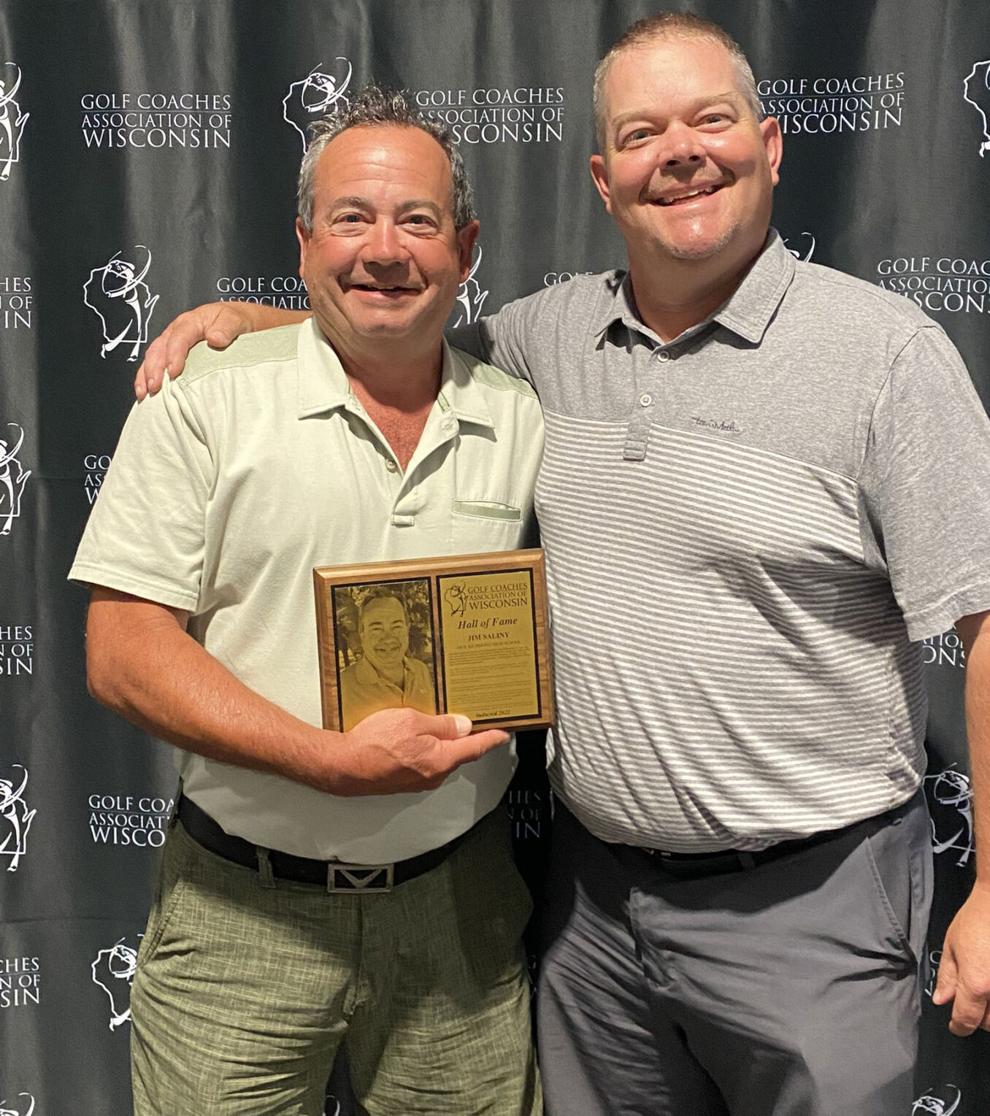 In his 31 years as coach, Saliny coached the Tigers to 15 conference championships, seven sectional titles and eight WIAA state tournament appearances. The Tigers captured WIAA state championships under Saliny in 1992, 1993 and 1999 and they finished second at state in 1995, 1998 and 2000.
The idea to nominate Saliny for the Hall came out of a conversation between two of his former players. Scott Cole and Justin Ritzer were talking at a New Richmond basketball game over the winter. After viewing the plaques in the New Richmond High School Athletic Hall of Fame, they struck upon the idea of ​​nominating Saliny for the honor at the state level. Saliny was inducted into the NRHS Hall of Fame in 2018.
Cole won individual WIAA state championships under Saliny's coaching in 1993 and 1995. Chad Kovaleski was a New Richmond individual state champion in 1999 and 2000.
Ritzer and Cole researched how to nominate someone to the Golf Hall of Fame. They and Kovaleski submitted letters of recommendation. Cole received a phone call a few months later telling him Saliny was elected. They were given the opportunity to inform Saliny about his honor.
During a Thursday golf league this spring, they asked Saliny if he could meet with them after his round. They informed Saliny of his honor in the New Richmond Golf Club clubhouse, where he received congratulations from a large assembled crowd.
"He was in shock," Cole said of Saliny's reaction.
Cole served as Saliny's presenter at the Hall of Fame banquet on June 21, with Saliny's family in attendance. The banquet helped Saliny's coaching career come full circle. In his first year of coaching the boys team the Tigers qualified for state. That state tournament was played at the Lake Arrowhead course.
Cole credited Saliny with finding a way to get each of the golfers motivated to strive to do their absolute best.
"He was always positive," Cole said. "He found ways to motivate us, to get under our skin a little to show we could do it. We got to the point where second place was never good enough for us."
Saliny was modest about his success, giving credit to club pro Joe Swanda for much of the golfers' skills.
"The kids were probably all better golfers than I was. Joe Swanda was really helpful," Saliny said. "I'm very lucky, very blessed."
.