The 2022 class of inductees into the National Museum of Racing Hall of Fame included only two contemporary honorees, both of them equine. But those honorees were champions Container spirit Teppin ensuring the ceremony was a crowd-pleaser.
The two outstanding mares were the last inductees on the program, luck Aug. 5 at the Fasig-Tipton's Humphrey S. Finney Sales Pavilion in Saratoga Springs, NY, and their presentations were worth the wait. As footage rolled of Beholder's nose win in the 2016 Longines Breeders' Cup Distaff (G1) at Santa Anita Parkwith fellow champion Songbird giving her all she could handle towards the wire, the audience in the pavilion broke out into appreciative applause.
An Eclipse champion at ages 2, 3, 5, and 6, and the only horse to have won grade 1 races at ages 2, 3, 4, 5, and 6, Beholder was owned by Spendthrift Farm, whose owner B. Wayne Hughes died last year at age 87. The farm is now owned by Hughes' daughter Tamara and her husband Eric Gustavson, who accepted Beholder's plaque on behalf of the farm and expressed his own appreciation for the many people responsible for Beholder's success. Those connections included her breeders, Fred and Nancy Mitchell of Clarkland Farm; jockeys Garrett Gomez and Gary Stevens; horsepeople Sean Feld, Julia Adair-Stacks, and Raul Reyes; all the "behind-the-scenes" staff; and, of course, Hall of Fame trainer Richard Mandella, "for his masterful horsemanship, patience, and judgment."
Then Gustavson paused and choked up, temporarily unable to continue.
Sign up for BloodHorse Daily
Beholder (outside) gets up over Songbird to win the 2016 Breeders' Cup Distaff at Santa Anita Park
"There's one person missing," he said, "and that's the guy who owned the farm and wrote the check to pay for Beholder. He should be standing here right now instead of me."
Container was a $180,000 purchase at the 2011 Keeneland September Yearling Sale from her breeders' consignment.
He said that Hughes typically didn't let himself become attached to or emotional about his horses.
"Until Beholder," said Gustavson. "She changed him in that regard. This is a storybook ending to a legendary career."
Like Beholder, Tepin raced until she was a mare, retiring at age 5, and also beat males. Both mares also attracted an ardent fan base, and, standing in the same pavilion in which he purchased Tepin in 2012 for $140,000, owner Robert Masterson, speaking without notes, remembered two occasions when Tepin's fans came out in force.
The same thing happened, he said, when she finished second in the Breeders' Cup Mile (G1T) at Santa Anita in 2016, even though she fell a half-length short of repeating her win the previous year.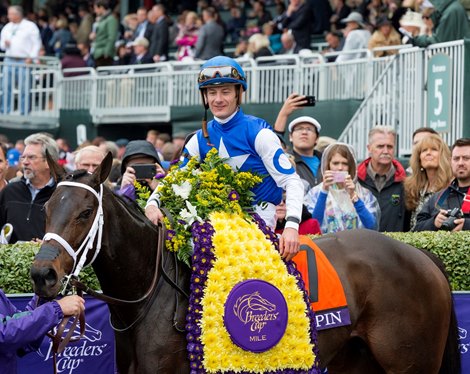 Tepin in the winner's circle after the 2015 Breeders' Cup Mile at Keeneland
He expressed his own appreciation to Tepin's trainers, Mark Casse and his son Norm; here jockey Julien Leparoux; and agent Deuce Greathouse, who selected the filly in 2012 at The Saratoga Sale, Fasig-Tipton's sale of selected yearlings in Saratoga Springs, NY
"She had a way of capturing the people," he said.
Three late horsemen were inducted as Pillars of the Turf: James Cox Brady, Marshall Cassidy, and James Ben Ali Haggin.
Cassidy's great-granddaughter Cindy Hlywa regaled those assembled with tales of her ancestor's adventures, which included being kidnapped by Mexican revolutionary Pancho Villa in Juarez, Mexico. He also once landed his private plane in the Belmont Park infield, said Hlywa, "simply because he wanted to fly to work."
Enumerating the innovations that Cassidy introduced, such as the modern starting gate, the photo-finish camera, the electric timer, pre-race veterinarian exams, and The Jockey Club Round Table Conference, Hlywa lauded her great-grandfather's personal qualities, along with those of her father, Cassidy's grandson and namesake who died in 2021.
"(My great-grandfather's) limitless energy drove him to enjoy his life until the very end at 76 years old," she said. "When someone with the creativity, drive, and integrity of my great-grandfather devotes himself so fully to something as he did with horse racing, maybe this moment honoring him helps us recognize how powerful and necessary his qualities are in the world today. In honor of Marshall Cassidy, here's two people who face problems with energy and ingenuity, who deflect personal recognition with innate humility, and whose life's work, like my father's, left racing better than they found it."
Two-time Secretary of the Treasury Nicholas Brady spoke on behalf of his father, James Cox Brady, an owner and breeder who, as chairman of the board of the New York Racing Association, oversaw the redevelopment of Belmont Park in the 1960s.
"He worked to develop and improve the industry, but his greatest thrill was seeing his horses run," said Brady.
He recounted a trip his father and two sisters took to Belmont in 1953, to see two of their fillies run, one in the Acorn Stakes, one in an allowance.
"They both won," he said, "and my sister said to him, 'Dad, what an unbelievable day.'"
.