In my youth I saw the American phenom as a hero, but before long he started teetering on his pedestal.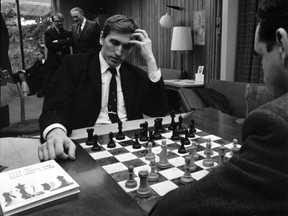 Article content
I learned about the Queen's Gambit long before Netflix's mini-series by that name became wildly popular. In 1955, in Hungary, then solidly behind the iron curtain, we had chess lessons in class. The Soviets believed that proficiency in the world's most popular board game could be used to demonstrate the intellectual superiority of communism. Of course, in Grade 3, I knew nothing about the Cold War and just enjoyed learning to play the game. After coming to Canada, my interest increased because reading chess publications did not require a knowledge of English.
Article content
It didn't take long to learn the language and I was soon reading about a young phenom in the world of chess who had won the US championship in 1958 at the remarkably young age of 15. Bobby Fischer would go on to repeat this performance seven more times. I was tickled pink when I heard that he would be coming to Montreal in 1964 to play simultaneously against 56 experts at Sir George Williams University, now Concordia. I was there to watch him beat 48 of the opponents, draw with seven, and lose to only one. The next day at the Jewish Public Library, he defeated all 10 opponents in another brilliant display of simultaneous chess. Fischer seemed affable, witty and had a dry sense of humor. You liked him.
I didn't hear much more about Fischer until an eventful September weekend in 1972, although I would later learn that he had appeared on US talk shows criticizing the Soviets for rigging tournaments and had bluntly stated that he was ready to challenge for the World Chess Championship. And challenge, he did! In preliminaries Fischer blew away two major contenders, earning the right to play the then champion, Boris Spassky, in Reykjavik, Iceland.
Article content
The prospect of this match at the height of the Cold War was portrayed as an intellectual showdown between the "communists" and the "free world." For the first time ever, a chess match would be televised live! Chess fever in the United States skyrocketed. Unfortunately, there was controversy from the beginning, with Fischer refusing to appear in Reykjavik for the opening match unless the prize money was increased. When he finally did arrive, after a patriotic appeal from Henry Kissinger, he complained that the spectators were too close and the television cameras made too much noise. He would not play unless the situation was remedied. The organizers finally gave in to the demands and the games were played in a room with no spectators and equipped only with closed-circuit cameras.
Article content
In what came to be called "The Match of the Century," Fischer defeated Spassky, ending 24 years of Soviet domination, becoming a hero to Americans and to me as well. I eagerly read reports of the match and was elated when Spassky conceded the final game on Sept. 1. My happiness would not be long-lived because the next day I was at the Montreal Forum to watch the Soviet hockey "amateurs" demolish the Canadian "professionals" in the first game of another "Match of the Century."
Having your heroes knocked off a pedestal is very disturbing. While the Canadian pros did come back to defeat the Soviets in hockey, Bobby Fischer would soon begin to teeter on his pedestal. In 1975, he was due to defend his title against young Soviet sensation Anatoly Karpov, but it was not to be. This time the International Chess Federation would not meet Fischer's ever-increasing outrageous demands and he was forced to forfeit the title. He then disappeared from public view until 1992 when he emerged from seclusion for a rematch with Boris Spassky in Yugoslavia that he again won. By this time, though, the press had been reporting on Fischer's eccentricities and paranoia. He believed that television sets were emitting dangerous radiation, that the Soviets were trying to poison him and were monitoring his activities by reflecting radio signals from his dental fillings. He had the fillings removed. Fischer had joined the Worldwide Church of God whose leader Herbert Armstrong prophesied that the world was soon coming to an end. When this was unfulfilled, Fischer left the church and attacked it vigorously for being "Satanic."
Article content
It was after the 1992 match that Fischer not only figuratively toppled from the pedestal, but crashed and burned. The US government had banned the conducting of any sort of business in Yugoslavia because of the war in Bosnia and warned Fischer that if he played Spassky, he would be arrested if he returned to his homeland. As recorded by television cameras, he spit on the letter, beginning a crusade of hatred for America and particularly of Jews. Bobby Fischer became a raging antisemite, despite his mother and biological father being Jewish. He also applauded the 9/11 attack on the twin towers in New York.
Banned from the United States, he lived for a while in the Philippines, Hungary and Japan. In 2004, he was detained in Japan for trying to leave the country with a US passport that had been revoked. The Icelandic chess community came to his rescue by petitioning the government of Iceland to grant him asylum and citizenship which it did. Fischer lived in Iceland until his death from kidney disease in 2008, withdrawing from chess, but not from his rants against Jews and America. His mental condition has been discussed in the medical literature, but since Fischer never had a formal evaluation by a psychiatrist, only theories have been offered, with paranoid personality disorder being the most prevalent.
Article content
Bobby Fischer died without a will, leaving his American nephews, Japanese wife Miyoko Watai, and Marylin Young, a Filipino woman who claimed that her daughter Jinky had been fathered by Fischer, to battle for his estate valued at around $2 million. A petition by Young to have Fischer's body exhumed was accepted by Iceland, but analysis of the DNA samples clearly ruled out Fischer being Jinky's father. A court concluded that Miyoko Watai, a pharmacist and the president of the Japan Chess Association, had indeed married Fischer in 2004 in Japan and was therefore entitled to inherit his estate.
Bobby Fischer left an enigmatic legacy. He was undoubtedly one of the most brilliant chess players of all time, but his achievements will forever be clouded by his descent into the pit of racist paranoia.
joe.schwarcz@mcgill.ca
Joe Schwarcz is director of McGill University's Office for Science & Society (mcgill.ca/oss). He hosts The Dr. Joe Show on CJAD Radio 800 AM every Sunday from 3 to 4 pm
The Right Chemistry: Honey bees, bananas and a mystery solved

The Right Chemistry: The incendiary history of flammable fabrics