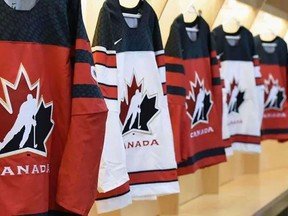 Article content
It's a strange time for the world juniors championship.
Article content
The tournament starts next week in Edmonton, coming not only when many are in the middle of their summer vacation, but also in the shadow of serious concerns about Hockey Canada's handling of sexual assault allegations.
So far, the atmosphere seems subdued for what would typically be a major city event. Despite more than a week of games at Rogers Place, Edmonton Downtown Business Association executive director Puneeta McBryan said in a message this week that the organization isn't excepting a "significant impact" from the run.
Hockey Canada must address scandal during world juniors, sexual assault agency says

Former Supreme Court judge Thomas Cromwell heads Hockey Canada review
The initial 2022 tournament in Red Deer and Edmonton had to be canceled last December when games kept being forfeited as players tested positive for COVID-19.
Article content
And experts who study sports management and economics say there are multiple factors that could affect ticket sales and interest in the rescheduled games.
"The world juniors men's hockey championship has become this sort of holiday season cultural institution," said Dan Mason, a University of Alberta professor of sports management.
"This tournament has way more visibility in Canada than any other country that participates in the event. And because it's associated with holiday time, people set time aside to watch it. Whereas now, if they do have time off, they've made other plans."
Brian Soebbing, an associate professor in the U of A's faculty of kinesiology, sport and recreation, said inflation is likely also affecting demand for world juniors tickets. People's budgets are tighter, and paying to see a game might not make their priority list.
Article content
But that comes on top of the furor around recent revelations that, in the past, Hockey Canada paid out millions of dollars to settle sexual abuse lawsuits through a special fund, built through player registration fees.
A police investigation has also been opened into an alleged assault at the Halifax world junior hockey championships in 2003, and a London, Ont., police probe has also been reopened into an alleged group sexual assault involving members of the 2018 team.
The International Ice Hockey Federation (IIHF) runs the world juniors championship, and there aren't allegations of wrongdoing against members of Canada's 2022 word junior team.
But Soebbing said the Hockey Canada headlines will be on many people's minds.
Article content
"It definitely wouldn't surprise me if it's having some impact. To what extent, sitting here in early August, is hard to say," he said.
"But it certainly won't be the last we've heard of the behavior of Hockey Canada."
Mason added that the scandal is more likely to have an impact on casual fans, who might be more likely to spend their time and money elsewhere.
"The ones that are going (to a hockey game) because they think it's something fun to do, they might be second guessing whether they should or not, whereas the diehard fans are going to be much more likely to still follow the games, watch them on TV and go to the games themselves."
The world juniors run in Edmonton from Aug. 9-20, and the final results of ticket sales have yet to be seen. Soebbing said it could be tough to assess how hockey fans are reacting until this tournament is over — and maybe even until it returns to its regular Christmas schedule.
"We won't know for sure until after the fact."
—With files from Postmedia and The Canadian Press
masmith@postmedia.com