HELENA — Zach Spiroff and Micah Ans have played a lot of snaps across from each other in Carroll's defensive backfield.
Ans worked his way into a rotational role last spring and broke into a starting role at corner last fall. Spiroff has been the rock that opposing Frontier Conference offenses have crashed against for the past three seasons.
Both, after helping anchor the fourth-best pass defense in the Frontier a season ago, return to headline Carroll's cornerback room.
"Experience is huge for me – playing here for three years now and going into my fourth year playing, fourth year starting," Spiroff said. "I'm excited to really get to be able to show what I've learned from playing against some of the top guys in the Frontier. I've been very blessed to practice against some good receivers like Shane Sipes and Joe Farris, guys who have made me a better player."
Spiroff, a Helena High graduate, was Carroll's fourth-leading tackler in the fall, the third straight season he's finished top-four on the team. He matched senior safety TJ Abraham with 10 pass break-ups and intercepted three passes, including a 40-yard pick-six against Rocky Mountain College.
Last season was a career year production-wise for the 5-foot-10, 180-pound junior, and with experience, Spiroff believes he's become a more savvy player on the field, one who can use that football knowledge to enhance his game and understand wide receivers and offenses at a higher level.
"One thing about Zach is he's feisty," Carroll's first-year defensive backs coach Van Cooper Jr. said. "He's got tons of experience – he's been a three-year starter, going on a fourth year. He can play press coverage, he can play zone. He has a great football IQ."
"He's not afraid to get up in your nose and press. All-around, Zach is a good football player. He has tons of potential and I'm excited about what he can bring to the team."
Ans, a redshirt senior, has been around since the Mike Van Diest days and has risen to become one of the Saints' best cover guys.
He matched Spiroff and Abraham with three picks last season while notching seven pass break-ups. At 5-foot-11, 185 pounds, Ans possesses both the size and physicality to hold his own against teams' top targets.
Carroll's defense often puts its corners in different situations – whether it be man or zone – that bring different responsibilities. Sometimes they find themselves in one-on-one matchups with wide-outs, a situation that shines the brightest spotlight on talent and technique.
"When it's one-on-one, there's a lot of things you gotta take into consideration – knowing my own speed, knowing if I should press bail, knowing if I should play the guy straight up or press," Ans said.
"When we're one-on-one, that leaves a lot of room for getting beat deep. A lot of it is just focusing on the technique and just being ready to take the guy on knowing that you've gotta leave it all out there on the field."
Spiroff and Ans have been receiving many of the first-team reps at corner early in fall camp.
Players like Liang Liedle, a redshirt junior out of Corvallis High School, and Kaleb Adams, a redshirt junior from McKinney, Texas, have gotten opportunities with the first and second teams on a rotational basis.
Liedle is new to the secondary, having made the switch from wide receiver following last season.
"He's making strides," Cooper said of the 5-foot-10, 170-pound Liedle. "He's a good player, good athlete. Pound-for-pound one of the strongest guys on our team. Very smart player. He communicates a lot in the secondary. I'm excited about him. He's a guy that's going to get some reps this year if he continues improving and doing the little things right."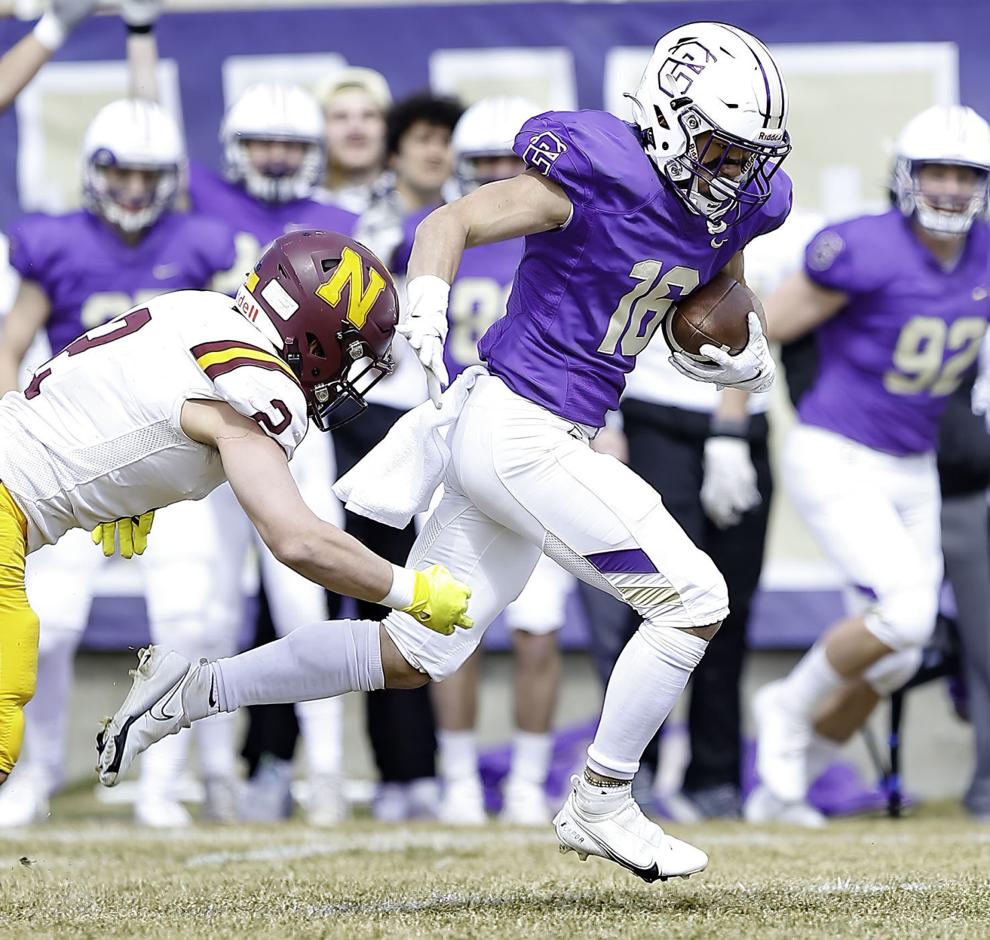 Adams filled a special teams role for Carroll last season as one of its kickoff return men. He redshirted in 2018 before seeing time as a running back in 2019.
Adams, who is listed at 5-foot-10, 185 pounds has made several good plays at corner early in camp.
"The last couple days, he's been getting better as far as trusting the technique and believing in his own ability," Cooper said. "For him, it's more of the mental aspect of it and just believing in himself. He's making some plays that I know he can make, but now he's starting to do it and trusting the technique."
Carroll held its fifth practice of the fall Friday morning, and for the first time this preseason, the Saints donned full pads and participated in a live session with tackling.
The Saints kick off their fall schedule on Aug. 27, at home, against No. 17 Montana Western.
"I'm very excited," Spiroff said. "We've got two very good teams – we always go back-and-forth. Since I've played here, those are some of my favorite games that I can recall – us against Western."
.