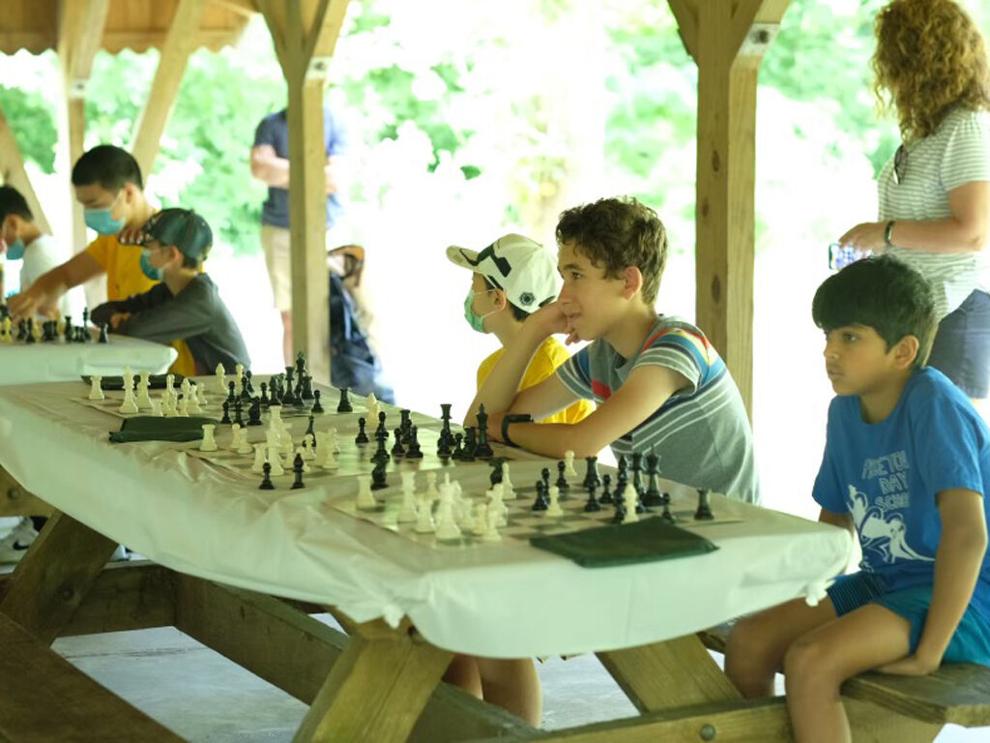 Transfixed by the boards in front of them, a group of youthful participants with smiles and concentrated stares faced off against a single player playing 19 simultaneous games against them. For two hours, the focus was on chess.
Out of the 25 total children who joyfully faced off against National Master Winston Ni, only three lasted until a technical draw was announced. This was a busy day for Ni, but also for Eric Wu, the founder of nonprofit Impact Chess, the organization responsible for hosting their first ever "Chess in the Park" event on July 10 at Princeton's Turning Basin Park.
Wu, a four-time NJ state grade champion, wanted to give the children who assembled "an experience, a memory," of chess for them to leave with. He noted the enthusiastic reactions of the younger players as Ni — who is also the director of community engagement for Impact Chess, a rising senior at Princeton Day School, and the 2018 National K-9 Champion — made moves in his "simultaneous exhibition."
"I found that just to be super beautiful, because of how much these kids are involved in the game and how much they care about it, and through that thinking, through that competitive atmosphere, you can really see growth," Wu said.
Along with the Princeton Chess Academy and volunteers, Impact Chess had set up 20 chess boards, then started with 30 minutes of free play for the young students. Wu said the day, which steadily grew in size and spirit over four hours, exceeded his expectations.
Explaining that "the mission of Impact Chess is to spread chess to those who would benefit from it the most," Wu acknowledged that while the game can help anyone, the nonprofit mainly focuses on children and seniors.
For children, he added, there are positives in "inspiring them, giving them a hobby or passion they can pursue, which helps them a lot later in life as they develop," but the same social and cognitive perks can apply to seniors, too .
Wu has spent this year advocating for the advancement of chess, officially registering the nonprofit organization in January, 2022. According to its website, Impact Chess has raised $1,330 and impacted 100 people through attendance at events and donations.
But before chess came into Wu's life, there was Go.
"When I was very young, and I lived in China, the popular board games were Go and Chinese chess," said Wu, who usually played with his father, Haibo. Go is also strategy-based, but features a larger board with an increased number of moves and pieces — chess has 20 starting possibilities to Go's 361, and instead of representing hierarchical ranks as chess pieces do, Go stones are rounded — with the objective being to take up as much of the board, or territory, as possible.
Born in San Francisco, Wu frequently moved back and forth between California and China until his family relocated to Princeton in the summer before second grade. There, he noticed that chess dominated the world of thinking board games, so his days of Go stopped.
From the day he signed up for chess summer camp at Princeton Academy, right next to the Princeton Day School he would later attend, it was obvious that Wu's future would be heavily influenced by chess and its principles.
"Chess has taught me a lot, and throughout the process I felt my own growth. I became better at chess, and I also met new people, so that's why I've been playing ever since," he said, adding that chess helped him explore creativity, strategic thinking, and how to remain calm under pressure.
Wu, 16, has lived in Princeton for nearly half of his life, but he is also a rising junior at Phillips Exeter Academy, a private boarding school in New Hampshire. His chess rating is around 2,000 — what he describes as "expert level" — and he is also in the top 100 for his age in the United States. Yet entrepreneurship is more of his current focus.
The idea for Impact Chess came from a late-night phone call with a friend, where Wu, still in Exeter, found himself reminiscing about past life experiences.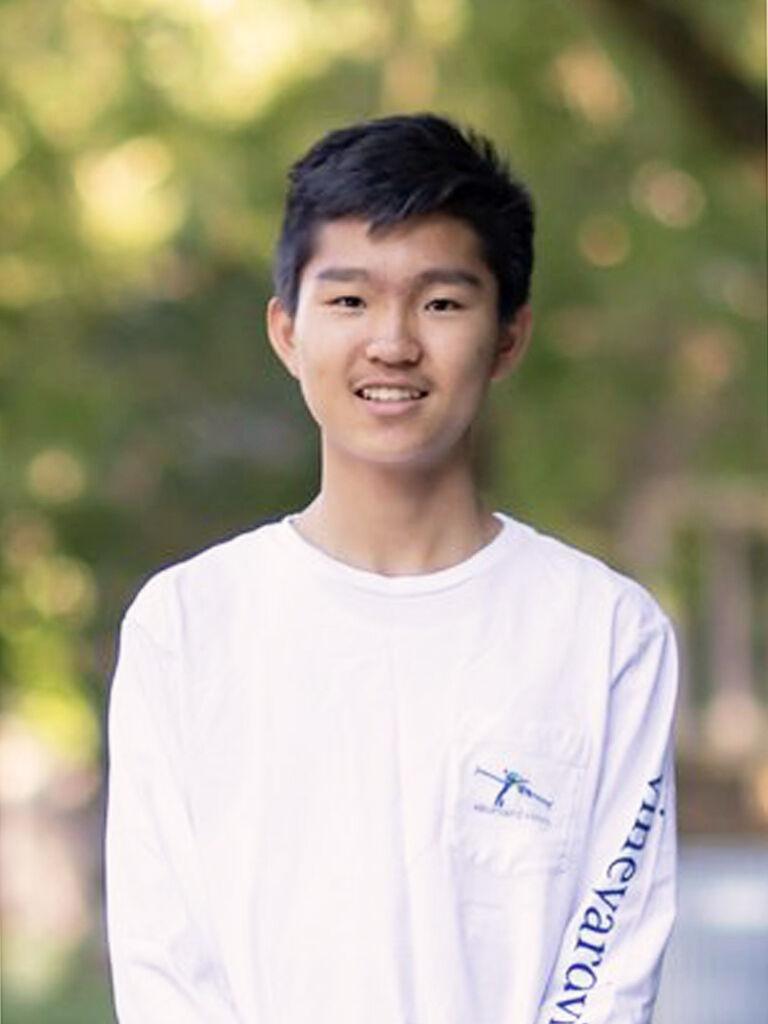 "Thinking back, I realized that a lot of the decisions I made were perfectly what would have led me to where I am today. I was able to, in a lot of different situations, find the best thing for myself and also others," he explained, linking that to his deep understanding of chess, where high level players regularly think several moves ahead. "At that moment, I really felt that I was blessed by the game of chess, [and] I thought I should definitely give this to other people. There are so many ways that chess can help."
Wu knew that gearing programming towards students, especially those from underserved and underrepresented communities, could result in "a brighter future" changed by the mutual celebration of chess.
"In today's society, political polarization is almost at an all-time high. Chess teaches us so much about perspective, strategic thinking, and removing emotions from judgment — all those things that could definitely just help people think more rationally, more sympathetically. I really feel like chess is just a great tool that helps people think about so many different things, and I wanted to share that with others," Wu said.
A renewed interest in the game, due in part to both the pandemic and the success of Netflix's "The Queen's Gambit," was another factor in making the dream of bringing chess to new audiences possible. The sale of physical chess sets rose, as did the rate of female players who identified with the show's lead.
Online platforms such as Chess.com exploded, as people were inspired by not just media, but the chance of escaping isolation, as many chose boards over boredom. Twitch, which has had a partnership with Chess.com since 2018, streamed matches and tournaments live.
While Wu appreciated that the popularity of chess increased, a downside was that "because of the pandemic, many tournaments, events, in-person lessons, and classes all had to be cancelled. So even though the pandemic has helped this surge and chess playing in general, it really harmed the in-person experience of the over-the-board tournaments, and the United States Chess Federation events."
Wu continued that "these closures, and overall, the harm that COVID has caused," all factored into the message of Impact Chess — not just to expand the game's reach, but "to try to heal these communities back together," he said.
Prior to the pandemic, Wu, his dad, and friends used to play with members of the Township Senior & Community Center Chess Club. The power of chess bridged the gap between the varying age groups and skill levels, but after being shut down for such a long time, the club struggled.
In June, the only attendees were Wu, his dad Haibo, and club president Bong Ortiz.
This motivated Wu to work with the club to establish quad tournaments — where each player engages in three rounds against those of similar ranking.
"It was actually a huge success, because there were around a dozen participants, which was incredible compared to the three people who were at the club meeting," Wu said, with that collaboration still ongoing.
Impact Chess also partnered with Arm in Arm, a Trenton nonprofit to help those in need receive basic care and employment, to donate 63 chess sets to Robbins Elementary School. After volunteers taught grades the basics of the game, 45 of those sets went to families, while 17 stayed behind, one for each classroom.
As Impact Chess is still in its infancy, Wu's priorities are to establish opportunities for outreach, instruction, and community building — at the moment, that means organizing events and recruiting members.
Their national scale already includes leaders in Massachusetts, Boston, Michigan, and Northern California, while international operations have started in Toronto, Canada. Planning for the future, though, was made easier through connections closer to home.
When Eric and Haibo first started playing in Princeton, they mainly stuck to school tournaments, but his father created a group chat for parents of local chess players in hopes that they could all share resources.
Soon, the platform became a place for mentorship opportunities as well, now amassing about 2,000 members. With more than just guardians, the chat has allowed Wu to interact with chess players he idolized as a child. As most of them are now college students, they were more than open to the idea of ​​offering their time and advice. Since Eric was able to build on these preexisting relationships, it was a natural transition for them to become involved.
One of the advisors is Andrew Tang, a grandmaster and Princeton University student regarded as "one of the best bullet chess players in the world," referring to a variant of chess with very short time controls such as hyperbullet (30 seconds per player) or ultrabullet (15 seconds per player).
Other notable figures include Darwin Yang, a grandmaster getting his Ph.D. in economics at Princeton, Jennifer Yu, the 2019 US Women's Champion and woman grandmaster, and Jeffery Xiong, who "qualified for the grandmaster title at age 14, after he became the youngest champion in the history of the Chicago Open," according to the website.
While these younger players are Wu's friends, two of the adult advisors are his coaches, renowned chess grandmasters Larry Christiansen and Gregory Kaidanov.
Wu maintained that the beauty of chess lies in its inability to discriminate.
"No matter what, when you play chess, you have 16 pieces on the board, the exact same as your opponent. That is something that is truly magical about chess, because I would say almost anyone could play it. Even if you're playing against the world champion, for instance, technically you have a chance. You start out completely even, whereas in a lot of other activities, there are some limits," he said, such as being athletic or tall in sports. "For chess, you just have to be willing to play it, to try to outthink your opponent."
If you lose, you do so with grace, Wu said, which is yet another merit to chess.
"I've lost over 200 games before, and in a lot of things I do, I don't really experience much failure — things are more in the gray area. But for chess, you either win or you lose. It doesn't matter how close you were, it doesn't matter how much time you spent, at the end, the result is" what it is, ending in either a victory, loss or a draw.
Every month, Impact Chess is set to host Chess Club quads, as well as Chess in the Park Events, with the latter next scheduled for Sunday, August 7.
"For Impact Chess, I definitely want to continue it even beyond high school, maybe even beyond college, because it's something that I really love doing, and that's what I think entrepreneurship means," Wu said. "Entrepreneurship is the creation of value."
He will always play the game and aims to attend nationals, but Wu defines his professional path through the ability to expand on his imagination — where, by combining strategies with his passion, he is sure to make winning moves outside of chess.
More information: impactchess.org.
.