By RICHIE HALL
[email protected]
The fourth annual Evan R. Hansen Golf Tournament took place July 30 at Pebble Brook Golf Course in Noblesville.
The sold-out tournament once again honored the legacy of Evan Hansen, a Guerin Catholic graduate. Hansen played football for the Golden Eagles, then went on to become a standout student and player at Wabash College. He was a senior at Wabash when he passed away in September 2018.
Hansen's parents, Chuck and Mary Hansen established the Evan R. Hansen Legacy Foundation, and it carries out philanthropic activities in memory of Evan. Two of Evan Hansen's Guerin Catholic teammates, Ben Almack and Kyle Schultz, also helped with the establishment of the foundation.
Chuck Hansen said that 153 people signed up to play at the tournament, and the event also had "about 20 volunteers."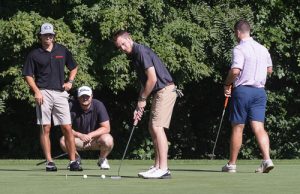 "It's really important for everybody that knew Evan to feel the support from others and realize that there's still good things happening from his memory and his legacy," said Chuck Hansen. "It's also a good chance for friends to see each other. Once people get out of high school and college, you don't see friends anymore and it's turning into a reunion of Evan's friends and coaches and things like that." Chuck Hansen called the event "a very positive, happy day," and a way to "make something positive out of a sad story."
Since its inception, the Evan R. Hansen Legacy Foundation has given in excess of $160,000 to many different organizations. This year alone, the foundation donated over $70,000 to Marian University, the Merciful HELP Center, Wabash College, FOCUS and the Concussion Legacy Foundation. In addition, the foundation awards an annual scholarship to a Guerin Catholic student. Elodie Krawczyk received the first scholarship in 2021, and Ellie Wilt received it this year.
"After graduation from Wabash College, Evan was planning for a career in the medical field," said a statement on the Evan R. Hansen Legacy Foundation website. "He was majoring in Spanish, so that he could better serve that community. He spent his 2018 Spring Semester in Valencia, learning Spanish medical terminology. That summer he interned at the Merciful HELP Center in Carmel, and also at the Kaseman community health clinic near Washington DC, where he translated between Hispanic patients and doctors. In his memory, the Foundation will use $50,000 from this Golf Tournament to establish a perpetual, endowed scholarship at Marian University. Special consideration will be given to a student that embodies the Franciscan value of Dignity of the Individual, and who has demonstrated a commitment to serve the underrepresented."
The foundation's first donation was to Merciful HELP Center, which is run by Our Lady of Mount Carmel Church, located near 146th Street and Oak Ridge Road in Carmel. The center helps resident and homeless disadvantaged people in Hamilton County, providing food, appliances and other necessities, and assisting with referrals for "social assistance, housing jobs and legal matters in cooperation with dozens of other agencies," according to its website (mercifulhelpcenter. org).
The Evan R. Hansen Legacy Foundation website offers additional resources, plus information about scholarships and internships. For more information, visit the foundation's website at erh32.org.