BOZEMAN — Major Givens believes Montana will be a good fit for him, partly because he rode cows as a child.
Givens is about to begin his senior year at Steele Canyon High School in Spring Valley, California, a San Diego suburb he moved to from Texas when he was 7 years old. On some days after school in Texas, he'd jump a fence onto a field where cows were grazing and hop on their backs… "for fun," he said.
"Some of them got spooked," Givens told 406mtsports.com Friday. "But there was this one specific one that had a red tag with a red collar that liked me a lot."
Givens will encounter many cows in his next home state. On Friday, the running back announced his commitment to the Montana State football team, which he'll join in 2023. Givens hasn't considered a bull riding career, let alone more cow hopping. He's focused on helping one of the best Football Championship Subdivision teams compete for a national title.
"I just can't wait to get out there and be a part of that team," Givens said.
Givens stands 5-foot-10, weighs 195 pounds and has run the 40-yard dash in 4.48 seconds, he said. He's also posted a short shuttle time of 4.08 seconds and has run the 100-yard dash in 10.95 seconds. For comparison, speedy former MSU star and current Atlanta Falcon Troy Andersen posted a 10.88-second 100 time at Dillon and a 3.99-second short shuttle at his Pro Day in April.
Givens bench pressed 355 pounds, squatted 545, deadlifted 605 and cleaned 305 as well. He's a three-star recruit, according to 247Sports.
"He's a beast," said Patrick Arinze, the Steele Canyon running backs coach and a former fullback at Arkansas. "He's put a lot of work in this offseason. He's got bigger, faster, stronger."
Last season with the 3-8 Steele Canyon Cougars, Givens rushed for 1,516 yards and 12 touchdowns on 276 carries (5.5 yards per carry), per MaxPreps. He also caught 13 passes for 166 yards and two TDs, and he averaged 32.9 yards on 11 kick returns.
Givens described himself as versatile, possessing power and elusiveness.
"He has everything you want in a running back. The full package," Arinze said. "Size, speed, elusiveness, runs good routes, catches well out of the backfield. He's a leader."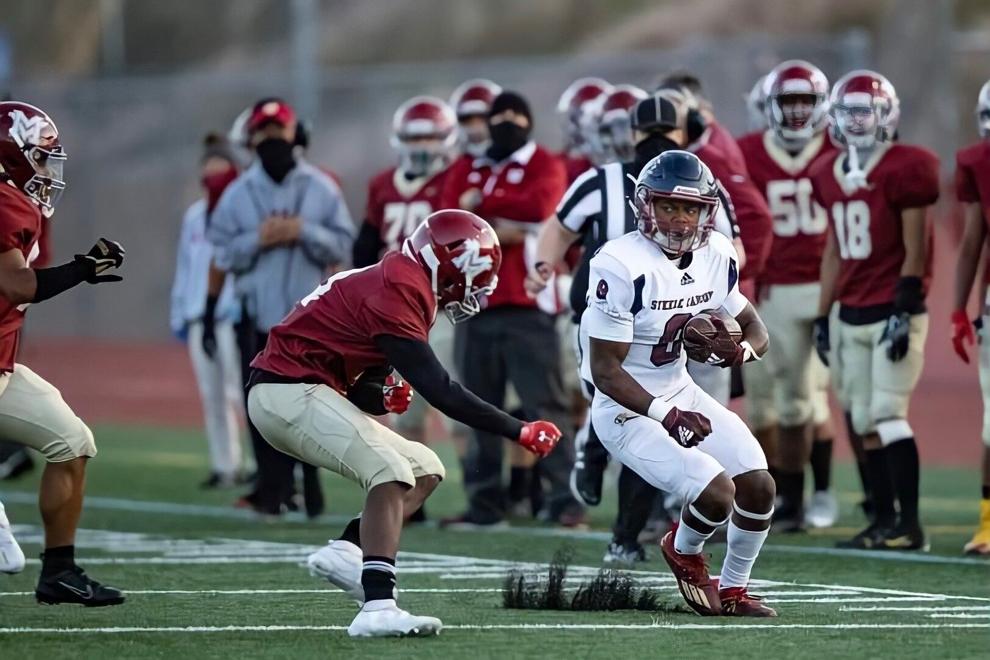 Givens received offers from four Football Bowl Subdivision programs: Air Force, Army, Georgetown and Navy. MSU was one of four Big Sky schools to offer him — Idaho, Idaho State and Northern Arizona were the others — and he got two more FCS offers, from the Ivy League's Cornell and Penn.
The Bobcats became Givens' top choice soon after he got in contact with their coaches in February, and he barely considered his other offers, he said. MSU's FCS runner-up finish last year contributed to Givens' decision, as did the coaches, especially running backs coach Jimmy Beal.
"They treat you like family," Givens said. "I love the staff. I connect with them perfectly."
Givens is MSU's fifth known commit from the Class of 2023, joining Bozeman offensive lineman Everett Carr, Helena Capital defensive lineman Talon Marsh, Meridian, Idaho, O-lineman Zac Nyland and Owasso, Oklahoma, quarterback Chance Wilson.
Givens hasn't visited Montana yet, but photos of the Treasure State earned his red tag of approval. He's not worried about moving to a much colder place.
"I love the way it looks up there. It gives me that country vibe," Givens said. "I just can't wait to get out there and see what it's really like in person."
Givens spent the first seven years of his life in Bells, Texas. The 1,800-person town is 50 miles north of Frisco, the site of the FCS title game.
.