Article content
Some of the world's best male teenage hockey players are set to face off in Edmonton in just days, but the city's second attempt at hosting the world juniors in eight months is proving to be a tough sell.
Article content
Gone is the usual holiday-time hype for Team Canada along with anxiety over who made the team and its gold medal chances.
Instead, there's an apparent apathy for the action on the ice.
Tickets for all games, including the Aug. 20 gold medal deciders are easily available on both official and resale sites.
A list of reasons for the underwhelming build-up to what is normally a near national holiday starts with the unfolding Hockey Canada scandal that's cast a pall over the tournament.
The organization admitted to paying out millions of dollars to settle sexual abuse lawsuits, through a special fund built through player registration fees.
Hockey Canada board chair stepping down
Criminal investigations have been renewed into allegations of group sexual assaults involving members of Team Canada at the 2003 and 2018 tournaments. On Friday evening, the chair of Hockey Canada's board of directors, Michael Brind'Amour, told the board he was stepping down immediately, Hockey Canada said Saturday in a statement.
Article content
"It's tough to see. It's pretty sad," Team Canada captain Mason McTavish said of the recent revelations.
"It's a really serious matter going on right now."
Serious enough that many might reconsider the typical automatic patriotism the tournament encourages.
"That's their right," said Team Canada coach Dave Cameron, when asked about fans staying away.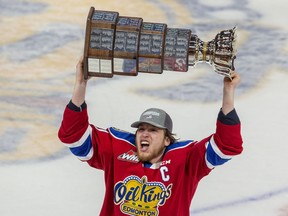 The August tournament is a reboot of the event initially scheduled for Edmonton and Red Deer in the usual December and January time slot. But the tournament was abandoned amid COVID-19 outbreaks on multiple teams that prompted three games to be forfeited.
The do-over will also be lacking the star power of the original event, with many prospects focusing on the upcoming National Hockey League season rather than the risk of injury.
That includes Edmonton Oil Kings captain Jake Neighbours, as well as local products Dylan Guenther and Team Canada captain Kaiden Guhle.
Traditional rival Russia had its team banned from the event following the invasion of Ukraine.
Interested or not, the tournament gets underway Aug. 9 at noon with Czechia versus Slovakia.
— with files from The Canadian Press
mblack@postmedia.com