SPICER — Alex Call has hit his share of home runs, whether in American Legion baseball or in high school ball at Kerkhoven-Murdock-Sunburg.
On Sunday, he finally added an amateur baseball home run to his resume.
"I haven't hit much for the town team," Call said.
That was true, until Sunday. The Raymond Rockets left fielder/pitcher went 4-for-4 with a two-run home run in the first. He finished with four RBIs and also got the save in relief of Zach Nelson, who went 2-⅔ innings in relief of starter John Sawatzky.
"Some of the young guys stepped up for us," Raymond manager Butch Steen said.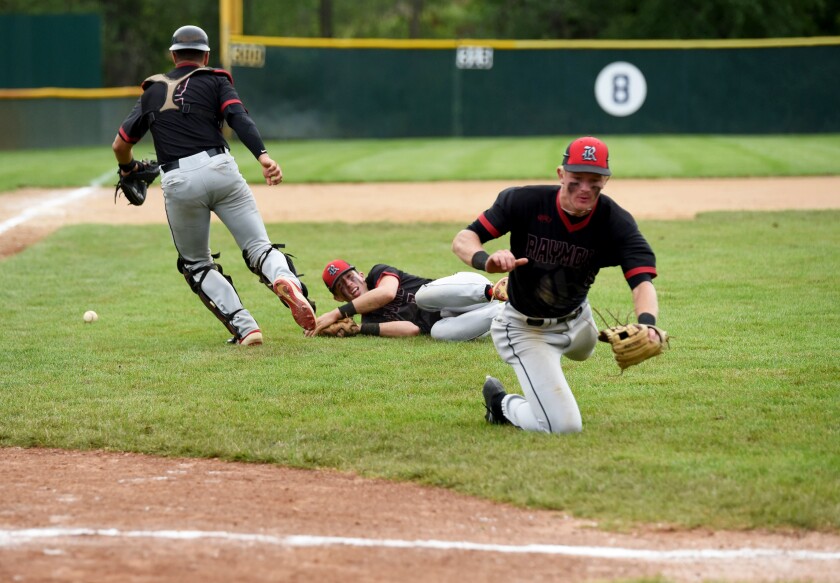 Call is a 2022 Kerkhoven-Murdock-Sunburg graduate headed to Bethel University to play football with his brother Isaac and baseball, where he is an excellent left-handed pitcher. In high school ball, he batted fourth for KMS, belting a couple of home runs. In American Legion baseball, he added "three of four" more homers. But in town ball, Steen said he dropped Call down in order to give him a bit of a break.
He was batting seventh Sunday at the Green Lake Diamonds and was part of a five-run first inning for the Rockets that also included a two-run home run by Tyler Steen.
That big inning followed a three-run top-of-the-first for Atwater that included an RBI double by Jordan Olson and a two-run double by Brett Peterson.
Raymond plated a couple of unearned runs in the sixth and added three more in the seventh, which included another costly throwing error.
The victory enabled the Rockets to earn one of the three spots from Region 4C that earns a state Class C tournament berth, the 13th in team history and the first since 2017. Raymond won the state title in 2016.
For Call, the state berth comes after close calls for KMS in football, basketball and baseball in which the Fighting Saints fell short.
"I know," Call said. "We just couldn't pull one out."
They did Sunday on a busy day in Region 4C.
Bird Island beat Starbuck 9-2 to earn another state berth. Bird Island and Raymond play to advance to the 4C championship bracket at 7:30 pm Friday at Spicer.
Also Sunday, Willmar and Paynesville had their elimination game suspended because of rain. The Rails led the Pirates 7-6 heading into the bottom of the eighth inning. In Region 4C, a team cannot be called complete until all nine innings have been played. Willmar and Paynesville conclude their game at 6 pm Monday in Spicer. Immediately following that game, the New London-Spicer Twins and Milroy Yankees play another elimination game.
Atwater 301 020 000-6 12 4Raymond 500 002 30x-10 12 3Hitting – Atwater: Josh Kingery 2-4 r bb, David Kingery 1-4 r, Jordan Olson 3-5 2b r rbi, Josh Cunningham 1-5 r, Jeff Peterson 3-5 rbi-2 2b, Jack Peterson 0-4 r sac, Chris Fellows 2-3 rbi-2 sf … Raymond: Mike Jeseritz 0-4 r, Tyler Steen 1-4 hr rbi-2 r-2 bb, Paxton Nelson 1-4 hbp, Caleb Ditmarson 1-5 r, Brady Kienitz 1-4 r-2 bb rbi 2b, Isaac Call 2 -4 r bb, Alex Call 4-4 r-2 hr sb rbi-4, Tanner Bauman 0-2 sac bb r, John Sawatzky 0-3 bb
Pitching (ip-hr-er-bb-so) – Atwater: Yes. Peterson (L) 6-8-7-5-3-2, Chris Fellows 1.1-4-3-2-2-2, J. Kingery 1.2-0-0-2-2 … Raymond: Sawatzky 4.1-9-6-5-1-2, Zach Nelson (W) 2.2-2-0-0-0-3, A. Call (Sv) 2-1-0-0-0-2
Bird Island 9, Starbuck 2
Bird Island dominated Starbuck to advance to the winners' bracket semifinals of the Region 4C tournament.
"When we play well, we can play with anyone," Bullfrogs manager Mike Nagel said. "Unfortunately, we've had some ups and downs this year, like in our game with Raymond (for the Corn Belt League championship).
"We've been committed to being more aggressive at the plate. And when we've done that, we're getting production from everybody, including our 7-8-9 hitters. They can carry us. Most times, teams with hitters in those spots are just trying to survive."
Trent Athmann helped fuel the Bullfrogs to victory. He went 4-for-4 with three runs, two walks, an RBI and a stolen base.
Jared Dettmann and Shawn Dollerschell hit home runs for the Bullfrogs. Dettmann went 2-for-3 with two RBIs, a pair of runs, two walks and a stolen base. Dollerschell went 1-for-5 with two RBIs, one run and a walk.
Casey Lewandoski earned the win for Bird Island. He went seven innings with 10 strikeouts and a walk, allowing four hits and one earned run.
Michael Gruber had two of Starbuck's five hits. He went 2-for-3 with an RBI.
Bird Island 201 300 210-9 15 2
Starbucks 000 010 001-2 5 1
Hitting – Bird Island: Braden Tersteeg 2-6 r, Trent Athmann 4-4 bb-2 sb r-3 rbi, Shawn Dollerschell 1-5 bb hr r rbi-2, Logan Swann 3-5 bb, Tyler Hebrink 1-6 rbi-2, Aidan Elfering 2-6 r rbi, Dylan Gass 0-2 bb hbp-2 r, Jared Dettmann 2-3 bb-2 sb hr r-2 rbi-2… Starbucks: Michael Gruber 2-3 rbi, Michael Andreas 1-3 bb hr r rbi, Jackson Hendrickson 0-3 hbp, Andy Toop 1-4 2b r, Aaron VerSteeg 0-3 bb, Mitch Gruber 1-4
Pitching (ip-hr-er-bb-so) – Bird Island: Casey Lewandoski (W) 7-4-1-1-1-10, Eric Gass 2-1-1-1-1-2 … Starbucks: Drew Olsonawski (L) 3-5-3-3-2-4, Darion Alexander 3-3-3-5-2, Gruber 0.1-3-2-2-0-0, Aaron VerSteeg 2.2-4-1- 0-0-3
The Starbuck Stars dominated the Willmar Rails to advance in the winners' bracket of the Region 4C tournament.
In the game that went seven innings, Matt Gruber recorded a complete game. He allowed five hits and one run, striking out five batters and walking two.
Gruber, Austin VerSteeg and Michael Andreas recorded three hits for the Stars in the win. Gruber had a team-high three runs, while Andreas tallied a team-best three RBIs.
Sam Etterman and Ashton Gregory combined for four of Willmar's five hits. Etterman had a double and Gregory hit home Jayden Dierenfeld for the Rails' lone run of the game.
Willmar 000 010 0-1 5 1
Starbuck 600 203 x-11 18 0
Hitting – Willmar: Ashton Gregory 2-3 rbi, Sam Etterman 2-2 2b, Jayden Dierenfeld 0-1 r, Christian Lessman 1-2 … Starbucks: Michael Gruber 2-3 2b r, Darion Alexander 2-5 r-2 rbi, Matt Gruber 3-4 r-3 rbi, Austin VerSteeg 3-4 sb r rbi-2, Aaron VerSteeg 1-4 2b r rbi-2, Michael Andreas 3-4 2b r rbi-3, Jackson Hendrickson 2-4 2b r rbi, Andy Toop 2-3 r rbi
Pitching (ip-hr-er-bb-so) – Willmar: Christian Lessman 0.2-7-6-5-2-1 (L), Patrick Courtney 5.1-11-5-5-1-3 … Starbucks: Matt Gruber (W) 7-5-1-1-2-5
Bird Island 6, Paynesville 3
Bird Island held off a late comeback effort from Paynesville en route to a 6-3 win Saturday to advance in the winners' bracket of the Region 4C tournament.
Aidan Elfering went seven innings for the Bullfrogs. He struck out 10 batters and allowed five hits and zero runs.
Nine Bird Island batters tallied at least one hit in the win. Tyler Hebrink recorded a team-high two RBIs. Trent Athmann scored a team-best two runs.
Paynesville's Luke Johnson hit a home run in the loss. He went 1-for-5 with one run and an RBI.
Paynesville 000 000 003-3 9 0
Bird Island 200 400 00x-6 12 3
Hitting – Paynesville: Grayson Fuchs 2-5, Luke Johnson 1-5 hr r rbi, 1-4 Garrett Leusink 1-4 bb, Grady Fuchs 1-4 2b, Tanner Stanley 1-3, Bennett Evans 1-1, Grant Fuchs 1-1 2b r, Sam Oehrlein 1-4 hr r rbi-2 … Bird Island: Braeden Tersteeg 2-4 bb r, Trent Athmann 1-3 r-2 rbi, Shawn Dollerschell 1-5 rbi, Logan Swann 1-5 rbi, Tyler Hebrink 1-2 bb sb rbi-2, Aidan Elfering 1-4 rbi, Dylan Gass 1-3 bb r, Zeke Walton 2-4, Jared Dettmann 2-4 r
Pitching (ip-hr-er-bb-so) – Paynesville: Grady Fuchs (L) 4-8-6-6-3-1, Grant Fuchs 4-4-0-0-0-3 … Bird Island: Elfering (W) 7-5-0-0-0-10, Brad Gass 1.2-4-3-3-1-0, Eric Gass 0.1-0-0-0-0-1
The Raymond Rockets defeated the New London-Spicer Twins to advance in the winners' bracket of the Region 4C tournament.
Eli Nelson and Caleb Ditmarson combined for four of Raymond's six hits. Nelson went 2-for-2 with two runs, one RBI and a stolen base. Ditmarson went 2-for-3 with three RBIs.
Hunter Magnuson recorded two of the Twins' five hits. He went 2-for-3 with a home run, adding two runs, one RBI and a triple.
Ditmarson went six innings on the mound alongside his offensive performance. He allowed three hits and one earned run, striking out 10 batters and walking four.
NLS 000 001 011-3 5 0
Raymond 000 000 04x-6 6 2
Hitting – NLS: Ben Kulset 0-3 rbi, Hunter Magnuson 2-3 3b hr r-2 rbi, Adam Schrader 1-5 rbi, Josh Soine 0-3 r, Scott Ranbow 1-3, Derek Dolezal 1-3 2b … Raymond: Paxton Nelson 1-4 sb, Mike Jeseritz 1-3 r rbi, Tyler Steen 0-3 r, Eli Nelson 2-2 sb r-2 rbi, Caleb Ditmarson 2-3 rbi-3. Brady Kienitz 0-4 r, Tanner Bauman 0-3 rPitching (ip-hr-er-bb-so) – NLS: Magnuson 7.1-5-5-5-3-8 (L), Danielson 0.2-1-1-0-0-1 … Raymond: Caleb Ditmarson 6-3-1-1-4-10 (W), Alex Call 3-2-2-1-3-7
Josh Kingery got the pitching win as Atwater advanced in Region 4C but shutting down the Milroy Yankees at Spicer.
window.fbAsyncInit = function() { FB.init({
appId : '1155092205298742',
xfbml : true, version : 'v2.9' }); };
(function(d, s, id){ var js, fjs = d.getElementsByTagName(s)[0]; if (d.getElementById(id)) {return;} js = d.createElement(s); js.id = id; js.src = "https://connect.facebook.net/en_US/sdk.js"; fjs.parentNode.insertBefore(js, fjs); }(document, 'script', 'facebook-jssdk'));