"In my world, you don't cancel Pride," says Puelo Deir.
Article content
The cancellation of Montreal's Pride parade Sunday was "absolutely scandalous," says Puelo Deir, co-founder of Pride precursor Divers/Cité, which organized LGBTQ2+ festivities in Montreal, including the annual parade, from 1993 until Montreal Pride took over in 2007.
Article content
"I wouldn't believe it if I saw it in a movie. I thought it was a joke," Deir said of the cancellation of the annual celebration of sexual and gender diversity only hours before it was scheduled to start Sunday morning.
"First of all, in my world, you don't cancel Pride. It would take an act of the universe or real threats to security to cancel Pride. And to cancel it like you were canceling a night out at a dance party felt outrageous to me."
Organizers did a fine job with all the other Pride events last week, Deir noted, including a party at the Olympic Stadium on Sunday afternoon; but they seemed to have forgotten the most important part.
"Those events are the side show to the main event, which is the parade," he explained. "And the parade is not an event, it's political. It's the whole raison d'être for Pride week."
Article content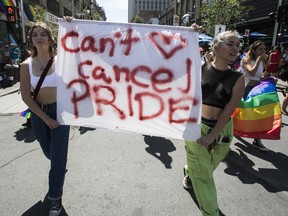 Montreal Pride organizers initially said the cancellation was due to a lack of approximately 80 of the 200 volunteers needed to secure the parade route. Then Sunday night, Pride director Simon Gamache admitted to La Presse columnist Mario Girard that someone at the organization had forgotten to hire about 100 paid "agents d'accueil," or greeting agents, who worked with 100 volunteers to secure the route.
Mayor Valérie Plante expressed shock at the cancellation on Sunday, saying had she been made aware of the situation earlier, the city would have done what was necessary to ensure the parade took place.
Montreal Pride organizers declined an interview request from the Montreal Gazette, Monday, but responded with the following statement:
Article content
"The board of directors of Montreal Pride have put together an internal post-mortem committee in order to shed light on the events leading to the cancellation of the parade yesterday in Montreal. Montreal Pride will release a statement looking back on the 2022 festival later this week."
A meeting was scheduled for Monday afternoon between representatives of the Plante administration and Montreal Pride, to whom the city gave $600,000 in funding this year for the week's festivities.
Quebec's Minister of Tourism also "requested a meeting with organizers to discuss the situation," said Meghan Houle, a spokesperson for the ministry, which allocated $1.1 million to Montreal Pride for its programming this year.
Article content
If there is a bright side to the whole affair, it lies in the two impromptu marches that took place Sunday afternoon, after the parade was cancelled. One was led by Afro Pride, an advocacy group for the Caribbean LGBTQ2+ community, which had a float on site for the original parade.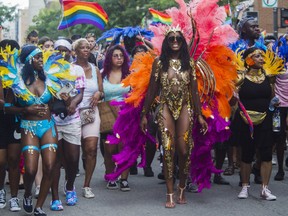 "We said, 'We can't (not have a parade). We put too much effort, time and money into what was supposed to be an important event for our community,'" said Afro Pride co-ordinator Sonja Matschuck.
Afro Pride representatives spoke with police, who said they were there to help and would accompany a spontaneous march. The float ended up taking revellers from Dorchester Square all the way to the Olympic Stadium. Matschuck and a few Afro Pride volunteers remained behind the truck, keeping people from getting too close to the float to ensure no one got hurt.
Article content
"For me it was a relief, that we could provide some kind of celebration," Matschuck said. "I think the important part is to remind ourselves that Pride started with a riot. Pride is for the rights of minority groups.
"For me, it was magical, the whole parade. We didn't have everyone that was supposed to be there, but when I looked out at the sea of ​​people following us and enjoying it, it was truly magical."
Deir was "overjoyed" to see Afro Pride save the day, but he believes Montreal Pride has some serious soul-searching to do in the coming days.
"I don't want to see heads roll," he said. "But if they haven't learned from this monumental failure, then they should resign."
As for talk of a possible makeup parade in the coming weeks, he is equally skeptical.
Article content
"You've missed the moment," he said. "The moment was Sunday, Aug. 7. That's when we were all here."
Sponsors of Montreal Pride stood behind the event, despite the controversy.
"The health and safety of all participants, volunteers and attendees is paramount to TD," a spokesperson for the bank, which is the official presenter of Montreal Pride, said in a statement. "While we are saddened that the parade was cancelled, we support the decision of the organizers and look forward to continuing to find ways to celebrate LGBTQ2+ communities in the future."
The Montreal Casino, which is owned by Loto-Québec, was similarly understanding.
"Loto-Québec has supported Montreal Pride for several years," said spokesperson Renaud Dugas. "Last week, many activities took place on the Loto-Québec Stage and at the Montreal Casino, for the joy of all. Loto-Québec will continue to support events around the Montreal Pride festival and remains in solidarity with diversity and inclusion."
The STM said it was "disappointed by the turn of events," but would continue to work with Montreal Pride.
"We have partnered with Montreal Pride since 2016. It's an important event for us," said Amélie Régis, public relations advisor for the STM. "Our partnership rests on an exchange of visibility (and is not monetary), so we won't ask for any compensation."
La Presse Canadienne contributed to this report.
tdunlevy@postmedia.com