Interviews
Right after he won in Round 9, to reach 8 points, GM Elshan Moradiabadi said his favorite games from the US Open were against GM Illia Nyzhnyk in Round 9, and his win in Round 6 against FM Austin Mei. Moradiabadi feels great about winning the qualifying spot to the 2022 US Championship, to be held in October at the Saint Louis Chess Club. The other player who scored 8 out of 9, GM Aleksey Sorokin, is with the Russian Federation and is not eligible to play for the US Championship.
Alexey Sorokin
Moradiabadi also is proud of winning Chess Journalist of the Year; see the "Committee Meetings" section below for more on that award. Moradiabadi said, "Thanks to Chess Life editor John Hartmann, I feel more comfortable writing in English. John gives advice and lets me rewrite." Originally from Iran, Moradiabadi used to write in Farsi. According to "23andMe" DNA testing, Moradiabadi is 97% Persian Kurd. He understands Kurdish.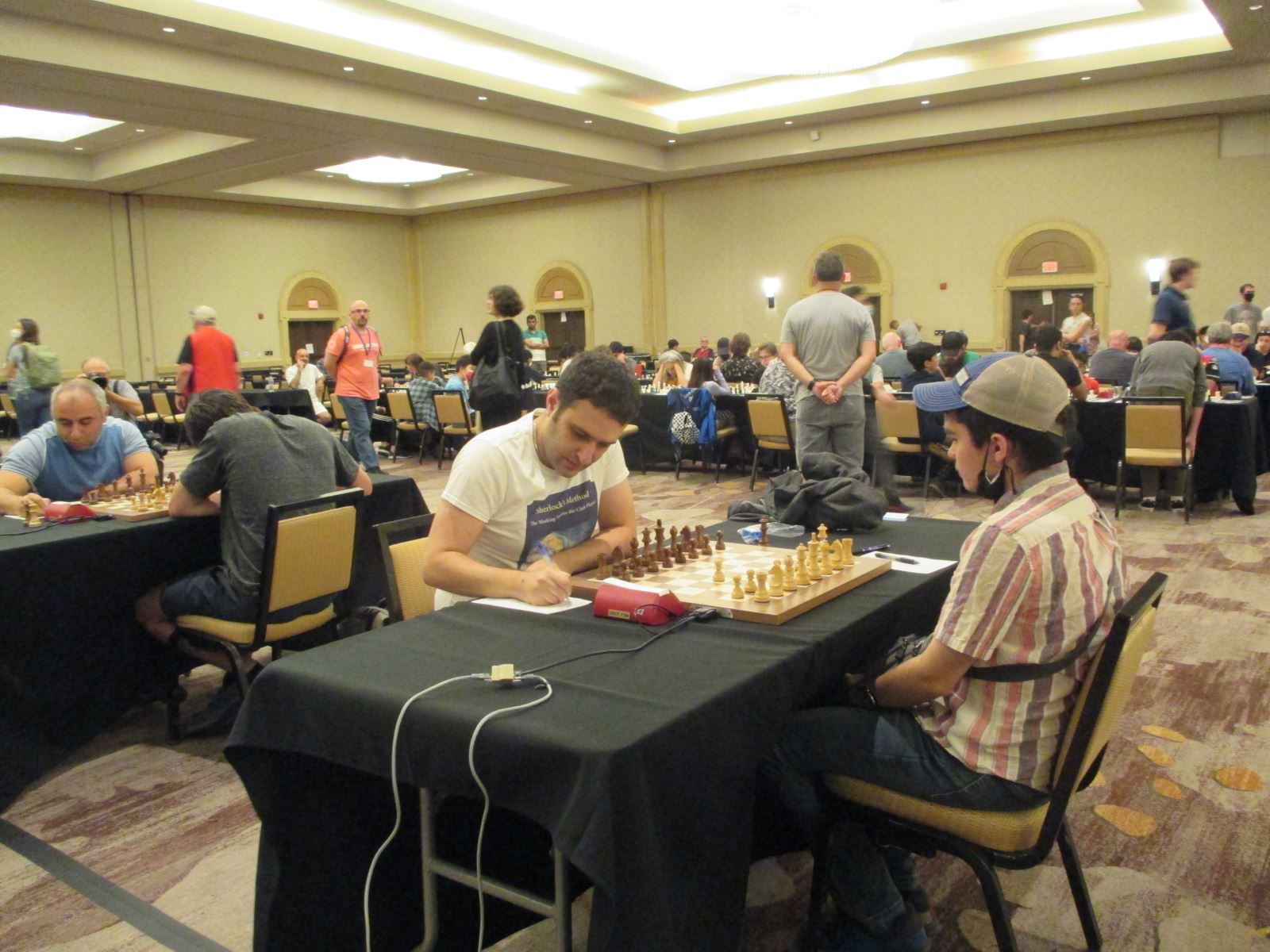 Elshan Moradiabadi (Black)
Moradiabadi thanked all his supporters but singled out two people for special praise: His fiancée Sabina Foisor and the Managing Director for Thinkers Publishing, Daniël Vanheirzeele. Foisor was a Twitch commentator for US Chess during the US Open. Vanheirzeele planned Moradiabadi's US Open trip, arranging for Moradiabadi's travel and housing plus a book signing.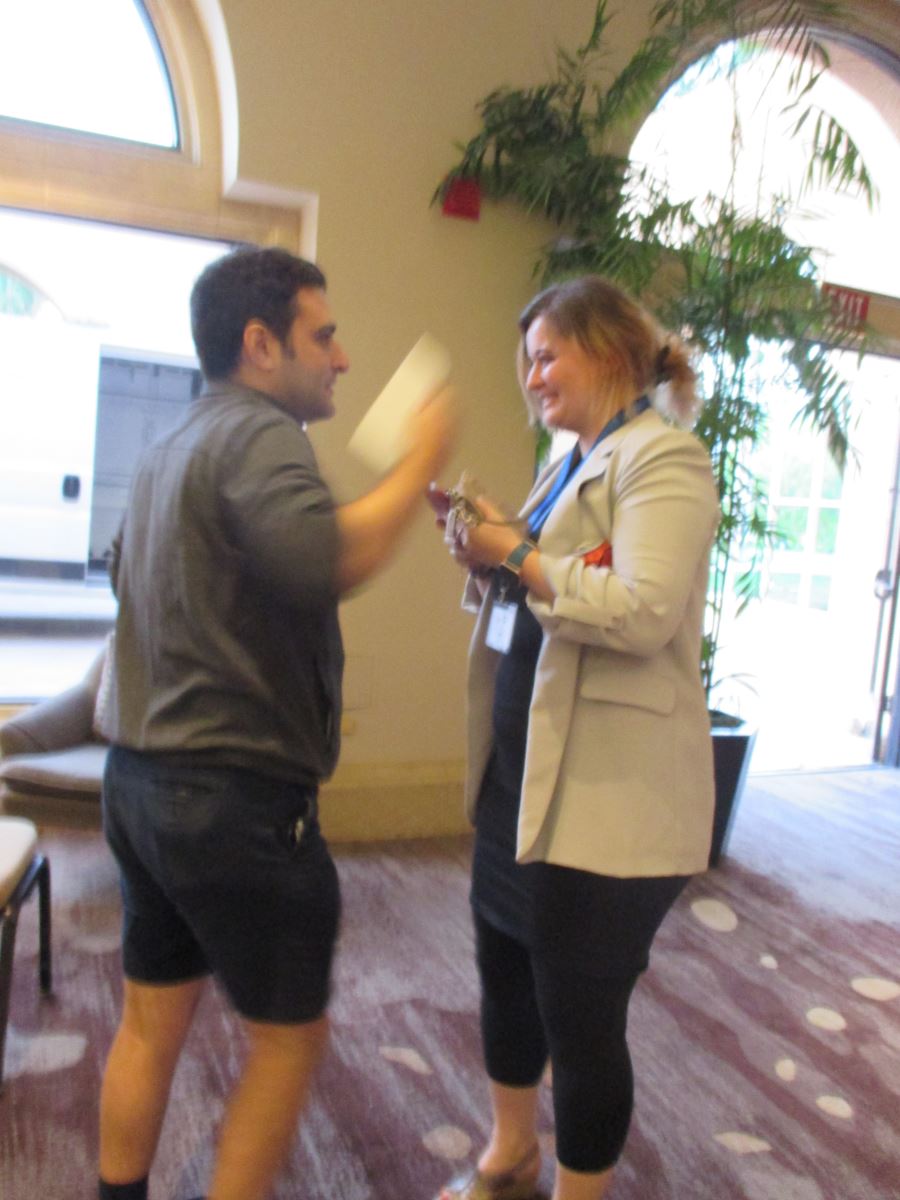 Elshan and Sabina after Elshan won round 9
GM Aleksey Sorokin came to the United States from Russia in 2019 to matriculate at Texas Tech University. A senior studying computer science, Sorokin will graduate this coming spring of 2023. He would like to stay in Texas. Sorokin said, "I also like Palm Springs. Hot weather is alright if you have a pool to swim in."
Sorokin's favorite game was his win in Round 8 against GM Alexander Shabalov. Sorokin added, "Round 9 was important. I got a great position out of the opening, but then I blundered. Then I was losing. Then my opponent blundered. My opponent, GM Viktor Matviishen, was my roommate for this tournament. Viktor is also a Texas Tech student and we agreed to wear matching Texas Tech chess team shirts for this last round."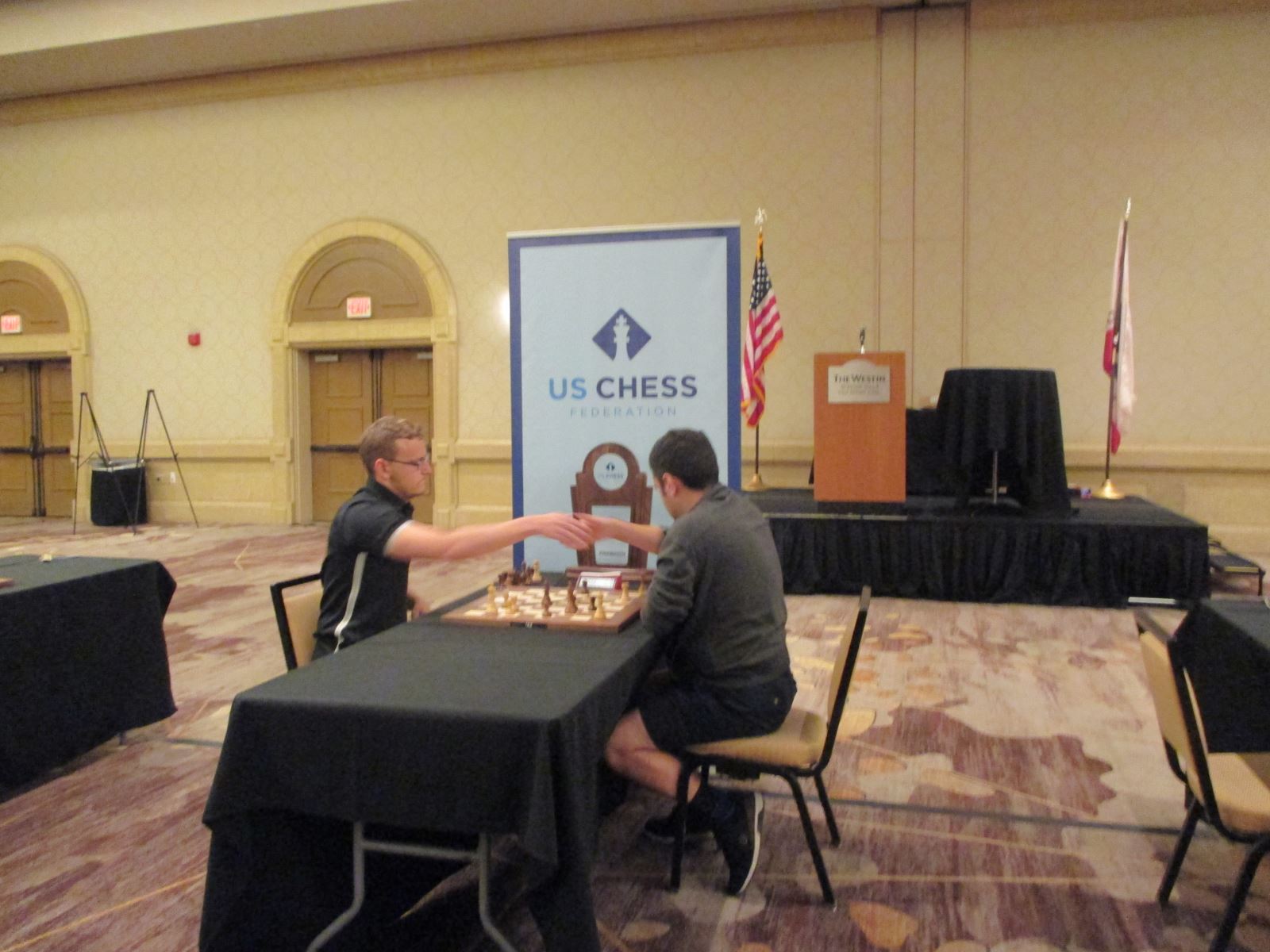 Handshake at the end of Armageddon
Armageddon Playoffs
The Armageddon game was, quoting from the US Open tournament announcement, "G/10, d0. Players bid for starting time with Black. Low bid gets bidded start time, Black, and draw odds." Moradiabadi bit 8 minutes and had Black for the playoff game. Sorokin had 10 minutes and won as White to earn an extra $200, the trophy, and the title of 2022 US Open Champion.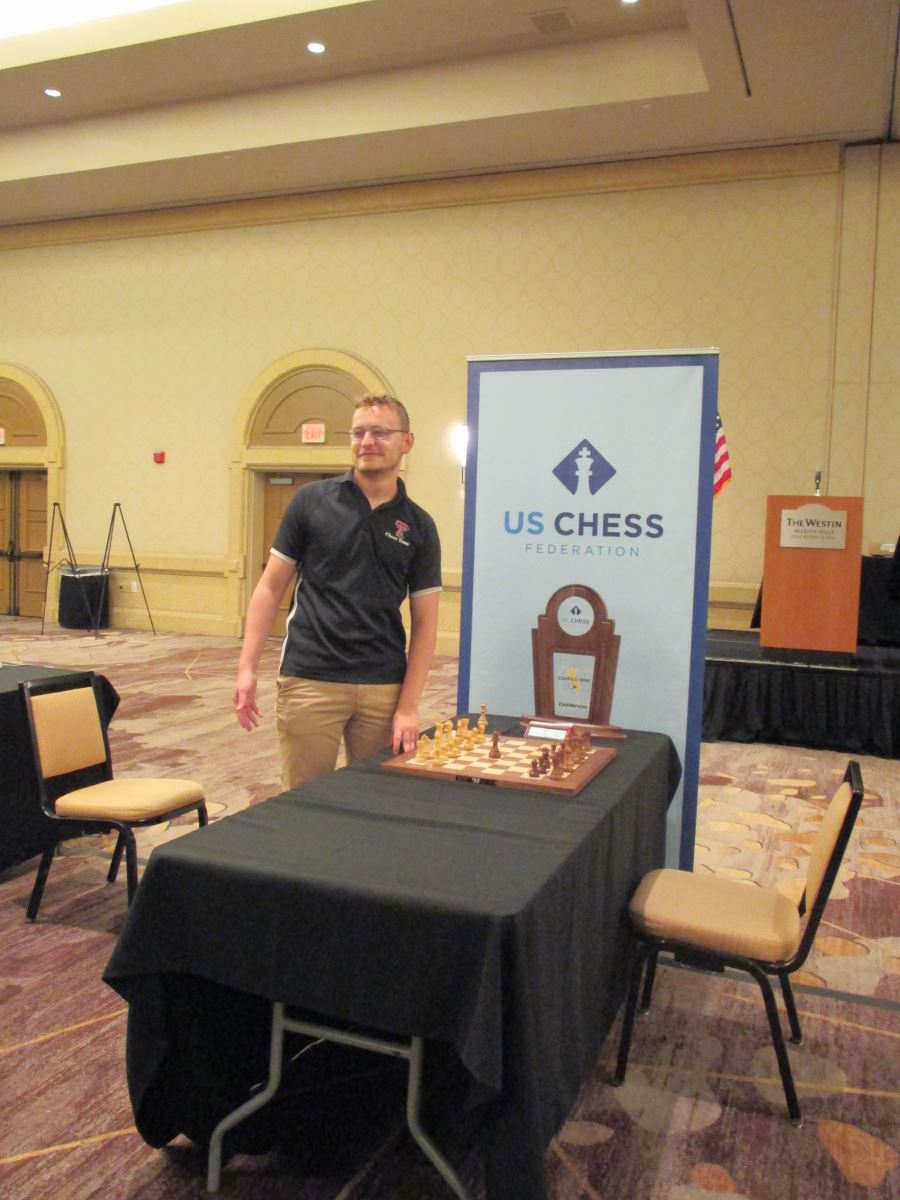 Aleksey Sorokin after Armageddon
Committee Meetings
Some committee meetings were scheduled simultaneously. For example, the Women's Committee and the Senior Committee both met at 1 pm on August 4. Women's Committee member Leila D'Aquin (Louisiana) recommended that each state select a senior woman to play in a new national tournament of state champions. This proposed event for women ages 50 and older will be modeled on the five national tournaments of state champions already extant. On behalf of the Eade Foundation, FM James Eade (Northern California) proposed a US Senior Women's Championship similar to the US Senior Championship. First, D'Aquin and Eade presented at the Women's Committee meeting. Then they presented again at the end of the Senior Committee meeting.
At 2 pm on August 4, the Development Committee shared that there were 1,446 unique donors to US Chess in 2021–2022. Of those donors, 885 contributed to the general fund, which means the money is unrestricted. Total donations were over $800,000.
On August 3, at 1 pm, the Fair Play workshop shared input from Lichess, Internet Chess Club, and Chess.com. Discussed were the rights of accused cheaters to know all the evidence against them versus the interests of the online sites to keep their proprietary fair play methodology confidential.
On Friday, August 5, at 2 pm, the Chess Journalists of America (CJA) highlighted its award winners, including the Chess Journalist of the Year, GM Elshan Moradiabadi. CJA President Joshua Anderson also called for submissions to The Chess Journalist. Anderson advised, "We won't take everything, but we are interested in good quality stuff that doesn't necessarily have a home elsewhere."
Also on Friday, at 3 pm, was the Staff Forum/General Membership meeting. One question from a member was about how US Open sites are selected. Executive Board members answered that room rates are one factor: generally, the lower, the better! However, other factors include proximity to a major airport, adequate playing hall space, and rotating to different regions of the United States. The Executive Board members expressed that 2022 was California's turn to host. Next year's US Open will be July 29–August 6, 2023, in Grand Rapids, Michigan.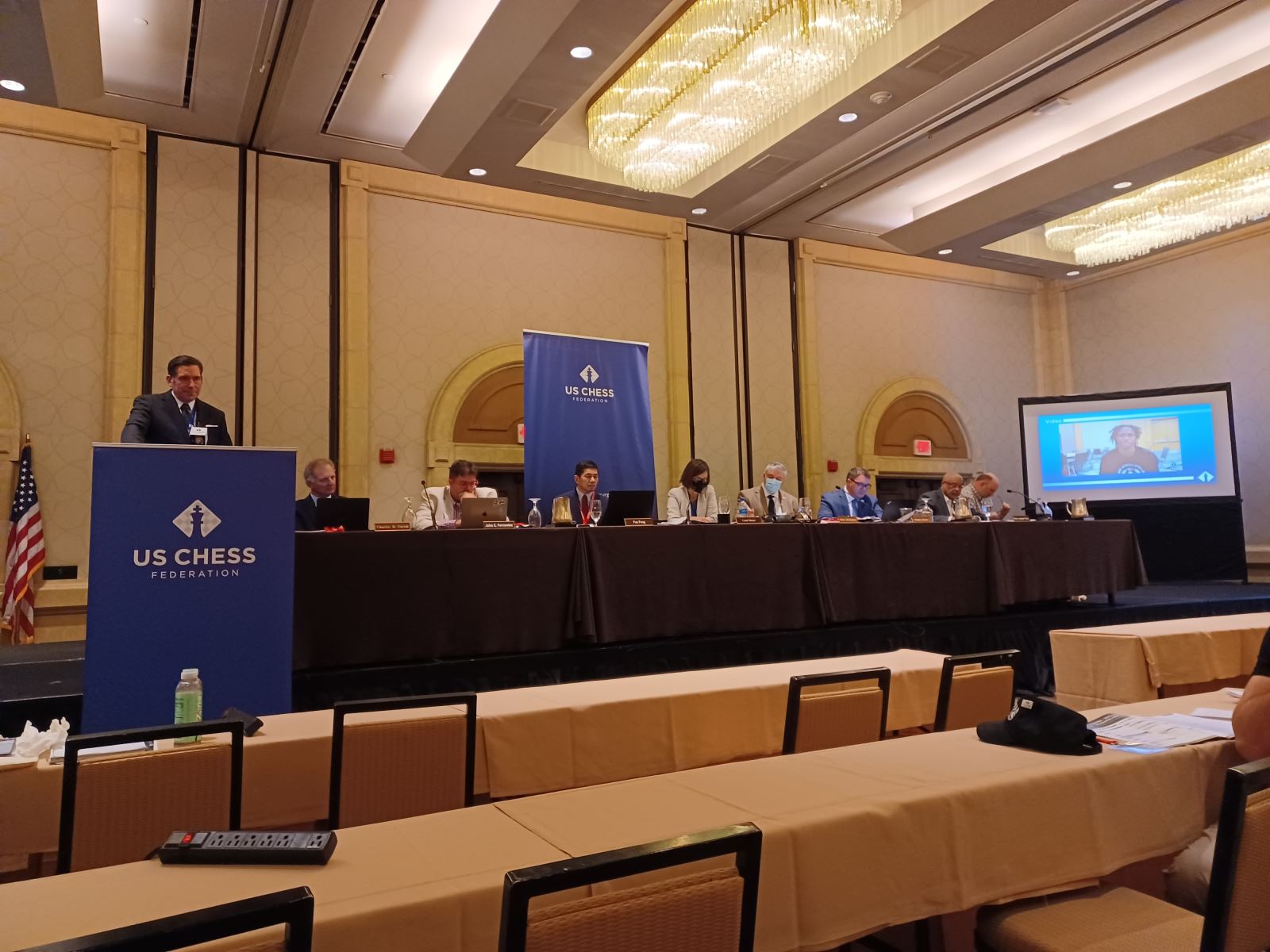 Dan Lucas, Executive Board, including Executive Director Carol Meyer
Awards Reception
The US Chess Awards Reception was Friday, August 5, at 4 pm Award winners are on this list and three of them are highlighted here. The Accessibility and Special Circumstances Person of the Year Award went to Janelle Losoff. Janelle and her husband, International Arbiter Alan Losoff, won Organizer of the Year. They run the International Chess Festival in Las Vegas. The awards reception fell during the week that Janelle had her 70th birthdayth birthday. She celebrated with cake immediately after the Awards Reception and with a swimming pool visit the next day.
Janelle Losoff
Another winner was Daaim Shabazz. Dr. Shabazz founded The Chess Drum 21 years ago. It tells chess stories from the African Diaspora, the US chess community, and the worldwide community at large.
Dr. Daaim Shabazz
Delegates Meeting
Saturday morning, August 6, Executive Board President Mike Hoffpauir stated that his goal was to finish the Delegates Meeting in one day. He succeeded, completing all agenda items, and adjourning the meeting at 5:08 pm The Delegates Meeting was originally scheduled for a full day on August 6 and a half day on August 7.
When Delegates arrived on Saturday morning, Lawrence Cohen, Illinois delegate, welcomed them with freshly baked blueberry muffins. Southern California delegate Sean Manross, and his dog Bear the "Chess" husky, were among the first to stop by Cohen's table.
Motions considered are in the Delegates Call, along with the names of each state's delegates. Currently, the US Chess bylaws state that the Board of Delegates is composed of the Executive Board members, the Delegates at Large, and 125 Delegates, apportioned among the states in proportion to their resident US Chess membership. Northern California and Southern California are two different states and the District of Columbia is considered a state too. In 2022, 58 Delegates attended, which was enough for a quorum.
Hoffpauir was re-elected to the Executive Board, as was Chuck Unruh. Both will be serving three-year terms. Hoffpauir said he would step down as President. The 2022–2023 board selected Randy Bauer as President. US Chess Executive Director Carol Meyer invited Delegates to visit the US Chess headquarters in St. Louis. It is in a historic building in the Union Station complex in downtown St. Louis.
Games
IM Doug Root annotated Benson Schexnaydre's draw with IM Sam Schmakel, who outraged Schexnaydre by almost 500 points. Schexnaydre is a 16-year-old junior at Franklin County High School. He lives in McCall Creek, an unincorporated community in Franklin County, Mississippi. His chess teacher is Dr. Jeff Bullington. Bulington said that Schexnaydre also takes chess lessons from National Master Nick Matta, who is based in New Orleans.
Isabella Elkins represented Arkansas in the Haring at the same time her father, Steve Elkins, represented Arkansas in the Irwin. They live in Bentonville, Arkansas. After the invitationals ended, father and daughter won the US Open's Mixed Doubles prize for Father and Daughter team ($240 for the team; that is, $120 per player). Isabella Elkins annotated her draw against Hanchi Yao, who outscored her by 1,000 points.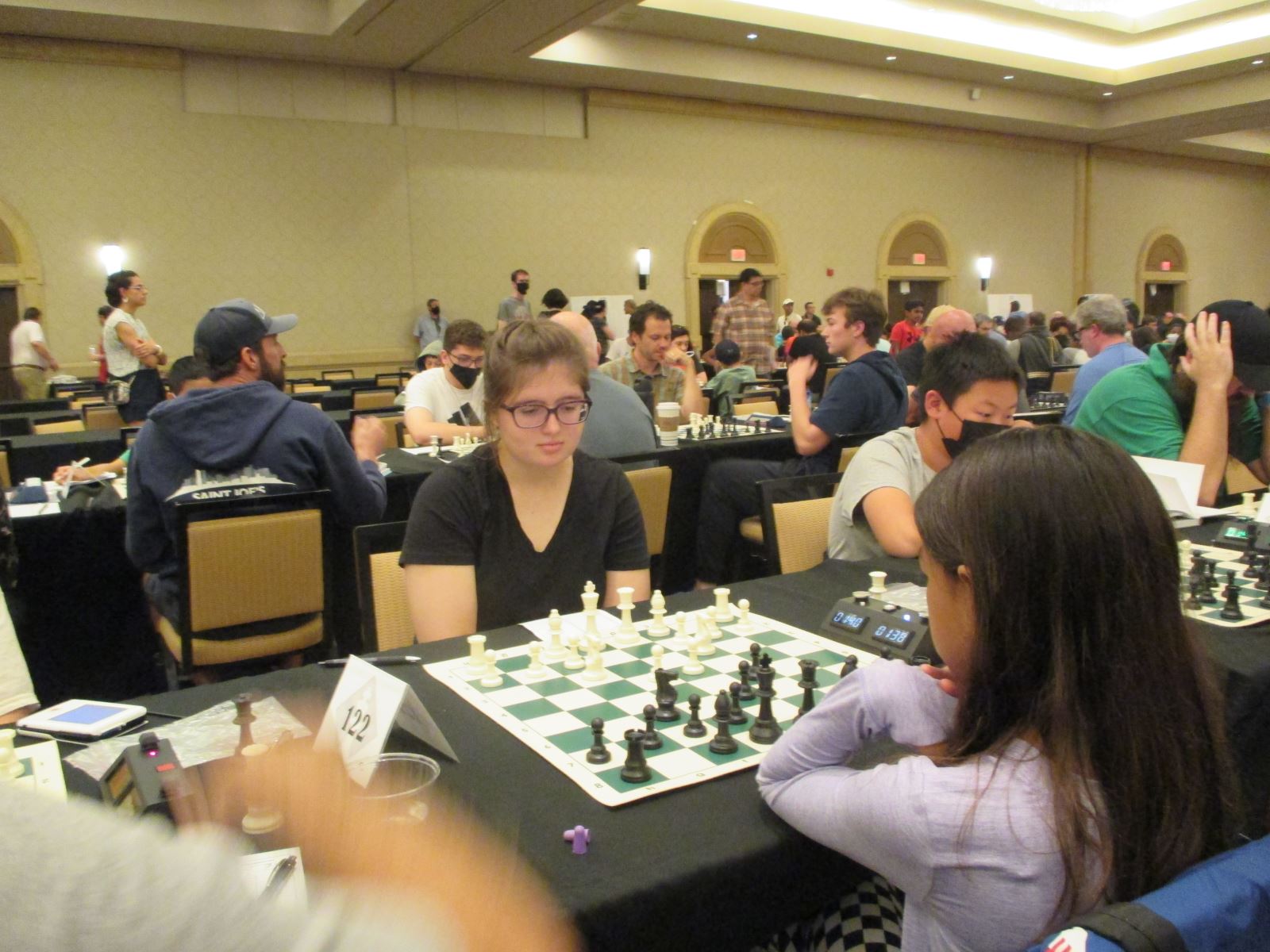 Isabella Elkins
Links: