In the men's lightweights, like their female counterparts, the bonus went to the outgoing incumbents, since it was the 2021 junior world champion, the Georgian Giorgi Sardalashvili, who came out of the first part of the table, to face Taiki Nakamura, benefitting from seeding. Nakamura was, just like his teammate Yoshioka at -48kg, not among the seeds of the competition this morning.
Sardalashvili is far from unknown to World Judo Tour fans, as he is already the holder of two medals, one brilliantly collected bronze at the recent Zagreb Grand Prix in July and the other was a silver won at home in Tbilisi in June. The same pattern was not visible for Nakamura. Although he has also already attended the podium of the WJT with a bronze in Portugal in January, he had no reference in juniors prior to Guayaquil. We can never repeat it enough though, that it is not indicative when it comes to Japanese athletes whose talent we understand regardless of their track record.
It is certain that Nakamura knew that he had to pay attention to the left arm of Sardalashvili, which goes over the head and puts an immense pressure on anyone's shoulders. The match began exactly as expected, Nakamura being totally dominated and being penalized for that. Step by step the physiognomy of the final changed though and despite a couple of penalties distributed between them, Sardalashvili was not dominating so much and Nakamura produced one of those judo moves that comes out of nowhere, scoring an immediate and indisputable ippon. This time it was a de-ashi-barai that gave no chance to Giorgi Sardalashvili to add a second world title to his prize list. This is the second gold for Japan in Ecuador though.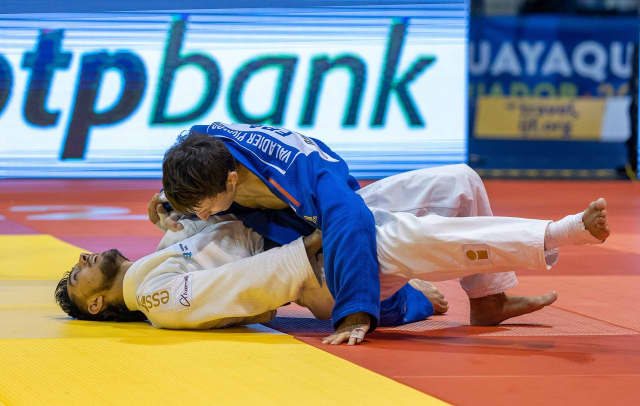 Romain Valadier Picard (FRA) vs Turan Bayramov (AZE)
Second at the 2019 World Cadets, bronze medalist in the juniors last year, Romain Valadier Picard (FRA), whose performance on the WJT is starting to make people talk about him as a very good future lightweight, was probably hoping for a little better than a new bronze medal chance among juniors. However, he had to settle for a match where the outcome could have been either happy or sad against Turan Bayramov (AZE), who also already has two senior medals. Valadier Picard didn't offer the slightest chance to his opponent. After scoring a first waza-ari with an opportunistic counterattack, he concluded with an immobilization for ippon; still a very good result for the French rising star.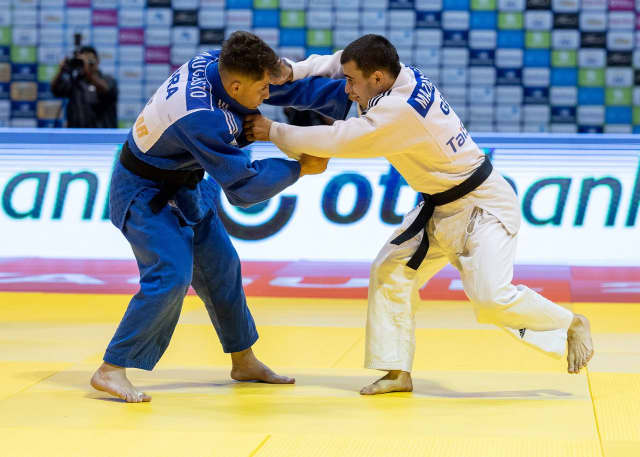 Tornike Maziashvili (GEO) vs Michel Augusto (BRA)
The second Georgian competitor, Tornike Maziashvili, had the chance to join his compatriot on the podium, but for having to face Michel Augusto (BRA). On one side we had Augusto, really trying his best not to play Maziashvili's game, which was a battle of power, but despite a very strong kata-guruma attack that could have left no chance to the opponent, Maziashvili countered for a waza-ari . The result looked assured, when Michel Augusto executed a superb seoi-nage that drove the Georgian judoka to the mat for a waza-ari as well, but the move took too long and was cancelled, offering the victory to Maziashvili.
Medals, checks and mascots were presented by Mr Vlad Marinescu, Director General of the International Judo Federation and Mr Giorgi Atabegashvili, President of the Georgian Judo Federation
.