Pitt has a group of experienced running backs returning for the 2022 season. Pitt head coach Pat Narduzzi has made it known that he expects his team to run the football much more with new offensive coordinator Frank Cignetti Jr. than it did under former offensive coordinator Mark Whipple (now at Nebraska). It's hard to argue with the results of Whipple's pass-heavy offense last season that produced a Biletnikoff Award winner (Jordan Addison/WR) and a Heisman Trophy finalist (Kenny Picket/QB). However, a consistent running game will help out whoever wins the starting quarterback job between Nick Patti and Kedon Slovis.
KEY RETURNS
Israel Abanikanda | 5-11 | 215 | Junior
Abanikanda led Pitt in rushing yards during the 2021 season. He carried the football 123 times for 651 yards (5.3 ypc.) and seven touchdowns in 13 games last season. Abanikanda also caught 24 passes for 197 yards and one touchdown.
Vincent Davis | 5-8 | 170 | Senior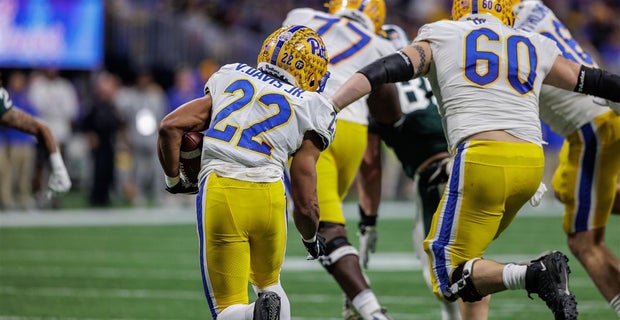 Davis carried the football 142 times for 593 yards (4.2 ypc.) and four touchdowns in 14 games. He caught 23 passes for 125 yards.
Rodney Hammond | 5-9 | 200 | Sophomore
Hammond carried the football 102 times for 505 yards (5.0 ypc.) and five touchdowns in 12 games last season.
OTHERS WHO WILL LOOK TO TRY AND GET INTO THE MIX
Daniel Carter and Notre Dame transfer C'Bo Flemister will look to work their way into the rotation.
Here is what Pat Narduzzi said about his running backs during Pitt's media day:
We do have some guys back there that will be it to watch how he progressed but we are looking for the consistent guy. I think when you say you've got three guys, and then C'Bo comes in, you've got four, you want to look and see who is the guy that's going to be most consistent. I think at times those guys have been like a yo-yo where that guy had a great day, and the next guy the other guy has a great day.

I'll go back to last year, okay, 2021 spring, I came out and said Vince Davis was our starter, okay. Going into spring ball. Coming out of spring ball, Izzy is our starter. It's like, what the heck happened. Like Vince what did you do, Izzy stepped it up.

So it's back and forth, and I want to see a consistent guy. I mean, I didn't say that when James Conner was packing there. Didn't say that when Qadree Ollison was back there. We are looking for that guy that's going to take that position over and it could be any four of those guys. Just looking for consistency, the guy that you can count on for all times, and then we'll see how that whole thing goes.
ED OB's THOUGHTS
Pitt has the pieces to have one of the best backfields in the ACC this upcoming season. Barring an injury, Israel Abanikanda is capable of having a 1,000-plus yards rushing this season. Vincent Davis has been a great change-of-pace back since he's gotten to Pitt. Rodney Hammond will also be in the mix for carries after showing a lot of promise during the 2021 season.
Stay tuned to Panther247 for Pitt football team and recruiting news.