Among seniors the -81kg category is one of the most open on the circuit, with a large number of athletes who can claim the podium at each tournament. It is therefore not really surprising to find that the same rule seems to apply among juniors. Bright Maddaloni Nosa, seeded number one, will have understood this today, eliminated in the preliminaries and then again in the repechage. It was ultimately his quarter-final opposition, the Moldovan Mihail Latisev, originally from Balti in the north of the country and with some significant results in the European junior cups, who qualified for the final, after a morning in which he demonstrated all his combat intelligence.
In front of him we found a French athlete with a fairly similar profile. Arnaud Aregba does indeed have a junior track record, which if not yet flamboyant with major championship titles, is sufficiently substantial to say that he had a chance to shine in Guayaquil. His past results had also allowed him to be seeded but not on top. Whatever the final result, we already knew that the name of the new world champion would be a first.
The least we can say is that the final was open, both competitors putting everything into attacking without any kind of auxiliary tactic. With a massive ko-uchi-gake, Aregba was the first to score a waza-ari but this was not the end of the story. Mihail Latisev once again showed his intelligence for finding opportunities and with a very low o-uchi-gari he propelled Aregba onto his back for a clear victory. This is the judo we like.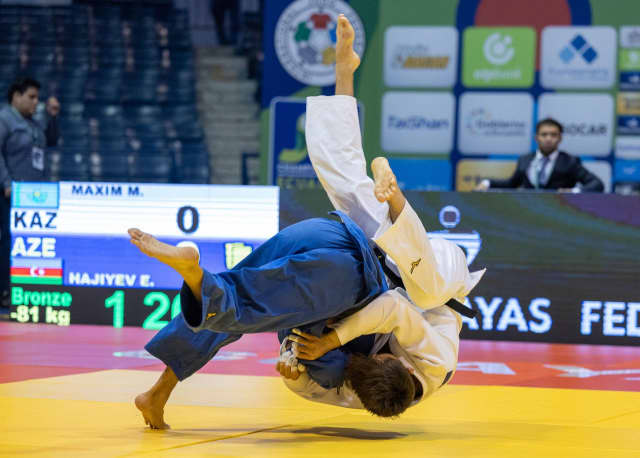 Meiirlan Maxim (KAZ) vs Eljan Hajiyev (AZE)
A two-time continental medalist, Meiirlan Maxim (KAZ) qualified for the bronze medal match against Eljan Hajiyev (AZE), who had already won a bronze medal last year in Olbia. For the second year in a row, Hajiyev stepped on the podium after producing a massive ippon, bringing the first medal of this championship to Azerbaijan.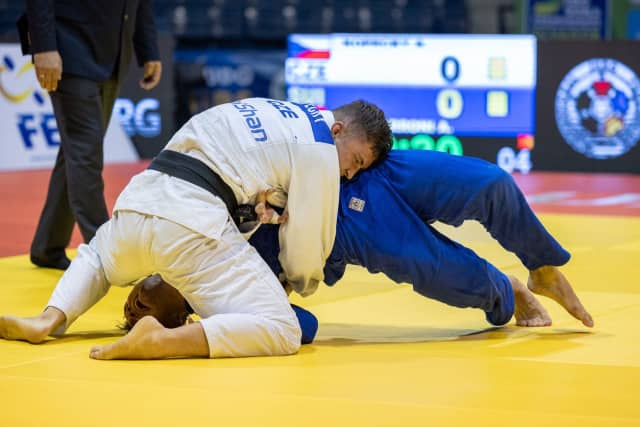 Adam Kopecky (CZE) vs Aurélien Bonferroni (SUI)
In the second match for a bronze, Adam Kopecky (CZE) faced Aurélien Bonferroni (SUI) who was hoping to repeat the performance of his compatriot Binta NDIAYE, bronze medalist at -52kg, but unfortunately had to bow out after Kopecky scored a waza- ari with an immobilization just a few seconds before the end of the contest.
Medals, checks and mascots were presented by Mr Sebastián Palacios Muñoz, Minister of Sports of Ecuador and Mr Roberto Ibanez, President of the Judo Federation of Ecuador
.