Sunday afternoon, Drew Rasmussen had everything working. For eight innings, his fastball/cutter combination kept Orioles batters off balance, with intermittent sliders only deepening their confusion. The first 24 Orioles to come to the plate walked away empty-handed. It took Rasmussen just 79 pitches to navigate those eight innings. He was on course for both a perfect game and a Maddux, and the Orioles looked unlikely to stop him.
They managed to break through. Jorge Mateo led off the ninth inning by lacing a double down the third base line. He advanced on a groundout, then scored on a wild pitch. Rasmussen didn't even manage a complete game; after Brett Phillips reached on a dropped third strike, Kevin Cash went to the bullpen for the last two outs of the game. It wasn't the crowning achievement for Rasmussen that it might have been, but this season has been a success nonetheless, and a near-perfecto presents a great excuse to examine what's gone right.
I last checked in on Rasmussen after his first start this season, when he adopted a new sweeping slider and threw it a ton. In 2021, he'd been a fastball-first pitcher with a slider that changed shape as he worked on it throughout the year. In 2022, he came out featuring the slider, with a new cutter to boot. Would 2022 be the year of the sweeper for Rasmussen?
As it turns out, not so much. His first few starts represented a local high in slider usage, and he's been leaning on the pitch less and less since. He's filled in that gap by going back to his high-octane fastball and by trusting that new cutter: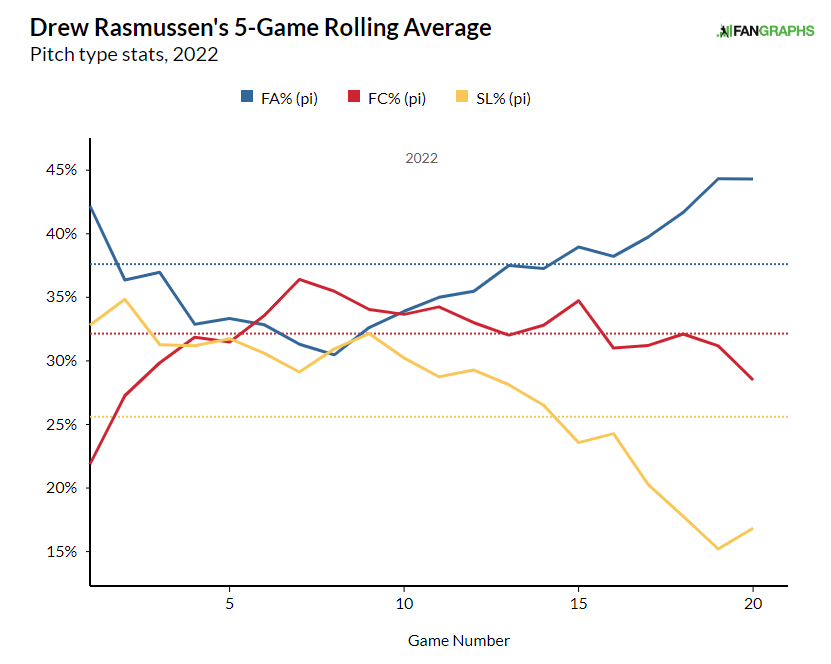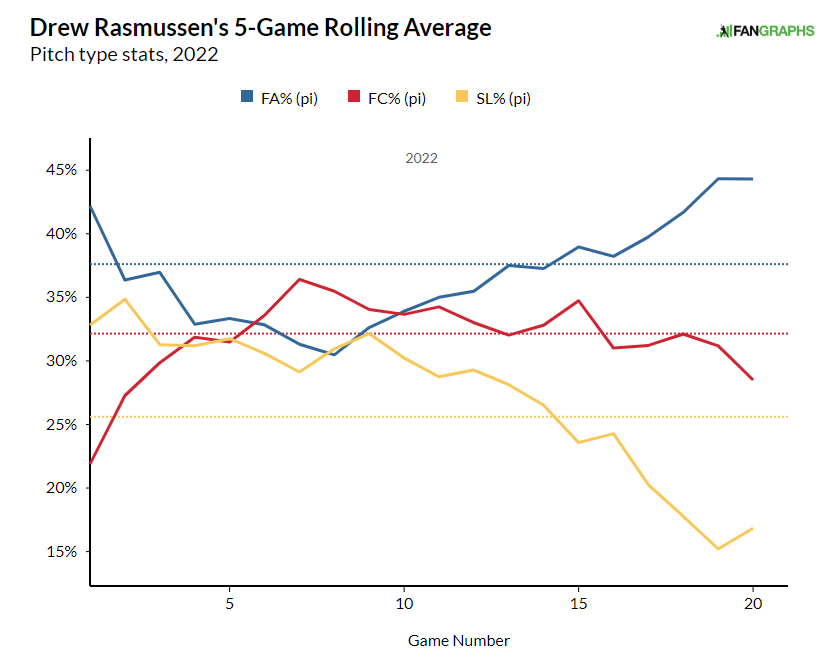 Why isn't he using the slider as much? Put simply, it works better as an out pitch thrown out of the zone than as an all-purpose weapon. When Rasmussen throws it in the zone, batters both swing a lot and make a lot of contact, a horrid combination. Since the start of July, he's thrown it only 8.5% of the time when behind in the count, compared to 30% of the time when the count reaches two strikes. He only threw 15 sliders on Sunday, but he made them count:
That slider works as dessert for Rasmussen's pitch mix but it might not be up to being the main course. For that, he has his new cutter and of course his trusty fastball. We might as well talk about the fastball first because it's an easy one to analyze. Did you know that throwing laser beams that hug the top of the zone and defy gravity thanks to otherworldly spin often leads to strikeouts? Rasmussen knows:
I'm cherry picking a bit there; despite its top-of-the-charts spin, Rasmussen's fastball isn't one of the best bat-missers in baseball. In fact, he's in the bottom half of the league when it comes to whiff rate on four-seam fastballs. He's more late-career Madison Bumgarner (19.4% whiff rate on four-seamers, just ahead of Rasmussen's 19.1%) than current-day Ryan Helsley (32%).
Instead, he uses that fastball as a combination get-ahead pitch and rescue net. He throws it quite a bit to start batters off. Should he get behind in the count, he leans on it even more, and it's one of the best pitches in baseball at that particular task. When he throws a fastball while down in the count, it results in either a swing or a called strike 77.1% of the time. That's 28th-best in baseball, in the top 15% of all pitchers who have thrown 100 four-seamers this year. It does roughly as well if you expand the cohort to include sinkers. In other words, if what you want out of your fastball is to jump back into a plate appearance when you're behind, Rasmussen has exactly what you want.
That explains Rasmussen's excellent walk rate; if your primary pitch doesn't miss many bats but also doesn't produce many balls, you can go from behind in the count to ending the at-bat one way or another pretty quickly. As Rasmussen leans into his low-slider pitch mix, the fastball is now helping him make longer outings. He's faced at least 22 batters in five of his last six starts. The lone exception was a planned short start on August 8 for innings management reasons, as Rasmussen is rapidly approaching his career high in innings pitched despite missing a few starts in June.
If you've been following closely, you might notice that Rasmussen has a good pitch for two-strike counts and a good pitch for when he's behind in the count. The rest of the time? That's for cutters. His cutter is rapidly becoming his workhorse pitch, one he can throw in every count. It behaves more like a hard slider than a cutter; per Alex Chamberlain's pitch comp tool, it looks a lot like sliders thrown by Sandy Alcantara, Gerrit Cole, and Dakota Hudson (hey, two out of three ain't bad).
Is Rasmussen's cutter a good pitch? In my estimation, it's his best one. It does two things that I consider essential: it convinces hitters to chase, and it holds its own when Rasmussen ventures into the strike zone with it. Pitching isn't that easy, of course, but if you do those two things well, everything else gets much easier.
The key reason that Rasmussen's cutter draws chases is simple: he throws it hard. It's a 90 mph pitch that drops 14 inches more than his fastball on its flight to home plate. If you're looking for a fastball up in the zone, which you should be, you don't have a lot of time to recognize the cutter before starting your swing. Plenty of those swings end up being at marginal or out-of-zone pitches. Sure, the pitch doesn't have much movement relative to a spin-less pitch following the exact arc of gravity. But, uh, a spin-less pitch following the exact arc of gravity doesn't exist. The neutral pitch a batter is comparing any breaking pitch to is a fastball, and the cutter ends up in a wildly different spot from the fastball, so it works quite well.
For that same reason, the cutter generates its fair share of weak contact. Some of that is deception-based, but some of it also comes down to location – batters do well on contact when they hit a cutter over the heart of the plate, but quite poorly when Rasmussen locates it towards the edges of the zone. And good news on that front: Rasmussen's command of the pitch has been excellent so far. He's living around the edges with it, particularly the low-and-away corner to righties. That's a natural location for a cutter; it both pairs well with his fastball shape and ends up as a tough pitch to hit. For what it's worth, Cameron Grove's pitch model agrees, penciling in the cutter as Rasmussen's best pitch.
Cutters and sliders also naturally pair well, and in fact, you can think of Rasmussen's new slider and new cutter as simply separating his old slider into two pitches, one hard and one soft. That's not exactly what's going on – he's throwing the cutter harder than he ever threw his slider and is releasing it differently – but it helps me to think about it that way. Instead of trying to differentiate between two pitches, batters have to pick and choose between three, all of which end up quite far apart from each other when they cross the plate.
It might sound like I think Rasmussen is one of the best starters in baseball right now. I wouldn't go that father; despite a solid run of recent results, there's still plenty holding him back. The biggest issue, at least for now, is that he's still best suited to short stints. He's faced 56 batters for a third time through the lineup this year, and to put it mildly, they're doing pretty well. He's striking out a minuscule 12.5% ​​of them, walking 8.9%, and allowing a hard-hit rate double his overall average.
The sample size isn't huge, but the lack of strikeouts in particular is concerning. His chase rate dips meaningfully; it's a little bit easier to solve the fastball/cutter/slider problem when you've seen each of them a few times. This is more anecdotal than anything, but his command seems to flag as he goes later into starts, too; the Mateo double that broke up Rasmussen's perfect game came on a cutter down the heart of the plate, perhaps not coincidentally one of the slowest he threw all game.
So yeah, Rasmussen probably needs a little more in the tank, both in terms of pitch variety and stamina, before we anoint him a member of the pitching elite. He could use a little more oomph on his fastball, too, either in the form of extra velocity or slightly more ride. He's lost some of the overpowering form he showed in shorter stints; his 7.4% swinging strike rate on fastballs represents a huge drop from his previous career, likely the product of a 1.5 mph decline in average velocity and a one inch decline in induced vertical break.
But despite that weakness, Rasmussen looks like a key part of Tampa Bay's pitching staff, both now and for years to come. If you're looking for top-of-the-line stuff in medium bursts, Rasmussen can deliver just that. If you have a bullpen that can pick up some of the slack – long the Rays' specialty, and they lead the majors in relief innings pitched again this year – Rasmussen fits like a glove. Whether that translates into a perfect game or not, the Rays are surely pleased with the Rasmussen-as-starter experiment.