The Mariners just wrapped up their most difficult homestand over the last two months of the season, going 4–4 against the White Sox, Braves, and Padres. They entered this stretch with a 99.4% probability of making the postseason, boosted by a three-game sweep of Cleveland during the first weekend of September; if there were going to be an epic collapse, it would have started here. Instead, they pulled off a split against three playoff caliber teams and now have 20 games remaining against teams with records below .500. Their odds of breaking their infamous playoff drought are now marginally better at 99.8%, but they've weathered the toughest storm and have clear skies ahead of them as they push towards a Wild Card berth.
The standout performer during this eight-game stretch was Eugenio Suárez. He blasted six homers during the homestand, including two multi-home run efforts, and a massive walk-off shot. The barrage started with a pair of dingers against the White Sox on September 7, the second of which tied the game at six in the bottom of the seventh inning. A couple of days later, Suárez blasted a solo shot off Max Fried to give the Mariners a 2–0 lead over Atlanta.
The next day, he hit another pair of homers, with the second being the most dramatic of the bunch. After the Braves had stormed back and scored five runs in the top of the ninth inning to take a 7–6 lead, Julio Rodríguez launched a 117-mph solo homer to tie the game in the bottom half. With two outs in the inning, Suárez stepped in and finished off Kenley Jansen and the Braves with a game-winning home run to left center.
He wasn't finished either; on Wednesday, he hit his sixth home run of the homestand, part of the opening salvo of an eventual 6–1 victory over the Padres.
Suárez's offensive onslaught isn't limited to the last eight games either. Since the beginning of August, he's hit 15 homers and slashed .250/.352/.625 (178 wRC+) in 39 games. In that same period, only Aaron Judge has been able to match his home run output.
Batting Leaders Since August 1
Since 2018, Suárez leads the major leagues in homers — one ahead of Judge — with 160. This recent hot streak has helped him match a career high in WAR with 4.3, and he broke the 30 home run threshold for the fourth time in five years (with the shortened 2020 season as the lone exception). Suárez has always been prone to hot and cold stretches, and this latest peak is coming at the right time for the Mariners.
Suarez's resurgence comes after two down seasons on the heels of an incredible career year in 2019. The cause for that downturn could be related to the shoulder surgery he underwent in January 2020 after a swimming pool accident. The following year, the Reds decided to try to move him to shortstop for the first month of the season. Between the pressure of moving to the most defensively challenging position on the infield and his subsequent struggles there, his offensive output suffered until he moved back to third base in May.
It looked like the Reds had made a particularly savvy move by signing him to a seven-year contract extension just prior to the 2018 season; he compiled 8.5 WAR during the first two seasons of that contract, with Cincinnati on the hook for a total of just $9.25 million. But he only accumulated 1.0 WAR over the next two years as his salary started to rise. That escalating outlay combined with the changing fortunes of the franchise led the Reds to include Suárez in their Jesse Winker trade as a cost-saving measure. He immediately stepped into the starting third base role for the Mariners that had been vacated after Kyle Seager's retirement and has been a surprising key member of Seattle's offense.
Under the hood, his power peripherals all looked relatively intact throughout this four-year period:
Eugenio Suárez, Batting Peripherals
| Year | Hard Hit% | barrel% | Sweet Spot% | AVG | xBA | SWITCH | xSLG | wOBA | xwOBA | xwOBAcon |
| --- | --- | --- | --- | --- | --- | --- | --- | --- | --- | --- |
| 2019 | 40.1% | 12.8% | 38.0% | 0.271 | 0.247 | 0.572 | 0.500 | 0.381 | 0.355 | 0.462 |
| 2020 | 43.9% | 14.4% | 29.5% | 0.202 | 0.216 | 0.470 | 0.472 | 0.332 | 0.342 | 0.431 |
| 2021 | 39.8% | 15.0% | 33.0% | 0.198 | 0.215 | 0.428 | 0.455 | 0.306 | 0.326 | 0.420 |
| 2022 | 42.6% | 15.1% | 36.9% | 0.236 | 0.220 | 0.472 | 0.461 | 0.350 | 0.343 | 0.450 |
He continued to hit the ball hard during those two down years and even improved his barrel rate considerably. The problem was his sweet spot rate — the rate at which he hit batted balls within the ideal range of launch angles — fell dramatically in 2020 and only just recovered this year. What's even more interesting is that his average launch angle is at a career-high 20.5 degrees and his groundball rate subsequently at a career-low 33.2%. He's elevating the ball more often but has found a way to avoid too much contact above or below the barrel.
Suárez has also improved his plate discipline to a degree. His chase rate is as low as it has been since his 2018 season. That's certainly helped him regain two points on a walk rate that had been lost last year. Unfortunately, his strikeout rate has climbed to a career-high 30.8%, likely related to some new issues making consistent contact. When Suárez transformed himself from a middle infielder with gap power to a real power threat at an infield corner, his contact rate fell from around 77% to 71%. That's where it stayed in the three seasons since 2018, but it's fallen significantly this year. The biggest red flag is a nearly five-point drop in contact rate on pitches thrown in the zone, keeping his swinging-strike rate high despite the improvement in his chase rate.
A high strikeout rate is simply a part of his approach the Mariners will have to live with, although that's hard to complain about right now. When he's seeing the ball well and elevating his batted balls, he's prone to go off on one of these hot streaks: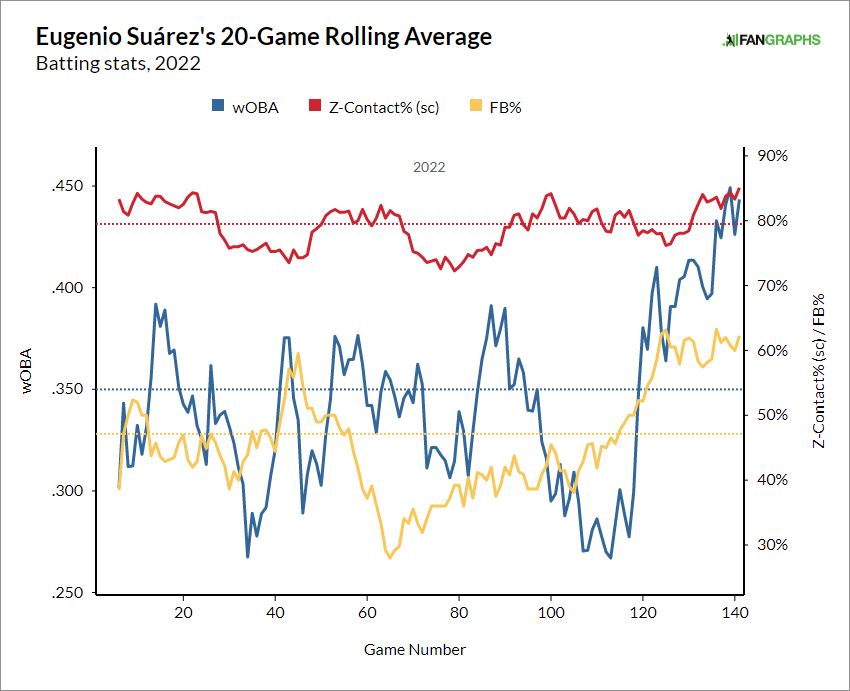 This stretch over the last two months has coincided with an improved zone contact rate and a bunch of elevated contact. That's a very good combination for a player with Suárez's kind of raw power.
His hot streak has also come at an opportune moment. The Mariners have been one of the hottest teams in baseball since mid-June, but most of that success has been driven by their pitching staff — both their starting rotation and their bullpen. Their lineup has benefitted from an outstanding rookie season from Rodríguez, who became the third rookie in MLB history to post a 25/25 season, and intermittent contributions from a host of other players. Early-season stalwarts Ty France and JP Crawford have struggled in the second half, with unlikely contributors like Cal Raleigh and Sam Haggerty picking up the slack.
Mariners Offensive Splits
| Player | 1st Half wRC+ | 2nd Half wRC+ |
| --- | --- | --- |
| Eugenio Suarez | 128 | 150 |
| Julio Rodríguez | 136 | 160 |
| Adam Frazier | 80 | 91 |
| Jesse Winker | 108 | 106 |
| Shut up France | 149 | 85 |
| JP Crawford | 116 | 79 |
| Cal Raleigh | 116 | 111 |
| Carlos Santana | 109 | 77 |
| Sam Haggerty | 142 | 128 |
| Mitch Haniger | 100 | 98 |
Overall, the team has improved its ability to score runs in the second half, moving from 4.14 runs per game prior to the All-Star break to 4.29 after. There's plenty of power in the lineup, and Seattle has been one of the best teams in baseball at taking free passes. Still, the M's sit in the bottom half of the league when it comes to actual runs scored, likely because they haven't had their entire offense firing on all cylinders at the same time. Suárez's hot streak and Rodríguez's continued excellence have carried the team through the last few months, but they'll need the other contributors to step up if they want to make a deep run in the playoffs.
These are the kinds of things the Mariners haven't had to think about for nearly two decades. Usually, they've been scrambling simply to stay on the fringe of the playoff picture at this point in the season. Now, they're firmly in place to claim a Wild Card spot and need to figure out how to make the most of this rare opportunity.