Food lovers in South Korea will soon be dining on crickets hatched and grown in London.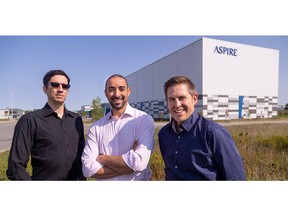 Article content
Snack lovers in South Korea will soon be dining on crickets hatched and grown in London.
Article content
Aspire Foods has landed a "multimillion-dollar" deal to sell its crickets to Lotte Confectionary Corp., where a powder made from the local insects will make its way into a variety of foods, said Mohammed Ashour, chief executive of Aspire.
Article content
It is the London plant's first deal to sell crickets for human consumption and it is to a large international food processor.
"This is very exciting and validates our vision for Aspire. A major multinational company has partnered with us. It accelerates our global vision," he said.
The agreement will lead to Aspire's protein powders being sold into Asian and European markets by one of Korea's largest food producers. It will be sold as a powder that can be added to drinks and baked goods and as an ingredient in protein bars.
Article content
"They are one of the largest food producers in Korea. It is very, very large," Ashour said.
The contract underscores the "innovation" ongoing in the growing London agri-food scene and thrusts the local sector onto the world stage, said Joe Dales, co-founder and president of a food business and innovation center at RH Accelerator Inc. in London.
"It's wonderful news and positions London as an innovator in the food sector. This means we have a great global company here in London that was not here just a few years ago, creating jobs and exporting products around the world," he said.
Feds put $8.5M into London cricket farm

Local agri-food leaders push London-area sustainability
At Aspire, the insects will be frozen and shipped to a processor that will make them into a powder, which will then be shipped to Korea, Ashour said.
Article content
The plant began hatching and growing crickets in July and has sold the insects for use in pet foods until now.
Crickets for the Korean order will begin shipping in October.
Crickets are valued as a food supplement as they are high in protein, low in fat and not expensive at a time when meat proteins are soaring due to inflation.
"This is great news and it is not unexpected. The protein play is getting more interesting as more companies are looking for different sources," said Sylvain Charlebois, senior director of the Agri-Food Analytics Lab at Dalhousie University.
"Rising costs are seeing some businesses revisit their procurement strategy. Insects are very much part of the conversation. I am not surprised by this."
Article content
Unlike Western diners, Asian consumers have more daring tastes and are not afraid of trying insects, Charlebois said.
"In Asia and other markets it is part of their food culture."
Cricket food production is also environmentally sustainable, with a cricket farm using about one-eighth the water and generating one-third the carbon dioxide of a cattle farm.
Aspire employs about 100 people in London.
This summer Aspire was dragged into a bizarre conspiracy theory controversy. In June Awakening Canada, a Facebook group that posts misinformation about the pandemic and conspiracy theories, tweeted about a plot to force people to eat bugs after construction was completed on the London plant.
Ashour dismissed the claim and ignored the social media posts.
Article content
"We are a proud Canadian company, employing Canadians, sourcing products from Canadian businesses and hopefully setting ourselves up for future expansion," he said.
"Canadians should be proud this business was incubated here and is growing on a global scale."
The London plant may produce as much as 13 million kilograms of crickets annually when it is at capacity.
Aspire has sold cricket powder for use as a human food additive from its plant in Austin, Tex., to small independent food producers for use in protein bars and even tortilla chips. The London plant has up to now sold crickets as an additive only for pet food.
Lotte, based in Seoul, was founded in 1967 and produces about 200 products sold in 70 countries. It has many different divisions, but its confectionery group produces chewing gums, candies, biscuits, chocolates, pies, snacks and ice creams, such as bars, cones, cups, ice creams, health foods and breads.
Aspire and Lotte signed a memorandum of understanding in August that was not only a sales agreement, but also states the two will explore future opportunities for research and development and may one day see the building of a cricket processing plant in Korea, Ashour said.
Globally, the edible insect market is projected to grow to more than US$700 million by 2024. It was US$112 million in 2019, stated a report from Global Market Insights Research.
ndebono@postmedia.com