Experts weigh in on why some babies really, really hate grass and will go into midair splits just to keep their feet from touching the green stuff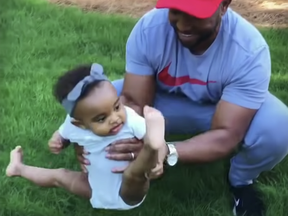 Reviews and recommendations are unbiased and products are independently selected. Postmedia may earn an affiliate commission from purchases made through links on this page.
Article content
Why is that some babies will use every body contortion — midair splits, floating Buddha poses — to keep their feet from touching the grass? Is it really anything more than simply wanting to avoid the feeling of rough, scratchy bristles?
Article content
Another compilation of videos of babies scared of grass has once again gone viral, as they have, periodically, since 2017, when a father posted a YouTube video showing just how much his baby girl "was NOT interested in that grass!"
Article content
Then, this oeuvre, in 2019.
"The prickly texture and feel of grass are far different than the softer and more comfortable feeling of carpet, tile, and wood surfaces on their feet, hands, and body, so babies are often scared of it," pediatrician Dr. Gina Posner, of MemorialCare Orange Coast Medical Center in Foundation Valley, California, told Parents.com last year.
Others have blamed the "trippiness" of grass. "Grass can cause a baby to experience sensory overload," Patrick A. Coleman wrote in a 2019 article for Fatherly.com.
Article content
"During the first few months of life, a baby's nervous system is getting tuned up, developing quickly in a way that makes sounds, sensations, and sights intense and jarring," an experience that's been compared "to being high on psilocybin," or magic mushrooms.
"The only reason not all babies react this way is that different babies process sensory experiences in different ways," Coleman wrote.
The authors of a 2014 paper offer another possible narrative. Babies are reluctant to touch plants, and, perhaps, by extension, grass, as part of their "protective behavioral strategies."
A plant's harmful toxins and thorns provide protection against herbivores, animals that eat plants. But human infants "possess strategies that would serve to protect them from dangers posed by plants" as well, evolutionary psychologist Annie Wertz, and co-author Karen Wynn, Yale University professor emerita of psychology and cognitive science wrote in the journal Cognition. (Wynn grew up in Regina.)
Article content
Their work suggested babies are sensitive "to certain ancestrally recurrent dangers."
In one experiment, a group of eight- to 18-month-olds, seated on their parents' laps, showed a "striking reluctance" to reach out and touch basil and parsley plants, both real spirit artificial, in plastic pots, compared to other objects that share the same shapes and colours. "There's other green stuff, but not plants, per se," Wertz said in an interview, like beaded pipe cleaners sticking out of a clear CD case. "Babies grab for that very quickly."
Plants produce harmful toxins that can be deadly if ingested. "There are some plants where you can eat one bite and die," Wertz said. Animals have "purging mechanisms," like vomiting. Or the ability to break toxins down in the gut. Humans may possess "similar purging mechanisms and taste aversions to project against plant toxins at vulnerable stages of development," Wertz and Wynn wrote, which might explain kids' aversion to vegetables. Infants also "exhibit sensitivities" to other dangers, like snakes and spiders.
Article content
But grass?
"It could be that it's the same kind of underlying mechanism, but it could be that there's something else going on with grass, specifically," said Wertz, research group leader at the Max Planck Institute for Human Development in Berlin.
"In any kind of social media video, you want to be careful about trying to find the reason why kids are doing something, because it's obviously not any kind of controlled condition."
It could just be that the grass has an unpleasant texture. It's impossible to know for sure what's going on, Wertz said. "But it's certainly consistent with what we have found in the lab."
National Post
Doctors have stopped believing that 'chemical imbalance' causes depression. They didn't tell us

From 'homewrecker' to Queen Consort: How Charles and Camilla's affair became a love story