BOZEMAN — The image of an injured quarterback lying on the turf can be a Rorschach test for football fans.
What do you see? A QB who plays too recklessly? A coaching staff that put him in harm's way? A defender who made a dirty hit? A bad offensive line? A bad break? The painful reality of football?
Montana State starting QB Tommy Mellott provided the latest inkblot image when he suffered a scary head injury at Eastern Washington on Saturday. The fact that it happened on a running play prompted more questions. Maybe Mellott would still be healthy if he didn't carry the ball so much.
The truth is not that simple. The nature of football injuries, on the other hand, can be summed up succinctly.
"It's part of the game," MSU offensive coordinator/QBs coach Taylor Housewright told 406mtsports.com on Monday. "You get hit, you get knocked out, you get concussions. It happens."
Mellott ironically got hurt trying to protect himself. With a little over two minutes left in the first quarter at Roos Field, the sophomore from Butte ran a read option with Elijah Elliott, kept the ball and burst through a hole up the middle for an 11-yard gain. Mellott saw an EWU safety directly in front of him and slid in an attempt to avoid a hit. He didn't see two other Eagles bearing down on him until it was too late. They hit him hard on both sides of his body, causing his head to hit the red turf and briefly knock him unconscious.
It's clear even on slow-motion replay that the EWU defenders hit Mellott milliseconds after he started his slide, and they didn't lead with the crowns of their helmets. Flags have been thrown on hits like that, but MSU's coaches didn't criticize the non-call.
"Running in the middle of the field, you've got to be aware from all sides, and he wasn't, necessarily, in that situation," MSU head coach Brent Vigen said Monday. "I hated to see it go down the way it did, but it's one of those plays that happens so quickly in the game of football that I don't know if it could have been officiated any different or coached any different."
Maybe Mellott would've avoided an injury if he slipped a little earlier, but that's easier said than done, considering how fast the play unfolded. Sliding relies on defenders to make split-second decisions and betray their physical nature. It can leave a QB defenseless too.
"Would he have been better off just taking on that middle safety? I guess in that scenario he would've, but there are definitely times when that's not the case either," Vigen said. "It's definitely a calculated risk."
Saturday's game in Cheney, Washington, was Mellott's eighth college start and the second he didn't finish — he suffered an ankle injury (that ultimately required surgery) on the first drive of MSU's Football Championship Subdivision loss to North Dakota State in January. The head injury will force him to miss this week's home game against UC Davis, Vigen said.
Mellott's replacement is Sean Chambers, a dual threat who suffered three season-ending leg injuries during his four years at Wyoming. All three of those injuries happened on run plays.
San Francisco 49ers QB Trey Lance is out for the season because of an ankle injury two games ago on a designed run. Baltimore Ravens star Lamar Jackson, the best running QB in the NFL, missed the final four games of last season because of a bone bruise in his ankle. A similar player, Robert Griffin III, never returned to his 2012 rookie-of-the-year level after suffering a knee injury late that season.
These anecdotal data seem to paint a pretty clear picture: running QBs are more likely to get injured than more stationary passers. But that, too, is a Rorschach test. Multiple studies have shown that mobile QBs are not more injury prone.
"It's been my experience over many, many years that the quarterbacks I've coached got hurt throwing the ball and getting hit from that perspective more than they have in the run game," said Vigen, who has coached since 1998.
QBs can see hits coming better when they're running than when they're throwing, Housewright said. The Dallas Cowboys' Dak Prescott has been out since the season opener, when he hurt his hand on a drop-back pass. Mac Jones suffered a high ankle sprain on a hit after he delivered a throw from the pocket. Mellott and Chambers got hit hard several times on pass attempts during Saturday's 38-35 win over EWU.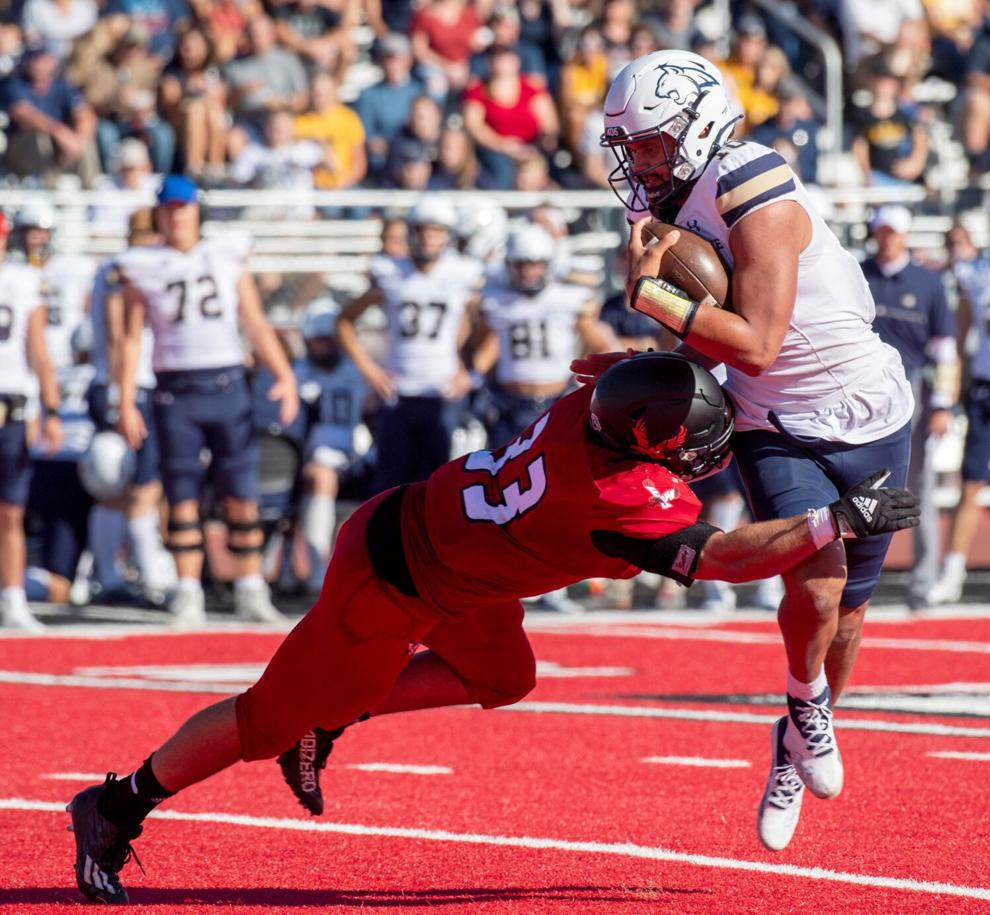 Chambers and Mellott have both averaged around 13 carries per full game this season. Fewer rushes would reduce their injury odds, but "it's complicated," Vigen said. Their abilities and MSU's offense require them to run frequently. The Cats couldn't run their option plays effectively if their QBs weren't serious threats on the ground.
"There are a lot of times I don't want to run them. But they're athletes. It's part of their game," Housewright said. "We talk a lot about running smart; understanding when to get a first down, when to get a touchdown and when to get down."
Vigen and Housewright could've changed their offense and recruited pocket passers, but that might've resulted in fewer wins. Mobile QBs have become more common at all levels of football largely because they give defenses so many more things to worry about. Teams have more margin for error when their QBs can run.
Vigen, Housewright and Chambers all uttered a similar version of the same line when talking about QB injury risk.
"It's just a function of football," Vigen said. "The quarterback is likely going to get hit, and you hope for the best when that happens."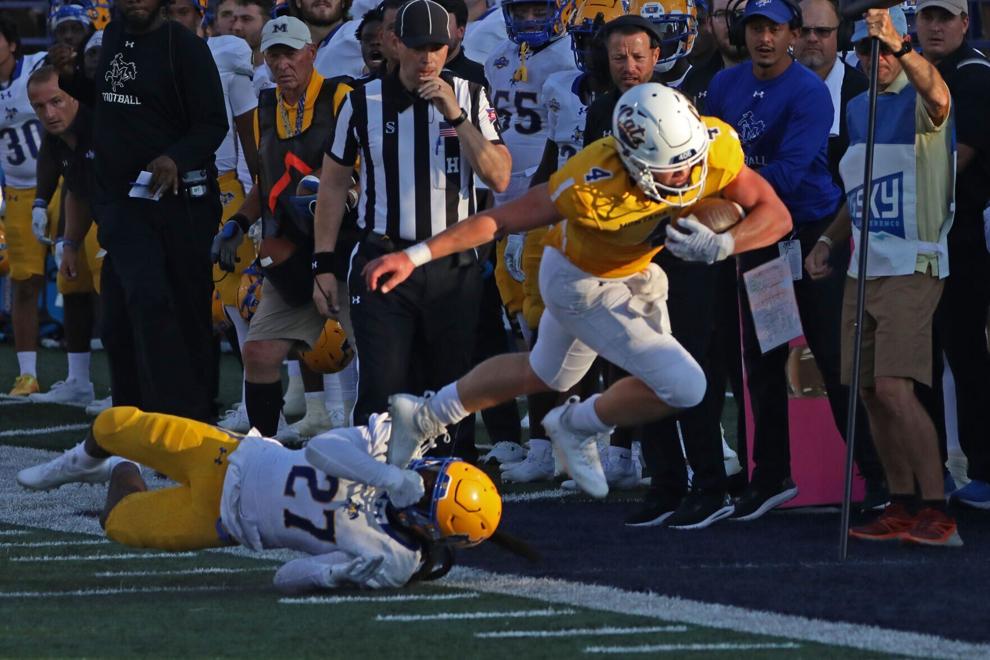 Chambers' last injury, in 2020, happened when he got tackled on what appeared to be an option run. The play never developed because a Nevada defensive lineman beat a blocker and got his arms around Chambers less than a second after the ball was snapped.
"Looking back to my injuries, all three of them were kind of fluke deals. I don't think they were all (due to) me getting overrun or overused. I think it just happened," Chambers told 406 Sports, adding, "It can happen when you're trying to run out of bounds. It can happen when you're trying to slide. It can happen literally any play. You can't even think about that. You've just got to think about what you can do and what your job is."
Chambers rushed 72 times last fall at Wyoming, and he averaged 10.3 carries per start. He finished the season without an injury.
The redshirt junior rushed 28 times against EWU, and he'll start this Saturday against Davis.
Overuse injuries often occur, and every QB run increases the chances of a trip to the training room. There are ways to minimize risk.
But there's no way to eliminate it.
"Injuries are not something that you want to plan for," Vigen said. "I look at where the 49ers are at right now, and is part of why Trey Lance got hurt because they ran him? Or do you say, 'For him to be successful, we have to run him, and it's part of the deal?'
"I think you've got to just come to grips with, it's part of the deal, and if an injury does occur, what are you going to do moving forward? That's what we're dealing with right now."
.