Simone Biles might just be 25 years old, but her achievements stand taller than her height and age combined. Having won 25 World Championships and seven Olympic medals, she is undeniably the gymnastics GOAT. A recipient of the prestigious 'Presidential Medal of Freedom' her contribution travels beyond the gymnastics arena. A strong-headed woman, Simone makes sure to voice out her opinions, even when others fear.
ADVERTISEMENT
Article continues below this ad
With over six million Instagram followers, Simone took to her stories earlier today to express her displeasure against some comments.
ADVERTISEMENT
Article continues below this ad
Simone advises fans to ignore
As Simone took to her Instagram to take on some 'unpopular opinions,' she made it clear to "boo these opinions." As some users wrote, Taylor Swift and Billie Eilish, two of the most famous figures from the music industry, are "overrated." Simone expressed her displeasure.
Shutting down the unpopular opinions with her own opinion, she wrote, "I love Billie & Taylor." However, this is not the first time Simone has expressed her adoration for the two singers. Back in 2019, she posted a tweet for Billie in which she wrote, "billie eilish i love you."
billie eilish i love you

— Simone Biles (@Simone_Biles) April 1, 2019
Simone has always been expressive about her feelings. Fans know her for her unfiltered self. As she expressed her love for Taylor and Eilish, she also added something interesting. All in good humor, the gymnast maestro revealed, "But I was probably the only one who didn't try to get tickets to Taylor's concerts."
Taylor and Simone have yet to meet officially, but the respect they have for each other is immense. Back in 2021, when Simone formally announced that she would not participate in the final rounds of the Tokyo Olympics, the Grammy award winner came out in her support.
When Taylor Swift paid Simone Biles a heartfelt tribute
On August 3 last year, Taylor paid Simone her respect by narrating a spot for NBC. It was done to mark Biles' return at the Tokyo Games. For the unversed, after Simone announced she would withdraw her name from multiple events, she returned once to take home the bronze for Team USA.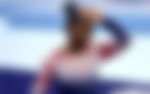 Simone took the bold step because she wanted to prioritize her deteriorating mental health. In honor of Simone's endeavours, a short clip was prepared where Swift's famous track 'This Is Me Trying' from her album Folklore played as the narration continued. Taylor's gesture moved Simone to tears. She extended here thanks to the singer.
ADVERTISEMENT
Article continues below this ad
ADVERTISEMENT
Article continues below this ad
Simone was praised for breaking the convention and leading through examples. When Simone informed about her decision, many supported and praised her for voicing out.
Watch This Story: Jonathan Owens' Heart Melted When He Saw Gymnastics Icon Simone Biles Cheering Up for Him.