Even if there's a difference of opinion on whether Argentine footballer Lionel Messi is the GOAT, there's no denying that when it comes to footballer's car collections, he certainly is. The captain of the Argentina national team at FIFA 2022 owns the most expensive car collection among his peers. That includes the likes of fellow petrol heads Cristiano Ronaldo, Neymar Jr, Karim Benzema and more.
Messi himself has been valued at over $130 million, and pulls a reported $52 million a year from his contract with Paris Saint-Germain after switching clubs from FC Barcelona. That probably explains why the footballer's car collection, filled with supercars, rings the registers at over $28 million. This makes his car collection about $10 million more in value compared to Cristiano Ronaldo's. The two have more than a healthy competition going, both on and off the field. Messi has beaten Ronaldo to the coveted Ballon d'Or award, seven to five.
There were even rumors that Messi outbid Ronaldo in 2016, on a one-of-four vintage Ferrari racecar. It certainly would've cost Messi, though – a whopping $32 million. That would make it one of the most expensive Ferraris ever, and broke world records when it was auctioned to an anonymous buyer. If the 1957 Ferrari 335 Sport Scaglietti indeed calls Messi's garage home, then it pretty much seals Messi's car collection as the Greatest Of All Time at a combined value over $50 million. Even without it, there's a whole load of valuable cars in Messi's car collection that make up the $28 million value or so.
Why We Think Messi Owns The Most Expensive Ferrari Ever Made
The 1957 Ferrari 335 S broke records when it sold for a staggering $32 million at the 2016 Retromobile auction. The previous owner of the car, Italian billionaire Alessandro Proto, hinted in a press release that the anonymous buyer was a football star for Barcelona. And he didn't stop there either. Proto also hinted that Ronaldo had bid on the same car. All signs point to the eventual winner of the auction being none other than Lionel Messi. Although, the star was quick to take to social media and make light of his alleged new car purchase.
Perhaps this was Messi's response to previous tax fraud litigation issues that have hounded him over the years. Whatever the reason, we can't say for certain that Messi owns the Ferrari. But it would be fitting if he did.
Related: The Most Expensive Auctioned Car: The 1962 Ferrari 250 GTO By Scaglietti
Only four Ferrari 335 S Spider Scaglietti models were ever built, and only three survive. Of those, one is a regular on the Concours circuit and regularly wins best of show too. The Ferrari 335 S was one of the fastest cars of its time, capable of 186 mph in 1957! It ran a 4-liter V12 with quad cams, six dual 42mm Weber carburetors and over 400 hp. This particular car, originally from the Pierre Bardinon collection, came second in the 1957 Mille Miglia, and won the 1958 Cuban Gran Prix at the hands of Sir Stirling Moss.
The Pagani Zonda Tricolore Is A $10 Million Masterpiece
Even if Messi doesn't actually own one of the rarest Ferraris, he does own another rare Italian exotic that many collectors would jump at the chance to own. Only three units of the Pagani Zonda Tricolore were ever made, up from the initially planned production run of just one. The Zonda Tricolore was built in 2010 to celebrate the 50th birthday of Italy's air force acrobatics team. It was based on the Pagani Zonda Cinque, supposed to be the last iteration of the Zonda, of which only five cars were built. When new, the Pagani Zonda Tricolore would've cost $1.6 million but recent estimates are upwards of $10 million!
Related: A Detailed Look At The Pagani Zonda Cinque Roadster
The Zonda Tricolore carried upgrades over the Cinque and Zonda R, including a unique aero fin on top of the engine cover harking back to the air force team's planes. The Tricolore also had a higher top speed of 220 mph than the Zonda Cinque, although it used the same 7.3-liter AMG-sourced V12 with over 670 hp and 575 ft-lbs of torque. It was available with a semi-automatic or a manual gearbox, but we don't have the exact details on what Messi's car is specced with. We suppose it doesn't really matter, as the car is said to not be road-legal currently, which means Messi's car likely has next to no mileage on it.
Messi Owns A Fleet Of Luxury Cars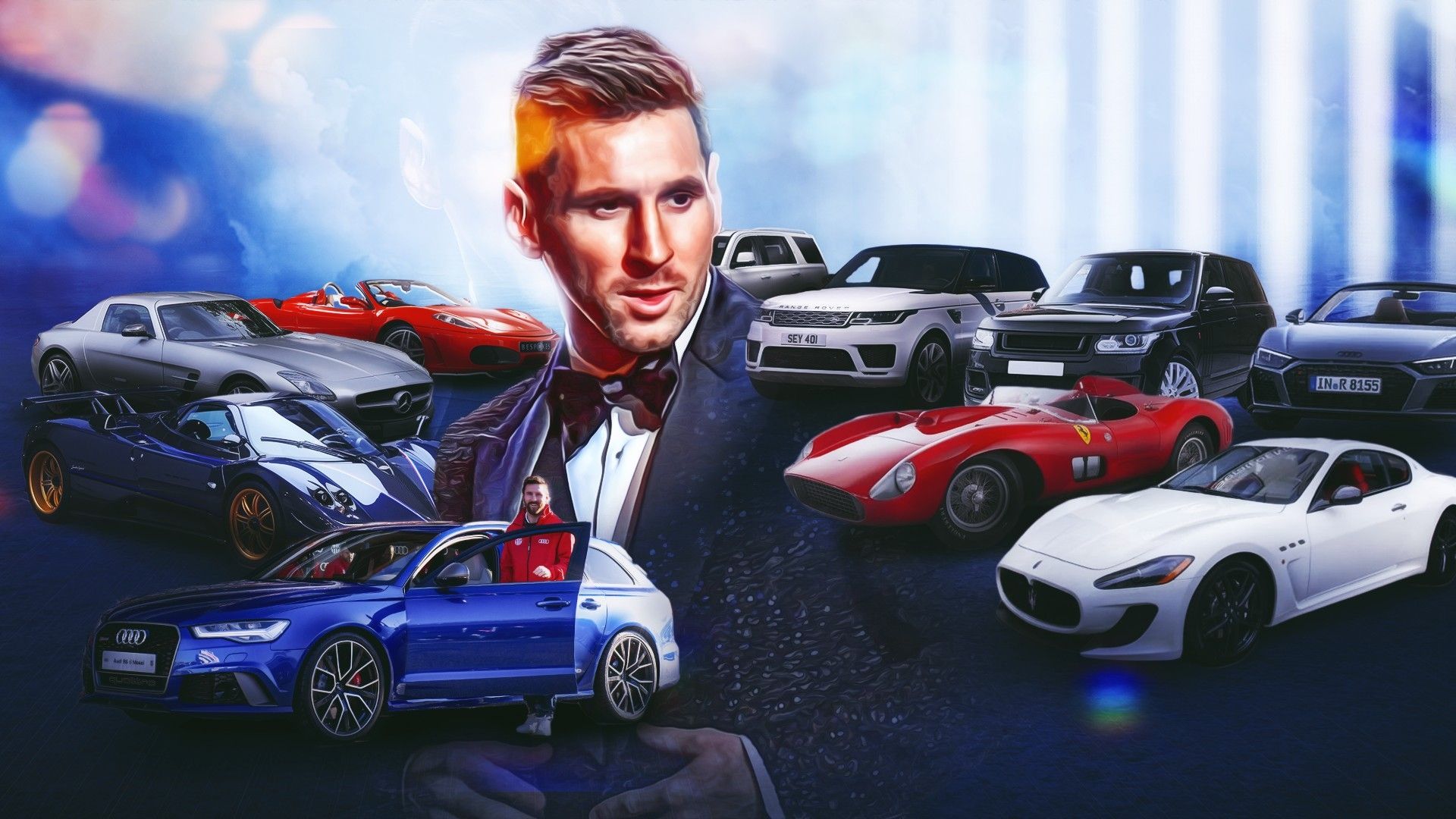 From Mercedes-AMGs to Cadillacs and Range Rovers, Messi has no shortage of luxury cars to get the groceries, or get to train in. Of these, it appears that Messi is most often spotted behind the wheel of his black Range Rover. He also owns a white Range Rover Sport that his wife also uses. That's not the only Land Rover he owns, with a white Evoque also in his collection. Messi used to be snapped quite often in his Maserati GranTurismo MC Stradale, but he's since sold the Maser.
It seems that it's gone a little out of fashion for renowned footballers to show off their cars on their social media, which makes finding current information on their car collections challenging. But all the rumors about Messi's unicorn Ferrari purchase can't really all be untrue. At least we'd like to think so.