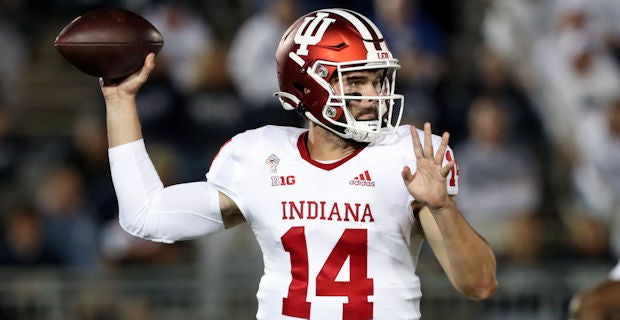 Previous experience and production:
Since transferring from Utah prior to the 2019 season, Tuttle's role at Indiana has oscillated between top backup and clear starter. When the 6-foot-4 gunslinger first arrived in Bloomington, the expectation was that he'd slot in behind Peyton Ramsey and Michael Penix Jr. on the depth chart, while continuing to develop and push for a starting role in later seasons.
However, those plans changed when Ramsey transferred to Northwestern ahead of the 202o season, and the injury bug continuously bit Penix over and over again.
Tuttle appeared sporadically in his first season with the Hoosiers, often in mop-up duty at the end of games. Though he saw action in five games as a redshirt freshman, it was mostly to get his feet wet against Big Ten competition. He finished the 2019 season 6-of-14 passes for 34 yards, which was an important first step in Tuttle's development.
In 2020, it appeared as if it would be more of the same, with Tuttle serving as Penix's top backup option. Five games into the season, Tuttle didn't see any action as Penix and the Hoosiers cruised to a 4-1 start, notching historic wins over Penn State and Michigan along the way. But on Nov. 28, the injury bug reared its ugly head as Penix suffered a season-ending knee injury mid-way through IU's game against Maryland, forcing Tuttle into starting duties for the rest of the season.
Tuttle's first taste as Indiana's starting quarterback came with mixed, yet promising results. He helped finish off IU's win over Maryland, completing all five of his passes and keeping the clock moving. Then, with a whole week to prepare as IU's starter, Tuttle helped lead Indiana to its first road win at Wisconsin in over three decades, totaling 130 passing yards and two touchdowns. The victory in Madison eventually secured IU's selection for the Outback Bowl against Ole Miss, which the Hoosiers lost 26-20 while Tuttle suffered a separated a shoulder in the game.
For all the signs of potential that Tuttle flashed in 2020, it still wasn't enough for the California native to usurp Penix as IU's starter entering the 2021 season. Unfortunately for both players and the program as a whole, the 2021 season went about as awry as anyone could've imagined. Both Penix and Tuttle suffered season-ending injuries, with neither player appearing in more than six games, and the Hoosiers finished with an underwhelming 2-10 record. In the games Tuttle did play, he tallied a lackluster 51.7 percent completion rate with five touchdowns and only two touchdown intercepts.
In Tuttle's overall career at IU he's appeared 14 games and made four starts in while passing attempts 55.8 percent of all attempts for 819 yards, four touchdowns and six interceptions.
Strengths:
Tuttle is at his best when he's able to stand tall inside the pocket and survey the field. His above-average arm talent allows him to make most, if not all the throws requisite of a power-five quarterback. While he'll never be confused for a dual-threat quarterback capable of tucking the ball and running, he has shown improvement as a passer while on the move and evading defenders outside the pocket. That said, he isn't a 'statue' either and has shown the ability to pick up positive yards on the ground when plays break down around him. Perhaps most importantly, Tuttle's leadership skills, work ethic and toughness have earned him high marks throughout the program, which is one of the main reasons he could enter the season as IU's starter.
Weaknesses:
While Tuttle has shown a capability of throwing deep passes on target, the sample size is still small. Rather than stretching the field vertically, Tuttle has looked more comfortable on quick passes over the middle or to the sidelines. However, Tuttle's career 6-to-4 interception-to-touchdown ratio is concerning, and his indecisiveness and lack of execution when needing to get the ball out quickly speaks to that. For Tuttle to take the next step as a quarterback he must do a better job at protecting the football, even if it means throwing it away rather than trying to force passes. Some of that also stems from Tuttle's lack of high-end athleticism, which limits what he can do on the ground and outside of the pocket.